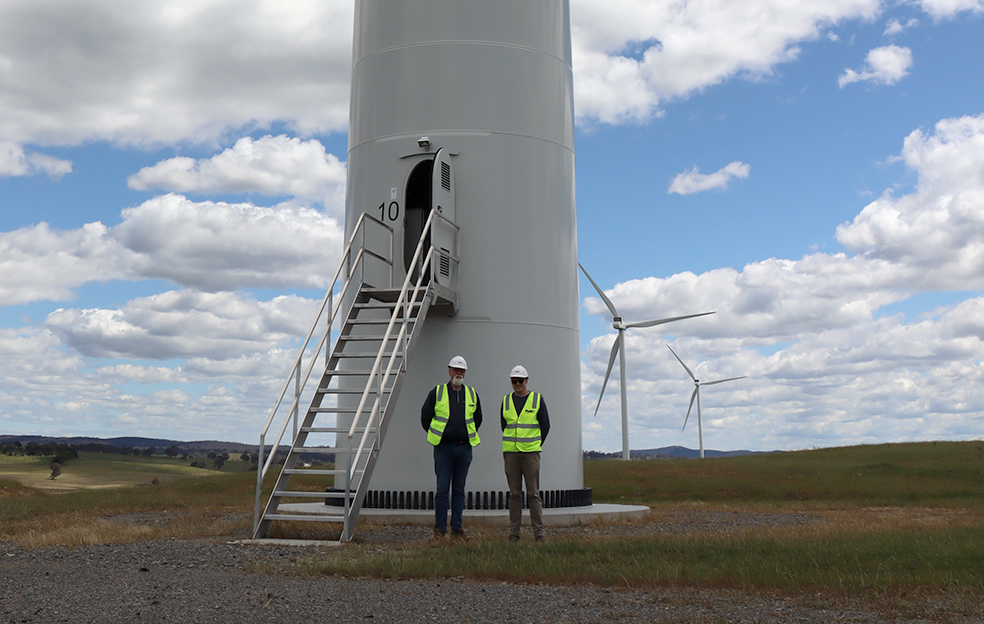 Blue Mountains City Council employees visited the Collector Wind Farm in the NSW Southern Tablelands recently to see first-hand the generation of clean green electricity – soon to provide power for Council operations.
The wind farm has 54 turbines each impressively reaching 150 metres high, with a blade span of 57 metres long. The site generates 528GWh of electricity per year – enough energy to power 80,000 homes. Just one turbine alone generates more electricity than the whole of Council operations will use in a year, including streetlights.
Council staff were there to tour the site and visit the turbines as part of BMCC's new electricity contract which starts in January 2023.
The power will be sourced from Iberdrola and their renewable energy projects which includes the Collector Wind Farm near Goulburn, as well as the Bodangora Wind Farm near Wellington (between Orange and Dubbo) and other new projects being developed in NSW – including large wind and solar farms and a 50MW battery.
Overall, the renewable electricity generation will provide a reduction of up to ~6,800 tonnes of harmful greenhouse gas emissions annually – the equivalent of taking almost 1,000 homes off the grid each year.
Mayor, Cr Mark Greenhill, said: "The seven-year contract reduces Council's reliance on fossil fuels, reduces electricity costs and protects against increasing price volatility in the energy market. It also provides a significant step towards Council achieving its target of net zero emissions from operations by the end of 2025."
Chief Executive Officer, Dr Rosemary Dillon, said "The strides being taken by Local Government, including Blue Mountains City Council, are leading the way for real action on climate change and we're so proud to be a part of this.
"BMCC has been working to secure a retail Power Purchase Agreement (PPA) for renewable electricity as part of its Carbon Abatement Action Plan and is looking forward to the new contract commencing. BMCC played a leading role – working alongside Blacktown City Council – in establishing the PPA with Local Government Procurement (LGP) NSW.
Now the LGP Renewable PPA is active, 34 NSW councils have signed up to date, which means the total emissions reduction is far greater than if Council had gone it alone."
A spokesperson from LGP stated the contract "exhibits that switching to renewables can support jobs and investment, reduce emissions and save councils money".
Signing the renewable energy contract is just one of BMCC's recent emissions reduction initiatives.
Work is continuing with LED lighting upgrades to streetlights and facility lighting, rolling out solar PV on suitable buildings and introducing electric vehicles into fleet – setting Council firmly on the path to net zero by the end of 2025.
The recent joining of the 'Cities Race to Zero' also commits Council to expand its focus to include community emissions, showing much needed action on emissions reduction across the Blue Mountains.
For more information visit our 'Action on climate change' page on bmcc.nsw.gov.au/action-on-climate-change.