Blue Mountains and Penrith Woodworking Club member Phil Tonks and his prize-winning jewellery box. (Julie Nance)
By Julie Nance
Amidst the sound of sawing, carving and hammering, there's laughter and chatter. Broken furniture is given a second chance. Decades' old timber is transformed into stunning, practical pieces. Friendships are strengthened and skills are traded. Members of the Blue Mountains and Penrith Woodworking Club are supporting charities and each other.
Woodworking is a lifeline for Phil Tonks.
After his wife Marge passed away earlier this year, his passion for crafting jewellery boxes and other pieces took on greater significance.
---
Key Points:
There are many ways we can all reduce our ecological footprint including rescuing, repairing and repurposing items destined for landfill.

The Blue Mountains and Penrith Woodworking Club focuses on sharing skills, equipment and social connections to help make a difference: to members, charities and society.
---
At his home workshop Phil loses himself in his craft. It both challenges and relaxes him. As a member of the Blue Mountains and Penrith Woodworking Club, he gains support from others, and we're not just talking about skills and tools.
"The Club provides companionship, friendship and gives me a wonderful outlet," Phil says.
"Some of us also go out for coffee. After my wife passed away, I don't know what I'd be doing if it wasn't for my family, woodwork and the Club."
The 'Woodwork Club today' sign drew me in. My husband and I noticed it at the entry to Bunbinla Ave, Mt Riverview, during a weekend walk. I popped my head into the Girl Guides Hall at the end of the street where I was given a warm welcome by long-time members Peter Murphy and Phil Tonks.
I learned that Phil joined the Club in 2008, shortly after retiring from the navy. He modestly showed me the jewellery box that earned him first prize and "best in show" at this year's Penrith Show. His wife Marge also won first prize for her quilt a few months after she passed away.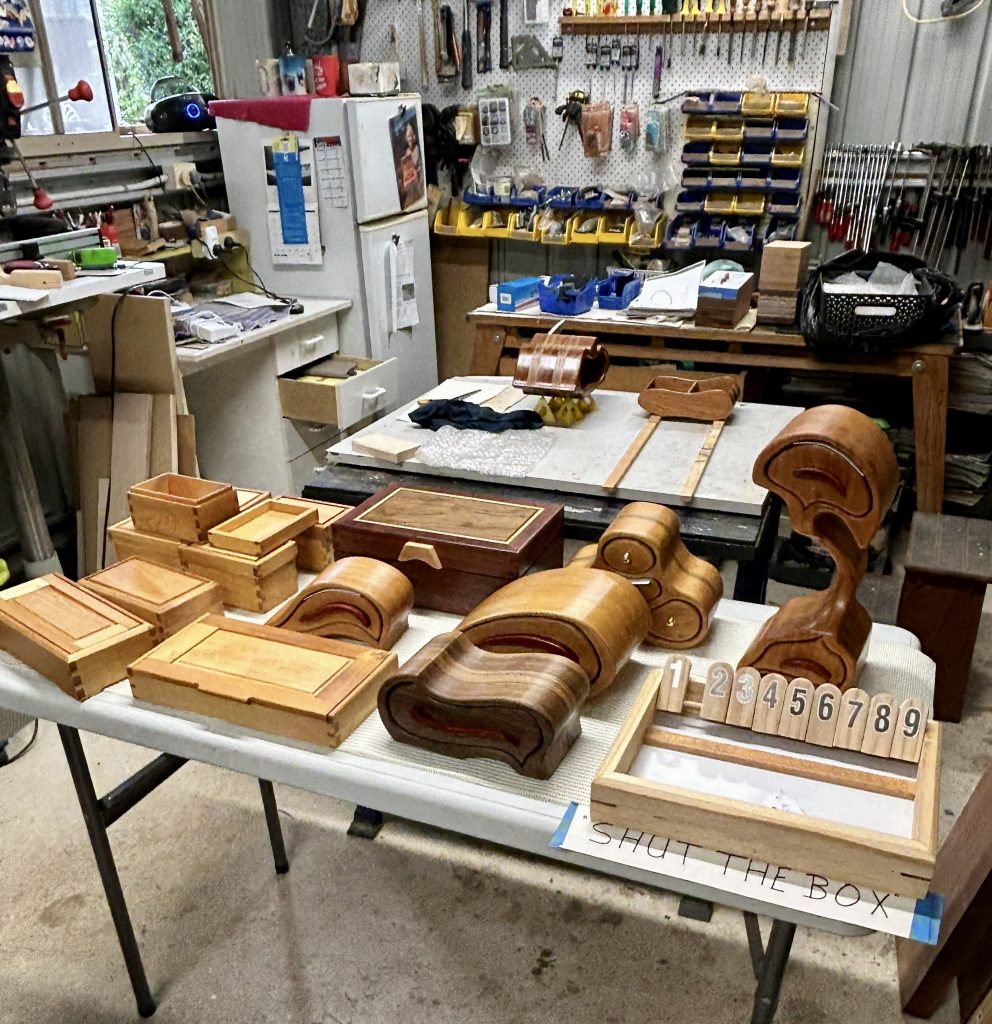 Phil's home workshop with his array of jewellery boxes and other items including 'Shut the box', a therapeutic game for aged care residents. (Phil Tonks)
Fellow Woodwork Club member Jeff Daniel has a 400-acre farm in the family with old mahogany timber fence posts that periodically need replacing. For a long time he used the old posts for firewood.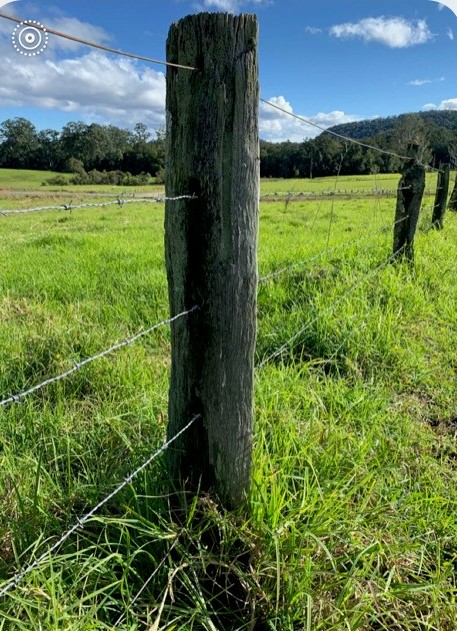 Farm fence posts. Jeff: "The expensive mahogany wood is favoured by farmers for its termite resistance." (Jeff Daniel)
Thanks to the assistance of Club members, Jeff saved the wood from fire, learning how to transform the posts into an array of beautiful boxes and other products.
"The timber has probably been in a fence post for about 30 years, and was a tree a long while before that," Jeff says. "Everyone here, particularly Phil Tonks, taught me how to join the wood – it's all dovetail joints – and then I created a lid."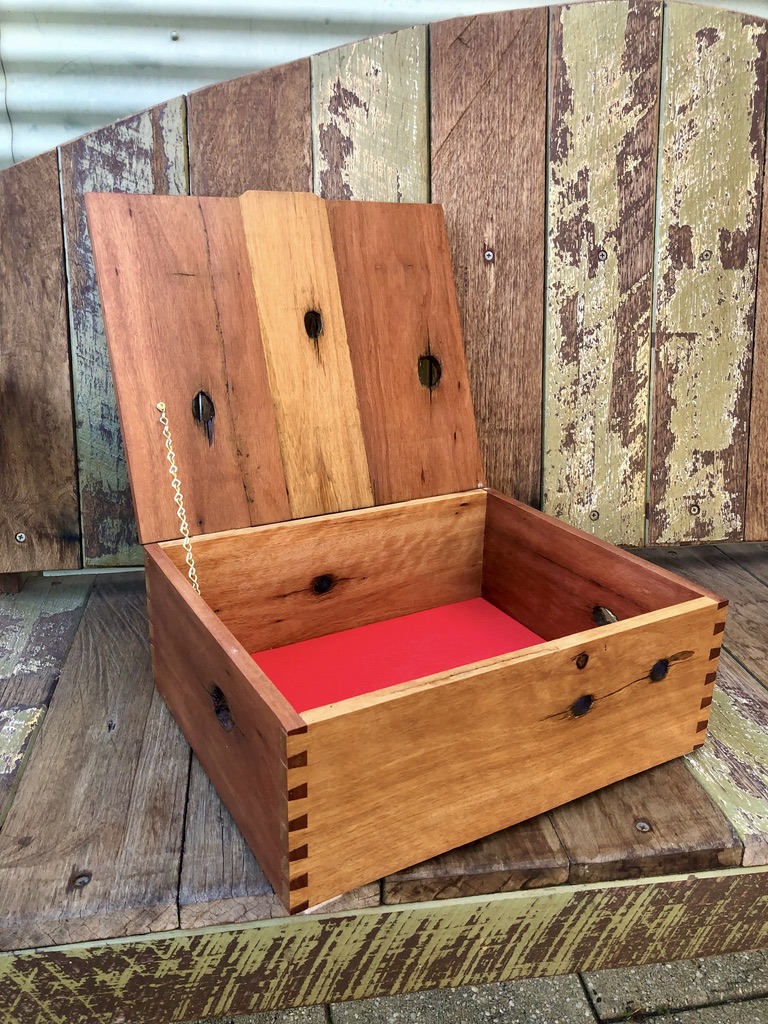 A mahogany box featuring the holes where the wire used to go through the fence posts. It is sitting on a bench Jeff made out of an old pergola. (Jeff Daniel)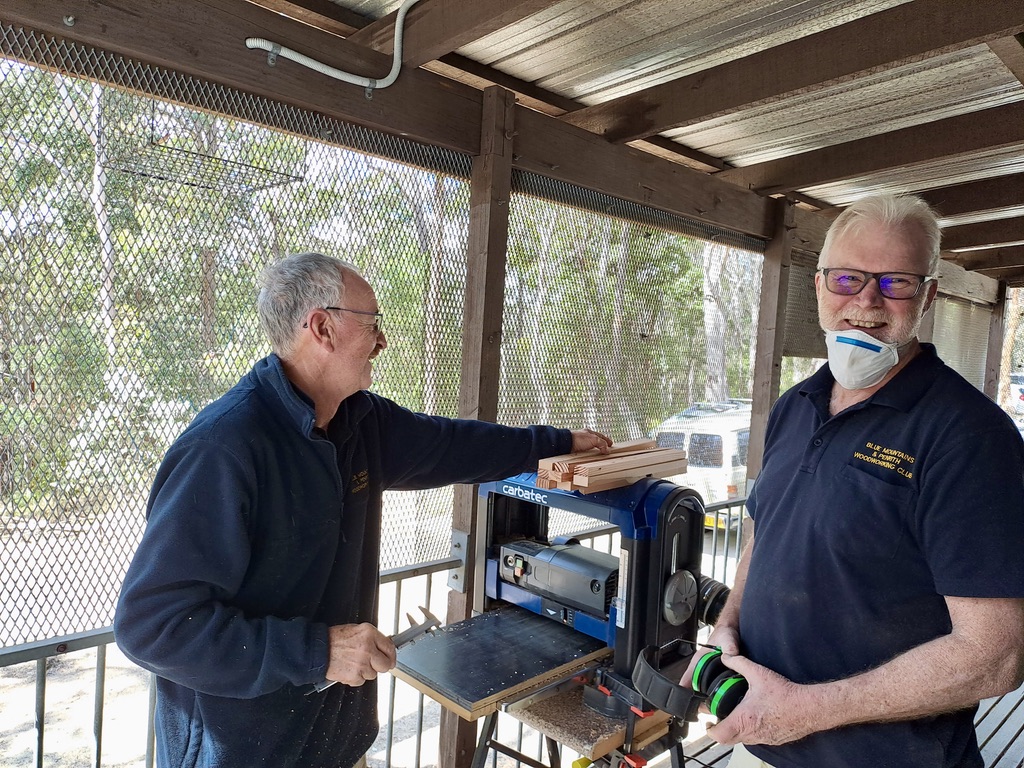 Rob Dudfield and Jeff Daniel work on a project together. (Julie Nance)
Sculptor Don Shea is one of the newer members of the Club. For years he's been wanting to transform three logs stored at his home into something meaningful. Joining the Club has given him the motivation, as well as the necessary tools and support, to get cracking on his project.
Jean Stone also joined this year with her daughter Vicki, after dropping into the Club's Open Day. When I caught up with her, she was busy fixing a dining chair.
"My husband used to mend everything at home but after he passed away, I was keen to learn how to mend things myself," she says.
"I have always liked going to woodwork stalls at markets. Since joining the Club, I have carved a wooden spoon and made a cheese board."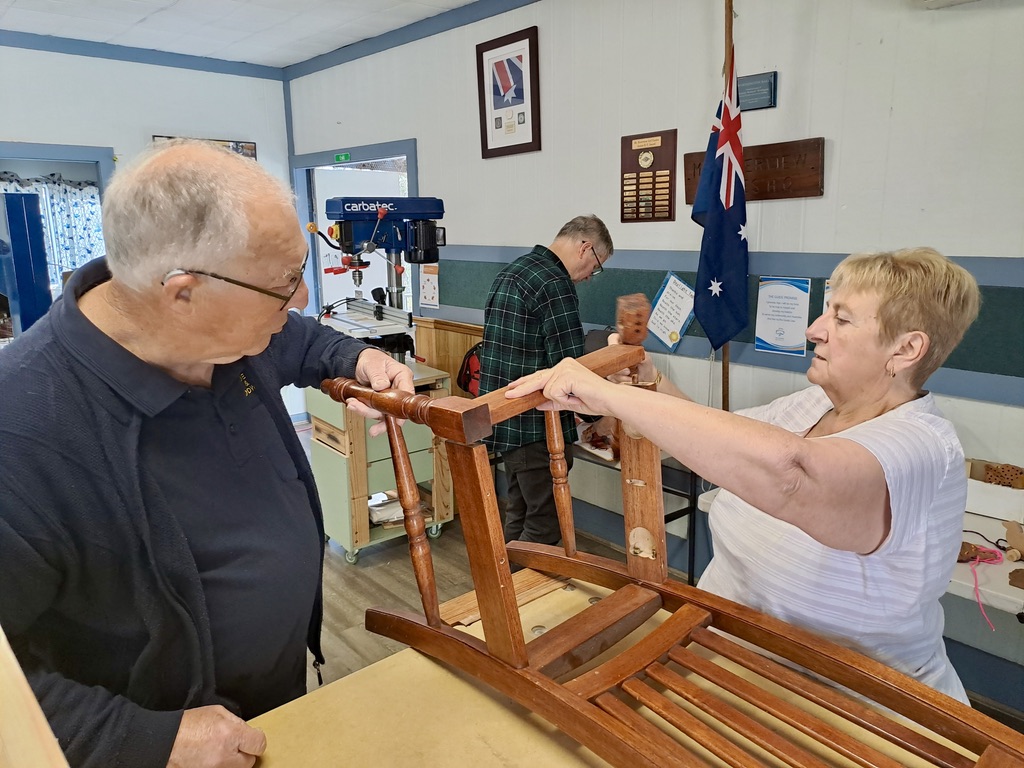 Ray Barrett provides guidance to Jean Stone. Jean: "I find woodwork and carving very relaxing." (Julie Nance)
The Woodworking Club began 20 years ago, originally one of the many 'Triton Clubs' set up and supported by Triton Tools.
President Ray Barrett was an original member and enjoyed being a demonstrator of equipment at the old site – Highway Hardware at Blaxland.
"We learned a skill and in turn passed it on to someone else," he says. "All these years later one of the greatest rewards of being part of the Club is that famous word – 'camaraderie'."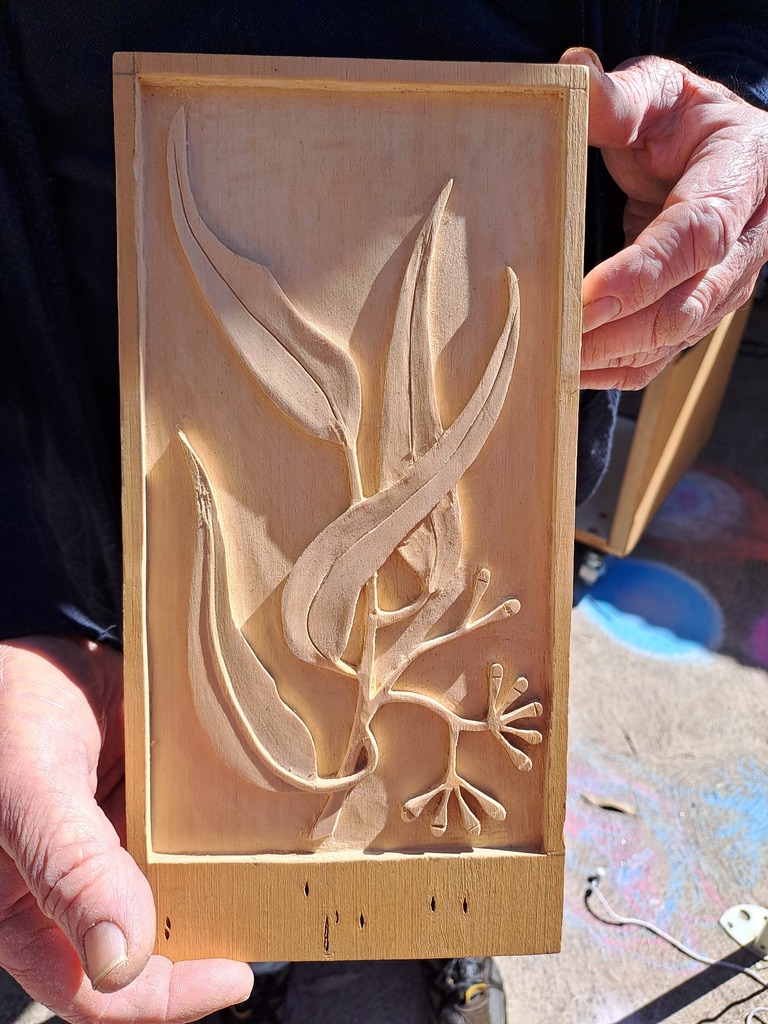 Ray's relief carving – where you work on one side of a flat piece of wood. (Julie Nance)
The Club began renting the Girl Guides Hall in 2008. While members are grateful for the space, they have to move lots of heavy equipment in and out of a small storage room every time they meet up.
"It's very difficult," admits another long-term member Daniel Clift. "It would be nice to get a very generous benefactor and build our own premises which we could share with other groups."
The Club relies mostly on grants from Blue Mountains City Council, Penrith City Council, fundraising, donations of equipment, membership and attendance fees.
At certain times throughout the year members make toys for 'Operation Christmas Child' shoeboxes sent around the world by the Christian organisation Samaritan's Purse.
Even through bushfires, COVID lockdowns and other challenges, the members kept on producing.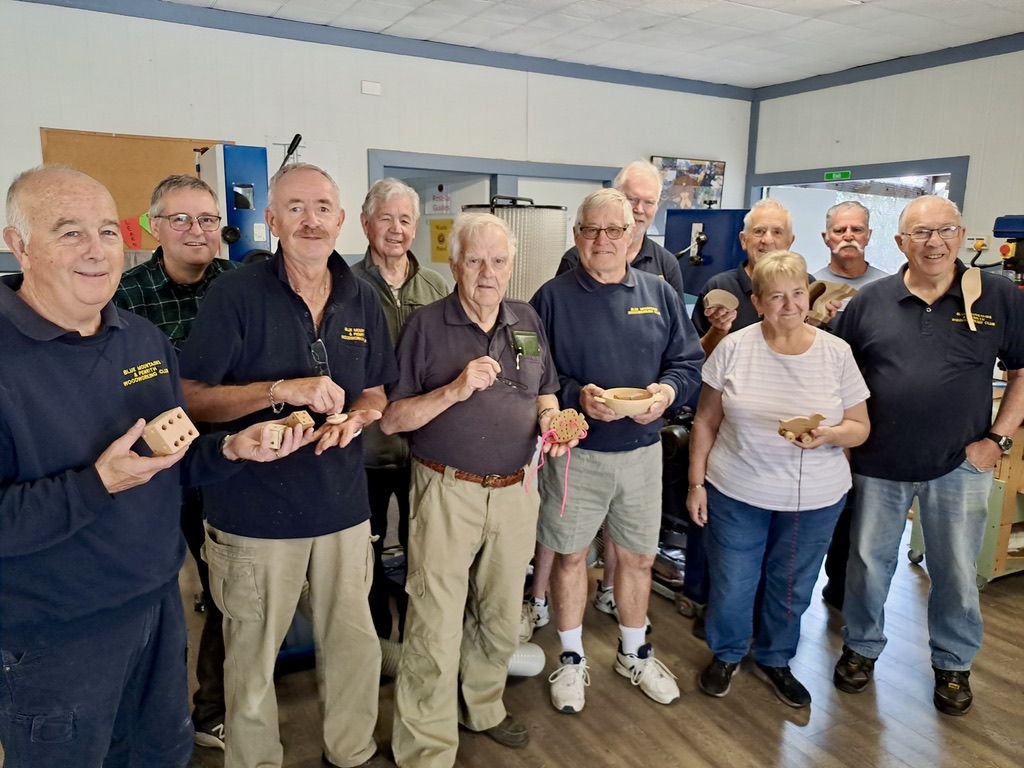 Some of the Club members showing off toys made for Samaritans Purse. (Julie Nance)
Back row L-R: Steve Brown, Don Shea, Jeff Daniel, Peter Murphy, Michael Reilly.
Front row L-R: Phil Knight, Rob Dudfield, Daniel Clift, Phil Tonks, Jean Stone, Ray Barrett.
Club members range from novices and part-time woodworkers through to carpenters and ex trade teachers. They travel from as far afield as Blackheath and Mt Druitt.
Secretary Phil Knight has a strong focus on health and safety, pointing out the large dust extractor the Club uses. The former science head teacher also describes himself as the "problem solver".
"Recycling second-hand materials limits what processes you can use to make your projects," Phil says. "Problem solving is an essential skill to effectively use all the materials available."
It's obvious many ideas and passion projects would not have come to fruition without the Club's existence.
Robert Dudfield transformed wood from a fallen Japonica Wisteria tree on his property into a CD cabinet, wood panelling, a toolbox and shelves to display his wife's pottery.
"I couldn't have done it without the equipment and support here," he says.
---
Take Action:
Learn new skills, save items from landfill, help charities and have fun! Check out the Blue Mountains and Penrith Woodworking Club. Visitors, and new members aged 18+, are always welcome. The Club meets at the Girl Guides Hall, Bunbinla Ave, Mt Riverview between 9am and 2pm on the second and fourth Saturdays of each month (except December). Workshop attendance fee is $10 per session to cover rental and morning tea. Check the website for exact dates www.bmpwc.weebly.com. For further information call Secretary Phil 4739 5303 or President Ray 4739 3502. It's $10 to join the Club, plus a $20 membership fee per year.
Share this article:
---
This story has been produced as part of a Bioregional Collaboration for Planetary Health and is supported by the Disaster Risk Reduction Fund (DRRF). The DRRF is jointly funded by the Australian and New South Wales governments.