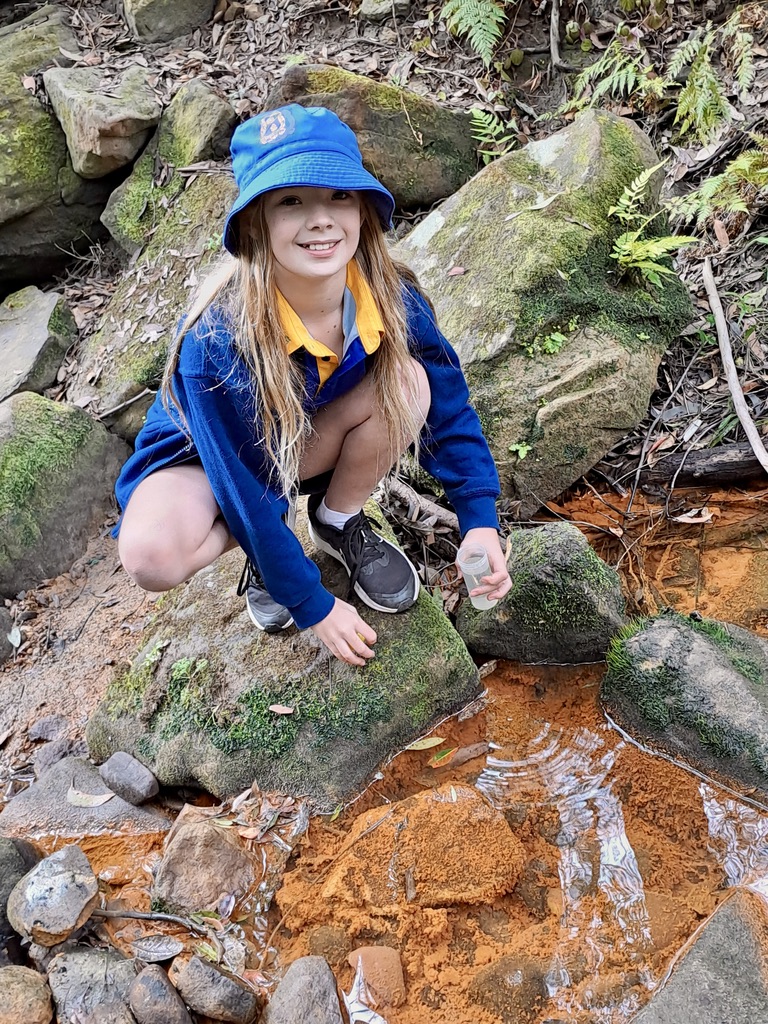 Mikayla taking a water sample at Lennox Creek.
Story and photographs by Julie Nance
Every Autumn Blue Mountains City Council conducts water monitoring on more than 70 creeks, adding to 25 years of data. A new group of 'Aquatic Scientists' has joined the ranks of the professionals. Glenbrook Public School Year 6 students have been armed with the tools and knowledge to help look after the health of our waterways. Through beautiful art and poetry, they are showcasing their growing connection to nature.
---
Key Points:
There are concrete steps we can all take to keep our waterways healthy.

Glenbrook Public School students are learning to care for and respect natural areas in their own backyards.

Key elements of child development fostered through contact with nature include play and motor development, building a sense of identity, autonomy, psychological resilience and learning healthy behaviours. (Source: Beyond Blue to Green: The benefits of contact with nature for mental health and well-being)
Share this article:
---
The Gully, by Myles (age 12)
River flows through rocks
The song of parrots rippled
The Earth has found me
I hear the sound of life
Rhythmic in its loving song
Feel free in nature
I know my place here
I can feel it in my heart
It is calling me
Time is ticking slowly
Everything stops moving
Just for me
Spending two hours with budding environmental scientists, poets and artists under the oldest mainland bridge in Australia is an enriching experience.
Almost two centuries after convicts built Lennox Bridge, a group of 11 and 12-year-olds is learning how to protect Lapstone Creek that runs beneath the sandstone structure.
The experience is part of Blue Mountains City Council's Connect to Nature Program: a hands-on environmental education program for local schools.
It's a far cry from the only excursion I can remember in primary school, a visit to a museum where the mantra was "look but don't touch".
On their recent field trip exploring the local catchment, Glenbrook Public School's Year 6S opportunity class were entrusted with the same equipment and data sheet used by Council's Aquatic Scientists.
They learned and practised water monitoring skills and gained knowledge about the characteristics and values of the catchment, urban impacts and how to identify possible threats to waterway health.
Their expertise will be applied to individual, five-week monitoring projects at their local creek near each of their homes.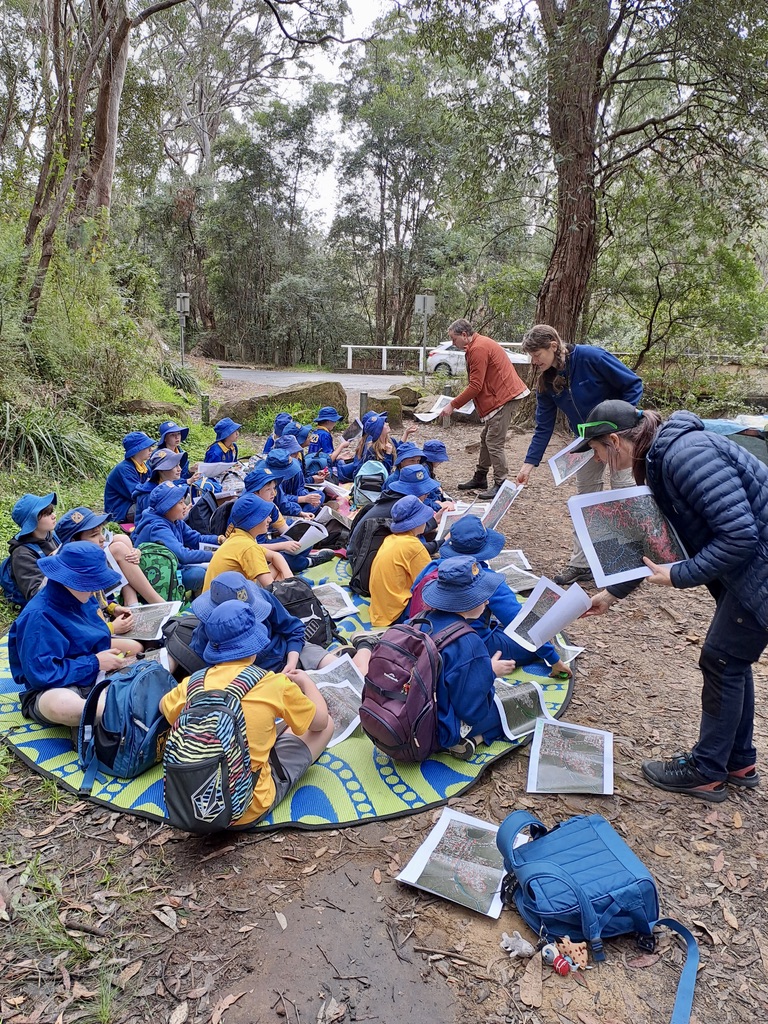 Healthy Waterways Environmental Education Officers Gill Fitzgerald (foreground), Emma Kennedy and Nathan Summers prepare the students before they walk down an embankment to the creek.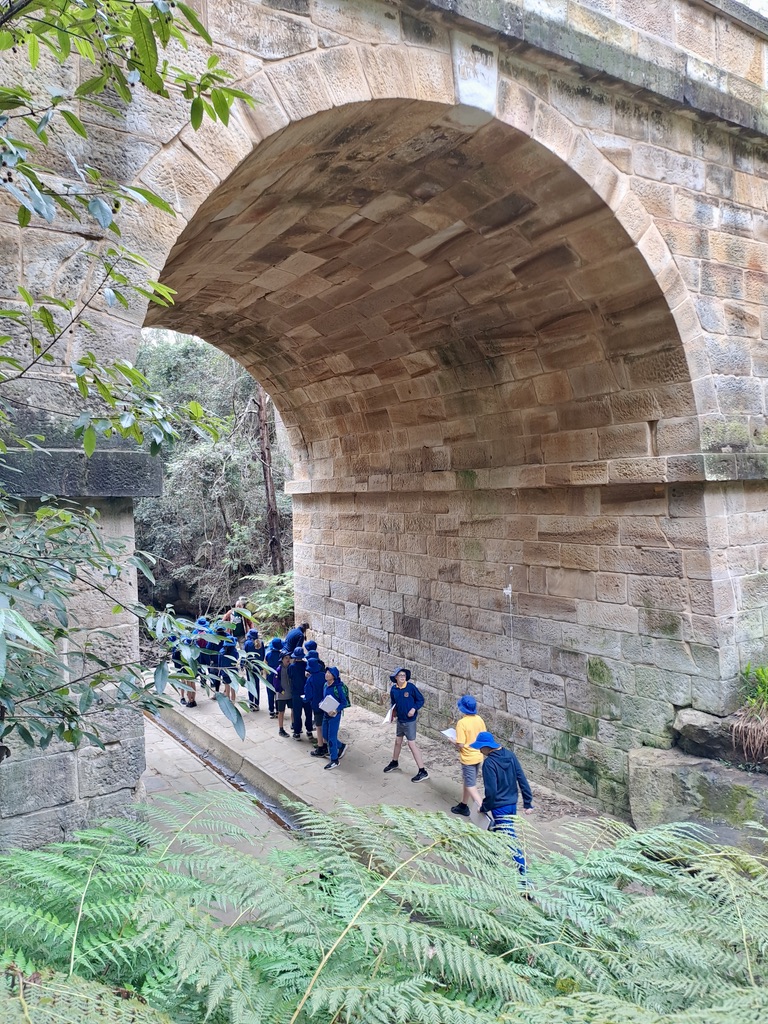 Students arrive under Lennox Bridge.
"Electroconductivity", "riparian zone" and "turbidity" were not words I was expecting to hear rolling off the tongues of primary school students. It was impressive how quickly the children picked up the scientific lingo of their educators from Council's Healthy Waterways Team.
Mikaela quickly gained a grasp of the fundamentals.
"Even the nutrient levels in the water are important," she says. "If they are too high or too low, they can cause problems including providing the ideal conditions for weeds to grow.
"We need suitable habitats for our creatures, and we can all stop the negative effects from our homes on the environment."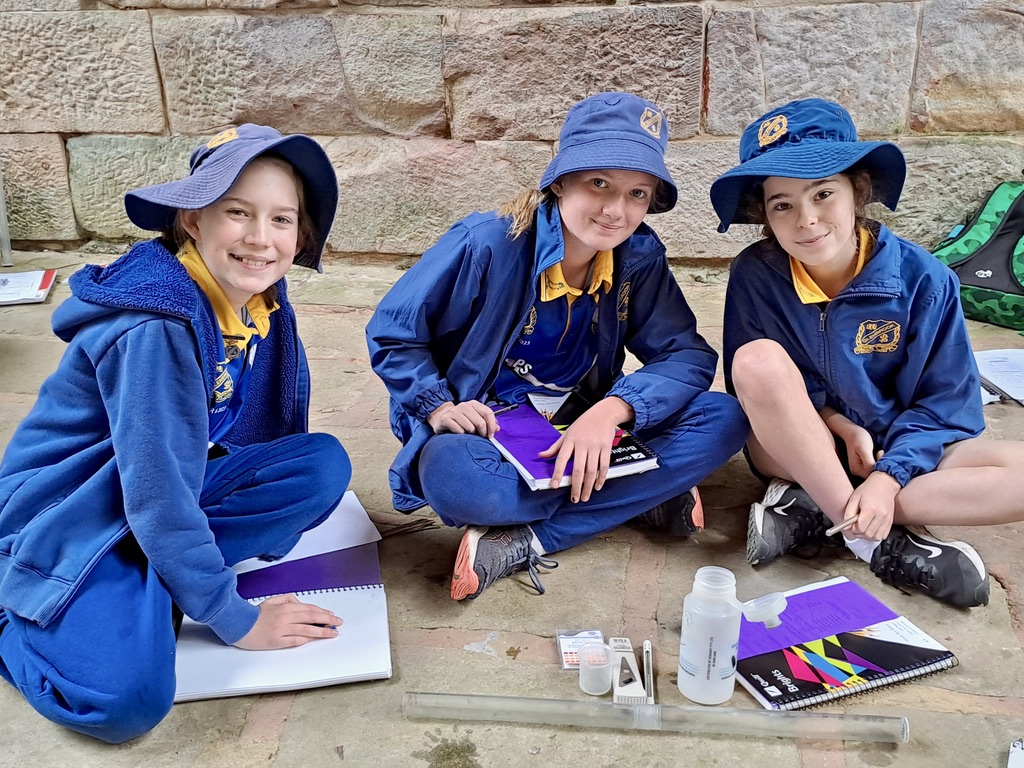 Andy, Holly and Albertine test their water sample for a range of measures including temperature and PH levels.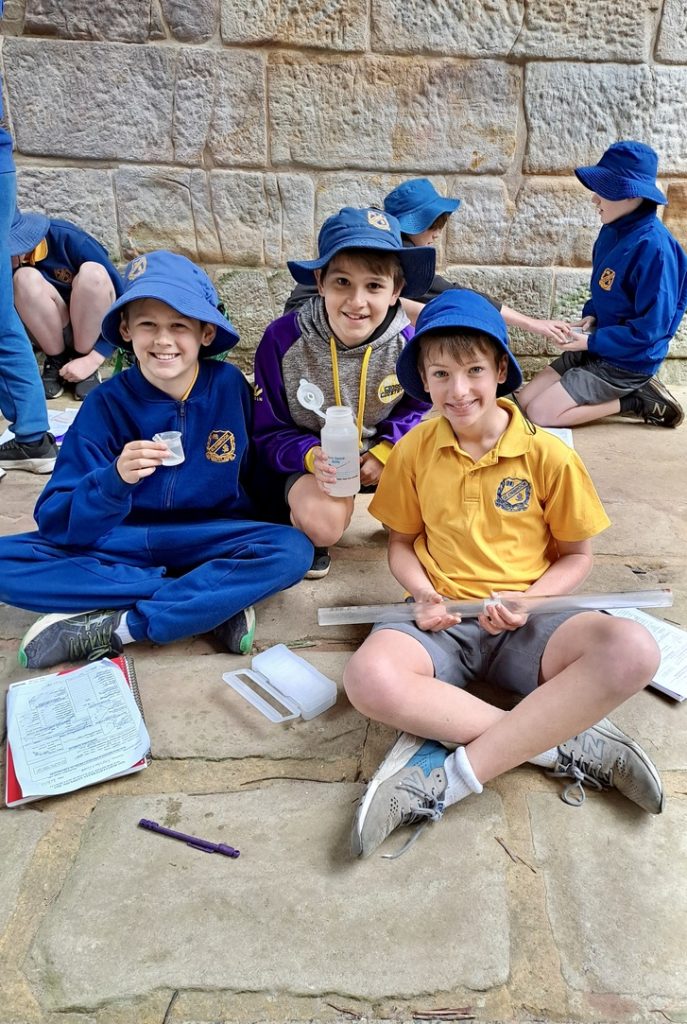 Aquatic scientists: Lachie, Sam and Owen.
The children were told the number one cause of damage to our creeks is urban stormwater runoff. They were encouraged to share tips with their family and friends such as washing your car on the lawn, not the driveway; picking up your dog poo; and only putting "3 Ps in the toilet – pee, poo and (toilet) paper".
They were horrified when shown a photo of a 'fatberg' extracted from a Sydney Water sewer. This ugly mass is formed when non-flushable items are put down the toilet, combining with fats and oils poured down the sink. Drains are blocked and thousands of dollars later the fatbergs are removed and sent to landfill.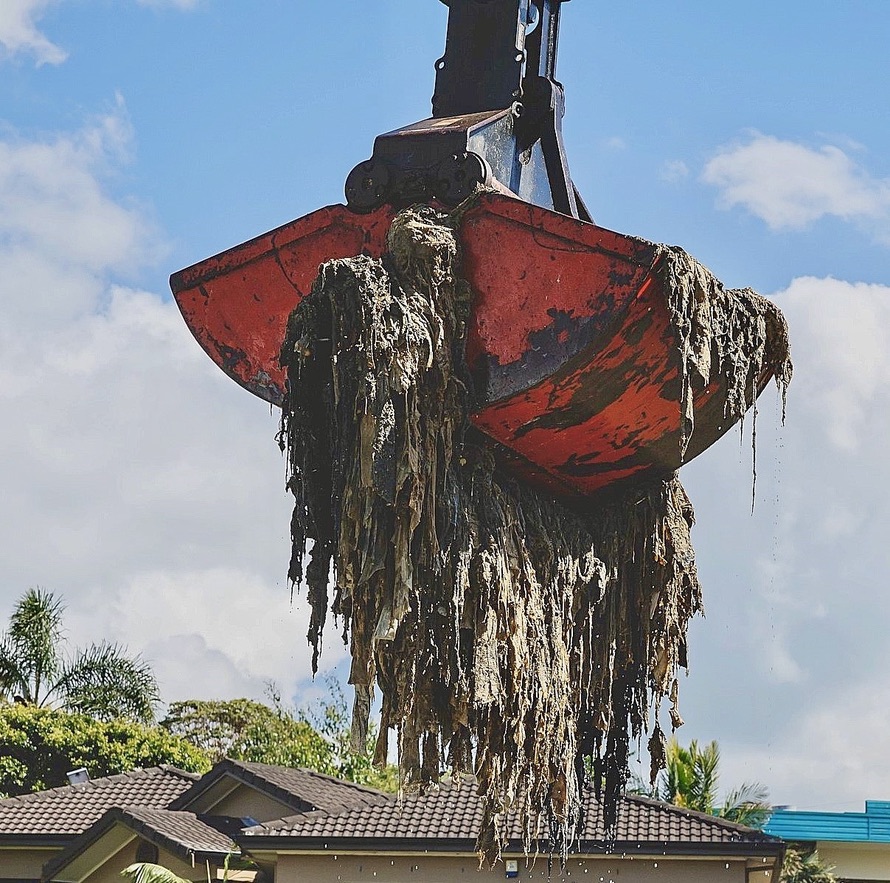 A disgusting 'fatberg'. (Photo supplied)
According to Myles, there are so many potential ways we can act to make our waterways healthier.
"This includes not putting non-flushable wipes, cotton products or tissues down the toilet," he says. "These sorts of things block the pipes and have a big impact on our waterways."
Emma Kennedy, Healthy Waterways Education and Engagement Officer, tells the class the aim is for creeks to be as clean and healthy as possible to support the creatures who rely on them. With some local streams flowing into drinking water catchments, humans also depend on healthy catchments.
The children learned Lapstone Creek runs directly into the Nepean River where platypus live. They were visibly excited to find out that platypus DNA had recently been found in creeks in the lower Mountains.
Emma encouraged the children to become platypus guardians.
"What gets us out of bed of a morning and keeps us awake at night are things like our beautiful platypus," Emma tells the children.
"How can we better protect our platypus from the impact of humans? They are a threatened species. We are losing them. You are the next generation moving forward. You are the people who will grow up and be the decision makers. Your decisions will affect species like the platypus."
For Holly, the most memorable takeaway from the excursion was learning that she shares the lower Mountains with the platypus. The children heard that this threatened species needs little pools to live in, burrowing up to 10 metres into creek banks with vegetation.
"We have such an impact on their life," Holly says. "We can stop putting the wrong stuff in the toilet, so we don't cause sewer blockages and leaks into our local creeks, and we can better sort out our rubbish."
Teacher Cathy Sadler tells her class: "In your backyard, your local creek area, if you do one thing such as not putting a tissue down the toilet, you are doing something for a better world."
Armed with new facts and skills, the children were invited to explore the creek and caves.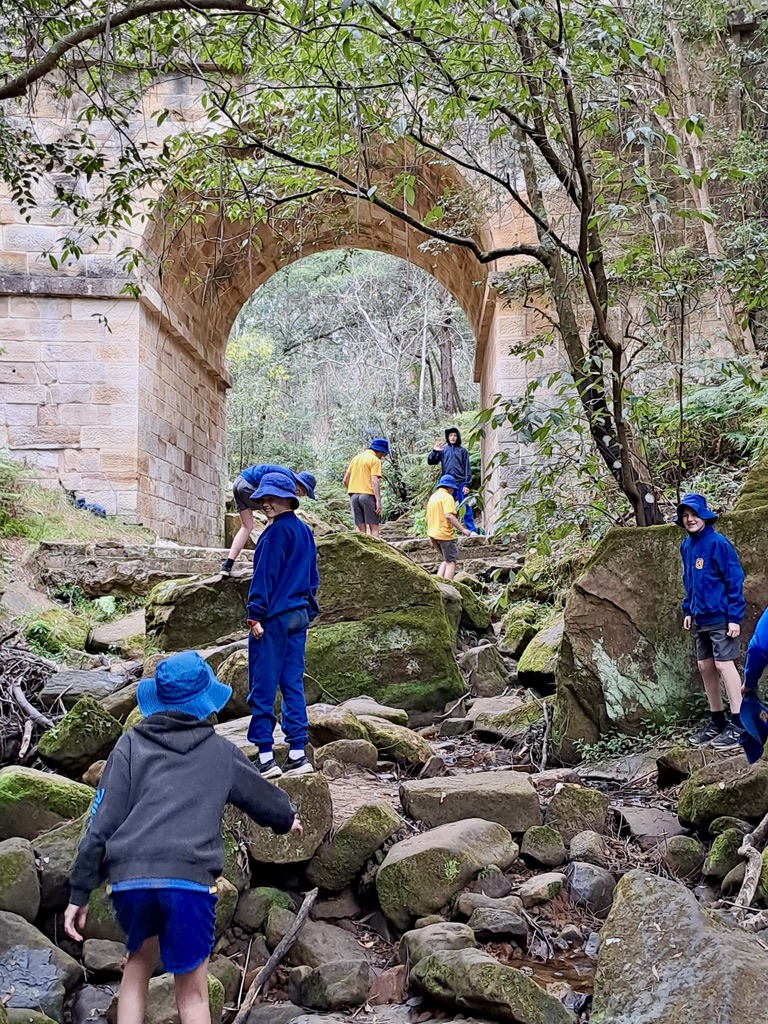 Rock hopping fun.
While the children were roaming, Cathy shared her love of the Connect to Nature Program.
"It means so much to the children learning onsite rather than in the classroom," she says.
"They have a shared memory of what it means to be part of the environment. They live it and get immersed in it, rather than just looking at a slide."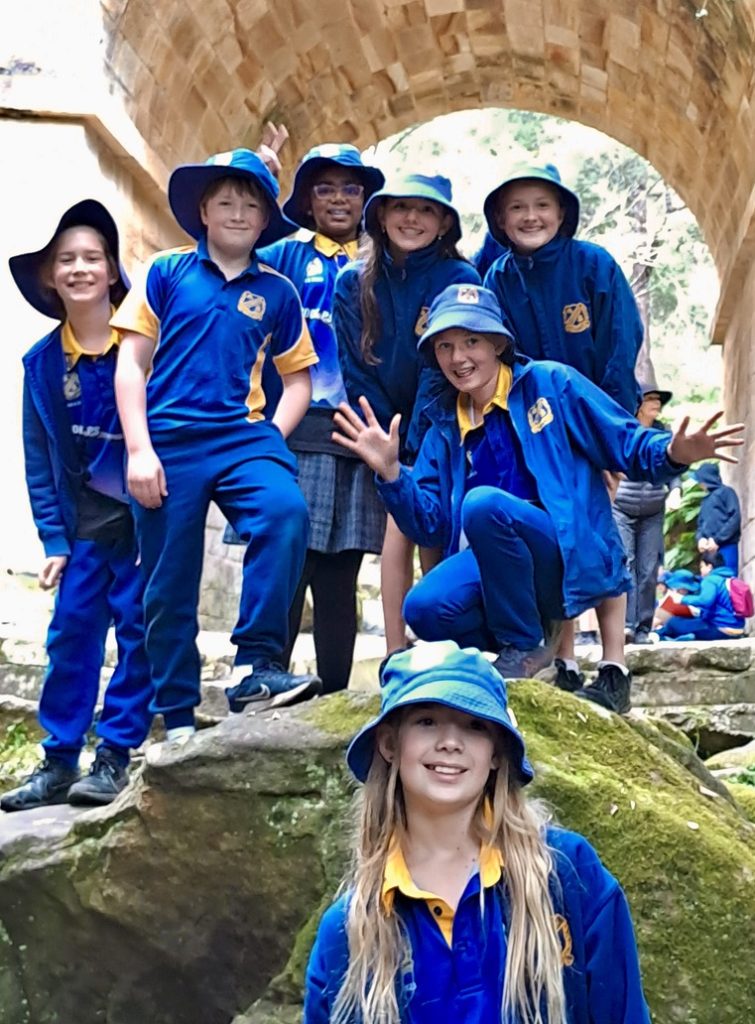 Having a ball: L to R Andy, Pat, Oviya, Isabella, Grace and Holly, with Mikayla in front.
Before they leave Lennox Bridge, Albertine tells me she is looking forward to her own water monitoring project at Fairy Dell Creek near her Springwood home.
"I'm excited about getting the results," she says. "I'll have a better idea of the health of the water and I'll get to know my area better."
Mission accomplished: Students leave the site with the expertise and enthusiasm to carry out their individual creek monitoring projects.
Expressing their experience creatively
After viewing artworks and poetry completed by the class following the excursion, I can see what Cathy means when she says her students are "very intuitive and creative". The following are a small sample of the children's works.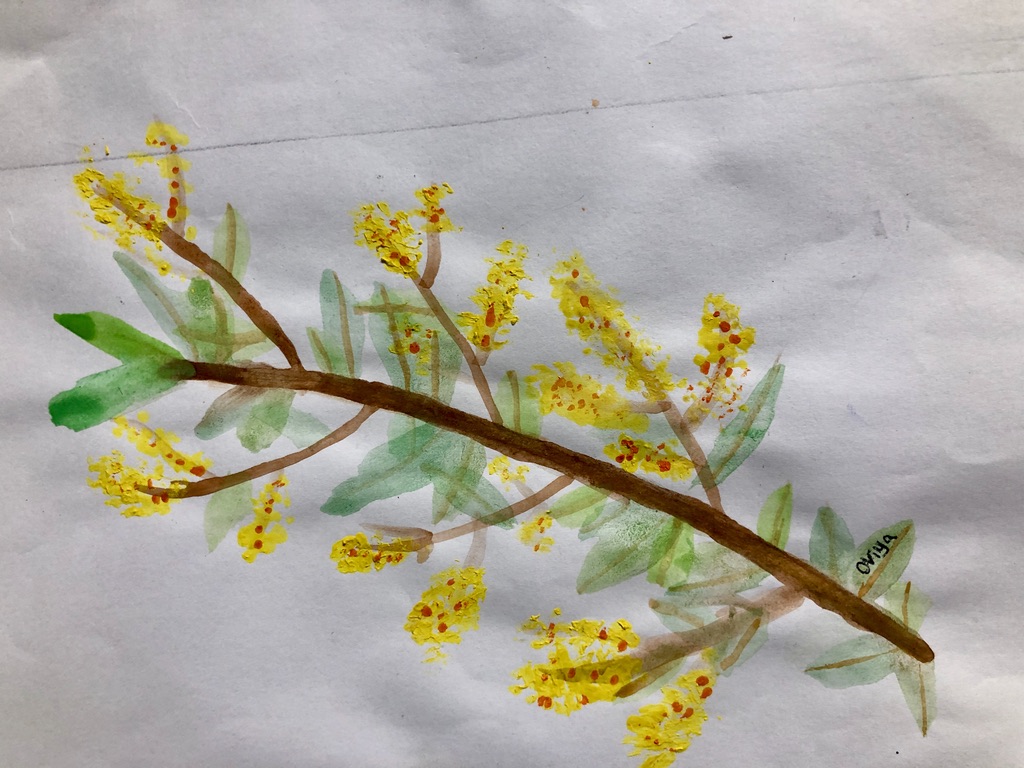 Oviya's creation
The Gully, by Owen
A short walk away the old Lennox Bridge,
Made by convicts getting paid by block,
Water runs through the middle.
Life ever changing.
Life being tested.
This is the gully.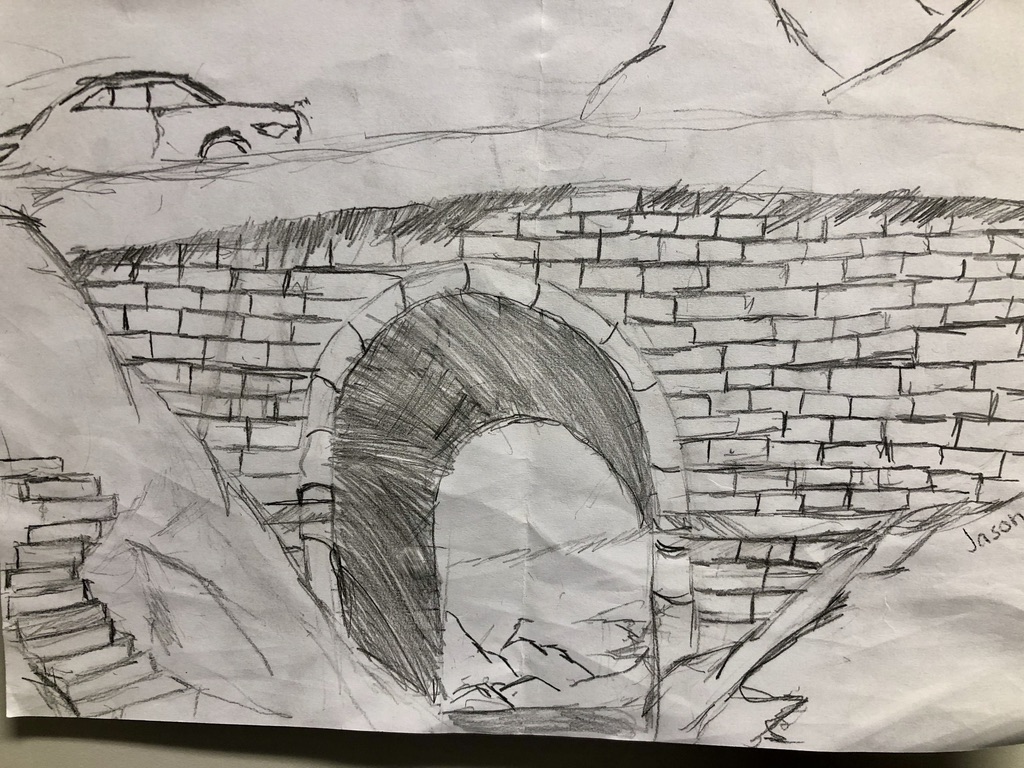 Artwork by Jason
---
Take Action:
Wash your car on grass or gravel or take it to a car wash

Reduce the use of pesticides, herbicides and fertilisers

Stop dirt, leaves, grass clippings etc. from entering gutters and drains. Sweep hard paths and driveways regularly and put sweepings on the garden, in the compost or bin

Stop soil and mulch from being washed or blown off the garden

Replant areas of disturbed soil

Use natural alternatives to pest control chemicals.

Find other ways you can Reduce Stormwater Pollution here
Share this article:
---
This story has been produced as part of a Bioregional Collaboration for Planetary Health and is supported by the Disaster Risk Reduction Fund (DRRF). The DRRF is jointly funded by the Australian and New South Wales governments.