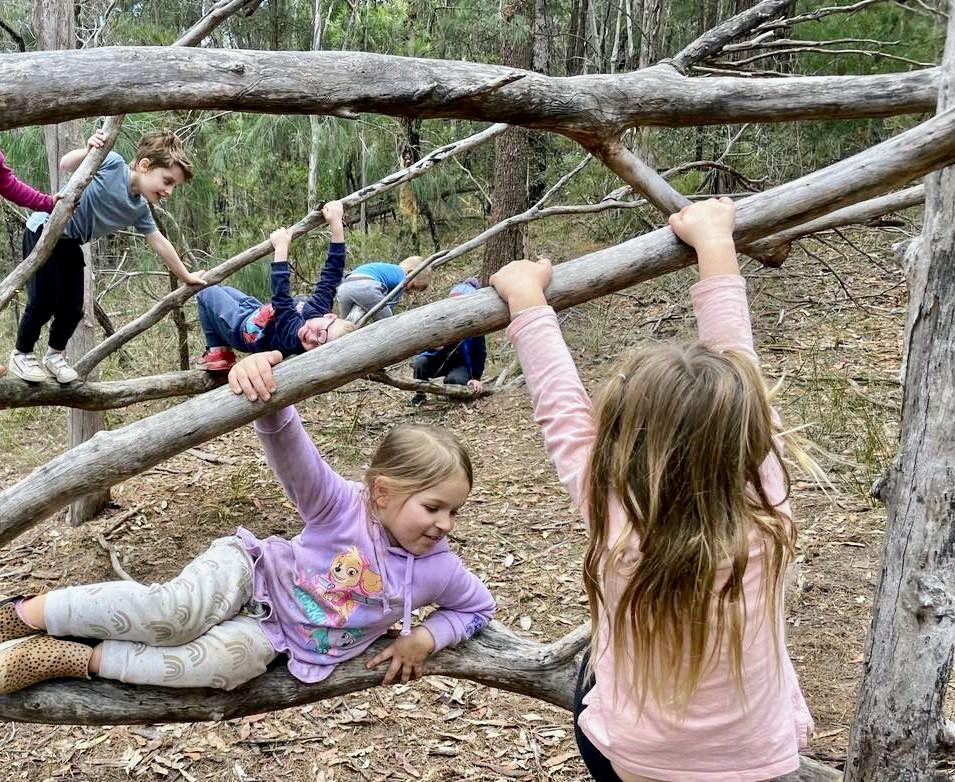 'Climbing Tree' is a special place for the children, thanks to fallen tree branches (Kate Baker).
By Julie Nance
For five-year-old Mary, the "bestest" favourite thing about Bush Preschool is crushing rocks and using them for face paint. "Making a Gunya", the Dharug word for shelter, comes a close second.
Finnigan tells me: "The cool thing about charcoal is you can draw with it." He also reveals: "Warami means hello."
When I arrive at a patch of bushland in the lower Mountains on a sunny Tuesday morning, I witness something special.
Preschoolers are enjoying free play at various sections of the site which includes Tree Tops, Gumnut Place, Cooee Cave and Climbing Tree. There's art being created, marshmallows being roasted, large sticks being hauled around and rocks clambered over.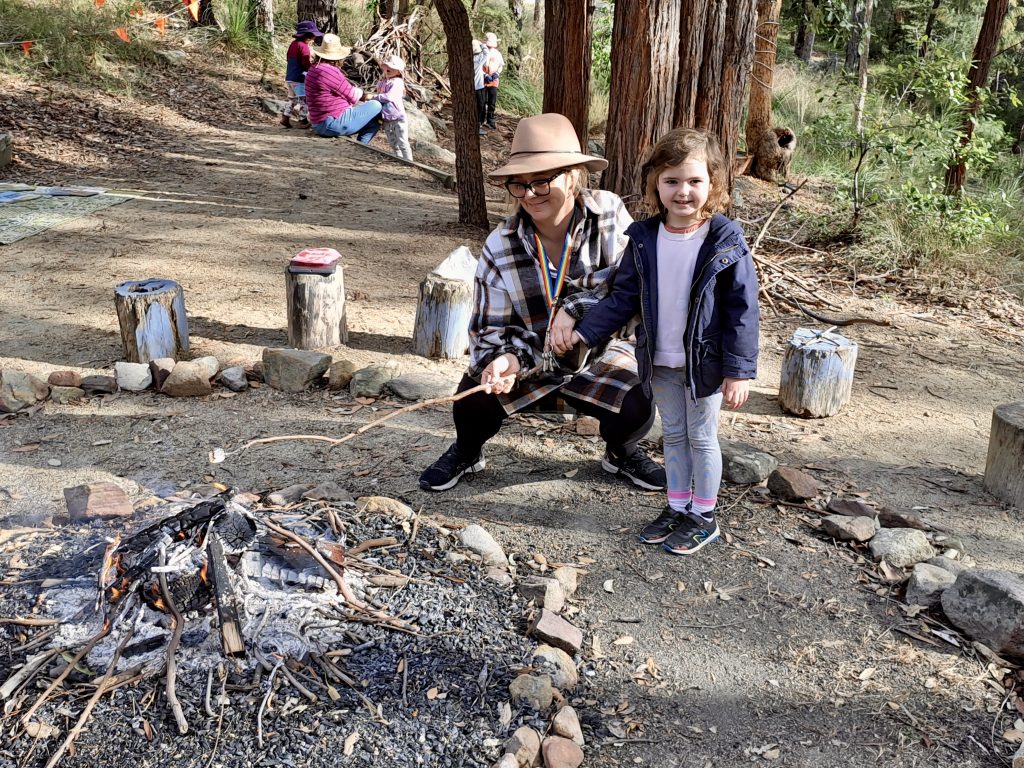 Educator Tash and Annie enjoy toasting marshmallows together. (Julie Nance)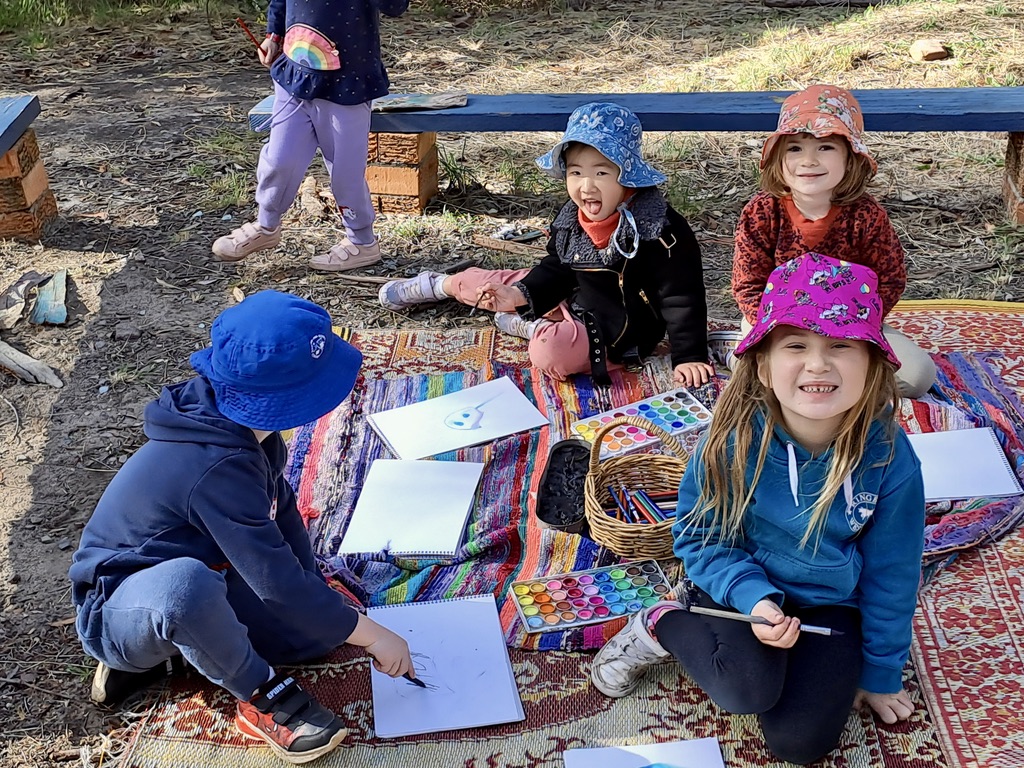 Time for being creative. (Julie Nance)
For seven years, Blaxland Preschool Kindergarten has been delivering an innovative nature-based program that encourages adventure and risk-taking.
Inspired by Scandinavian Forest Kindergartens run in all-weather including snow, Bush Preschool is offered to children one day a fortnight. They are dropped off at the site in the morning and picked up at the end of the day.
The children learn about Aboriginal culture and gain understanding and appreciation of their natural environment. If it's raining, they construct shelters with materials they find in the bush. Tarps are a back-up if the weather is particularly nasty. Getting dirty is encouraged.
I learn from Dee that local Aboriginal Elders and a National Parks Indigenous Ranger visit the children periodically and share their culture. They take the preschoolers on bushwalks, teaching them about animals and the various uses for plants and bark.
Dharug Elder Uncle Lex Dadd has a close connection to Bush Preschool, regularly sharing stories and songs about culture with the children.
"I talk to the kids about Yanama Budyari Gumada – learning to be patient, respectful and humble," he says. "I get to be a little rock star with my ukulele, play with puppets and tell stories. I give the kids what I didn't get when I was little."
Two educators have completed a Dharug language course and passed their knowledge onto the preschoolers.
Dee says: "It's amazing when children run up to you and say 'I just heard a Wagan' which means crow. They are using the Dharug language as part of their general language. We really appreciate the permission given to us to use this language."
One of the keys to Bush Preschool's success is the collaboration between Aboriginal Elders, educators and the children.
With the support of the elders, the preschoolers helped write the Acknowledgement of Country. They also had input into the development of a site map. The 2019 Emu Class members were encouraged to record their experiences by drawing, taking photos and naming parts of the site that were meaningful to them.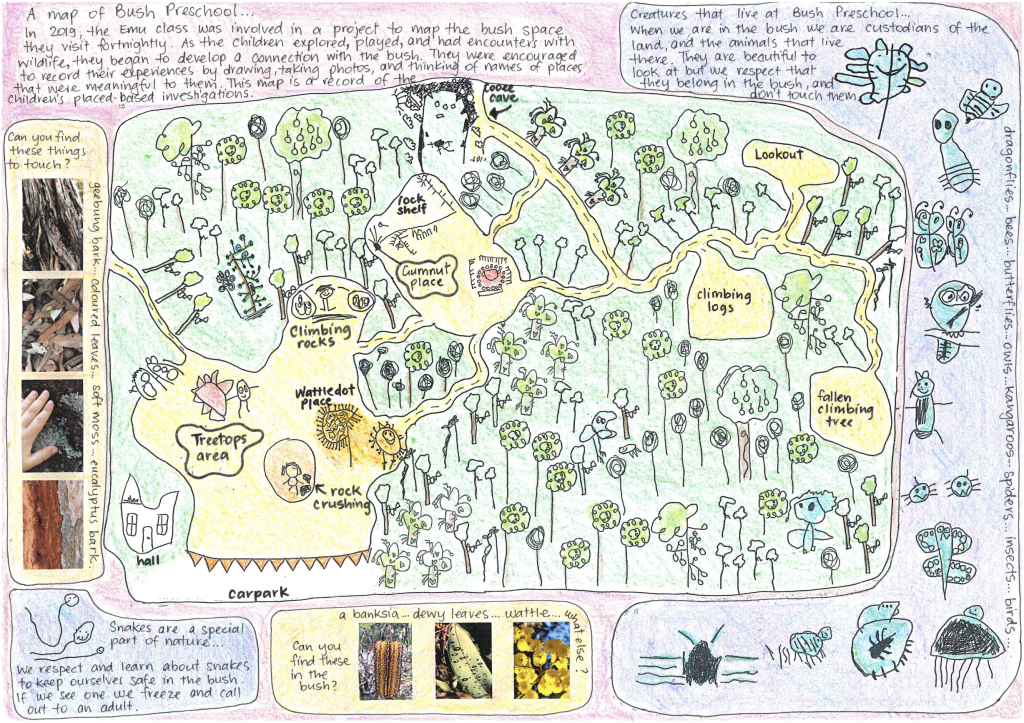 Bush Preschool map: A record of the children's place-based investigations.
Standard curriculum is covered – maths, literacy, music, drama, creative arts, science, environmental education and caring for Country – with an emphasis on learning through play.
Preschool Director Dee Wilde says children who gain an appreciation of their natural world and learn to be custodians of the land are more likely to look after it.
"The children learn not to damage the plants as they are walking through the bush, to care for living creatures and to take their rubbish away," she says.
Half an hour after I arrive at Bush Preschool a warm "Cooee" from educator Jillian Jager invites the children to sit in a yarning circle.
Together they count how many children are present today – a total of 17, with a few away.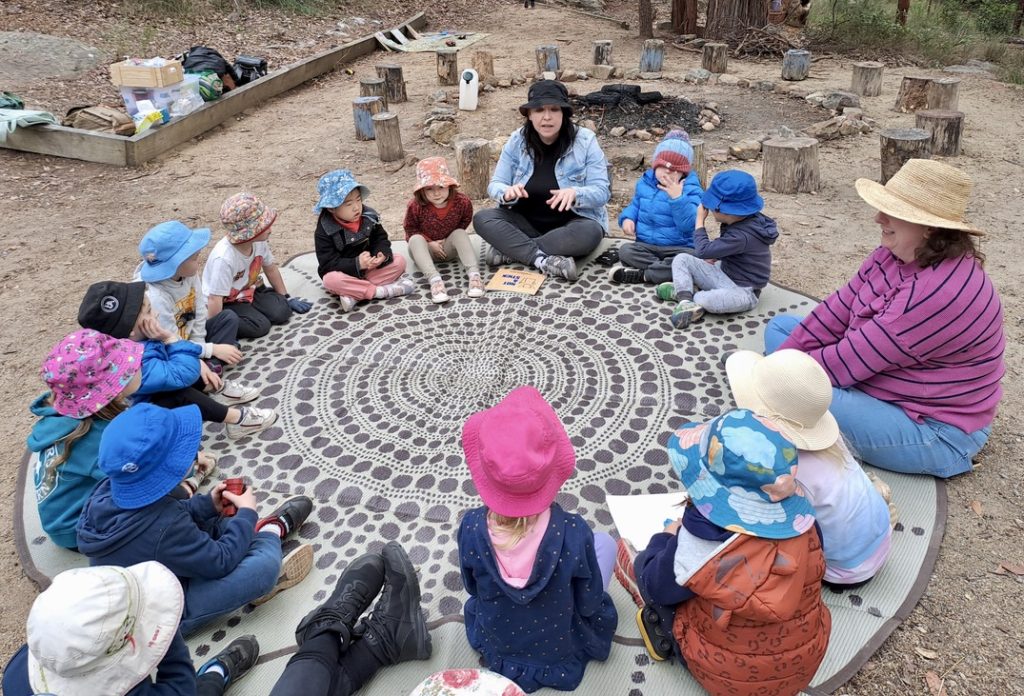 Jillian and the children gather in the yarning circle. (Julie Nance)
The children sing a unique Acknowledgement of Country that celebrates caring for Country and the animals, plants and waterways of the Blue Mountains. Adding to their spoken words are Key Word Signs based on Auslan (Australian sign language).
The Emu Class stay seated in a circle as Jillian reads the book Not a Stick. The children's imagination is captured as one everyday object after another is transformed into something extraordinary.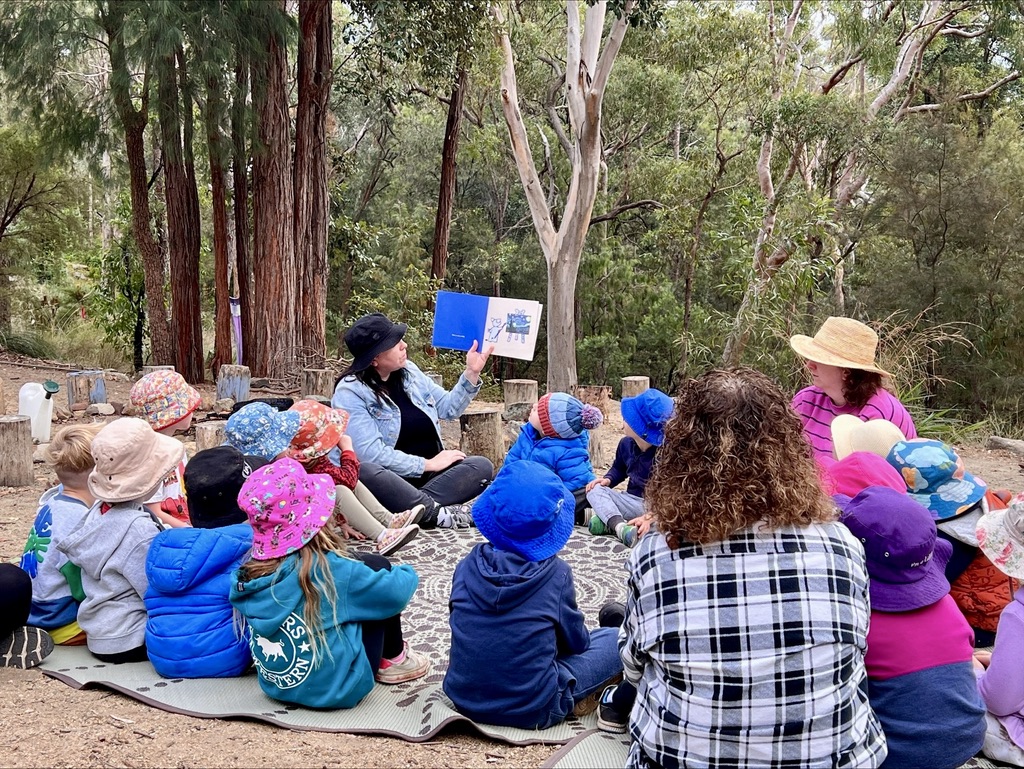 During story time one little boy shared: "Once I picked up a big stick and put it in a trailer." (Julie Nance)
After the story, morning tea is announced, and the children dive into their backpacks for their lunch boxes.
I ask some children what they like about Bush Preschool.
Eve shares: "I like the marshmallows and flowers. I saw a rainbow on Daddy's Day."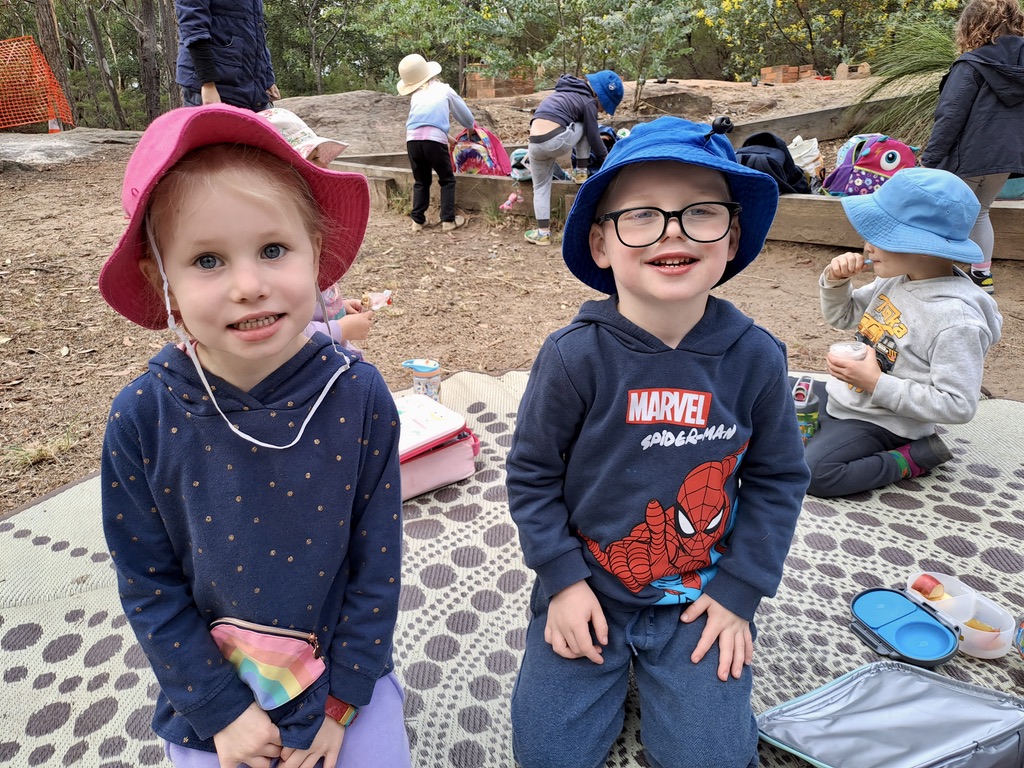 Eve and friend Hunter, who loves climbing trees. (Julie Nance)
Alannah says: "Climbing rocks is my favourite and I like doing art."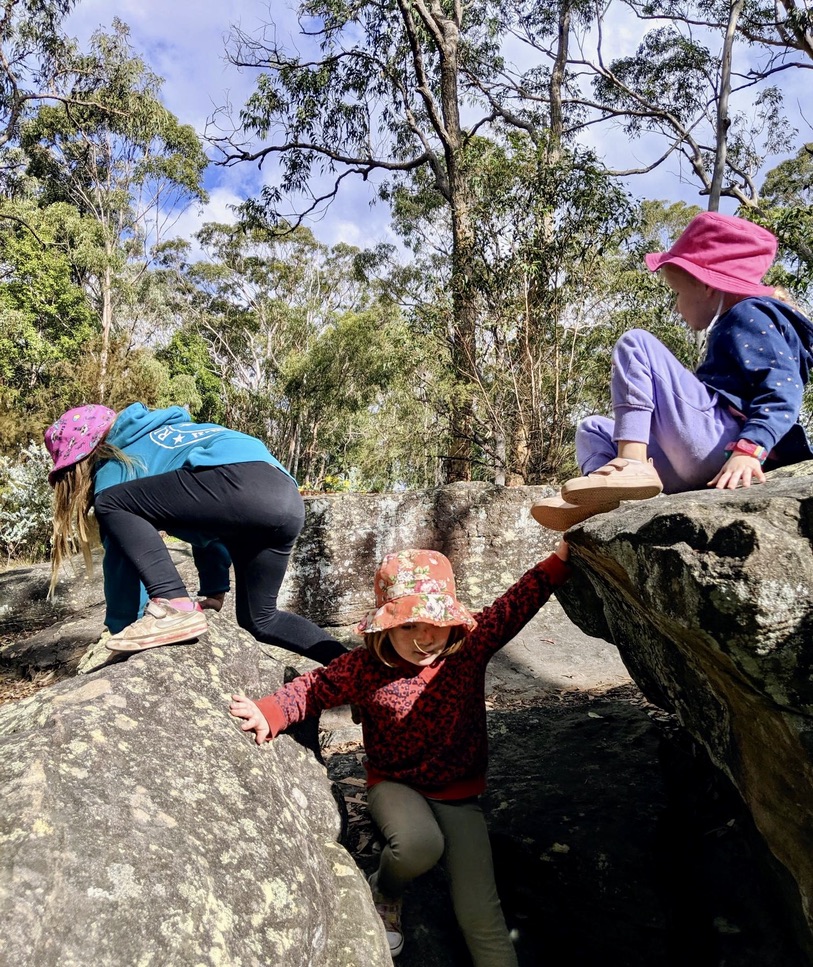 Climbing rocks is fun! (Jillian Jager)
Mary adds to her activity highlights from earlier: "I like finding bugs. I also like painting and craft and eating marshmallows."
Marshmallows are a big hit at Bush Preschool!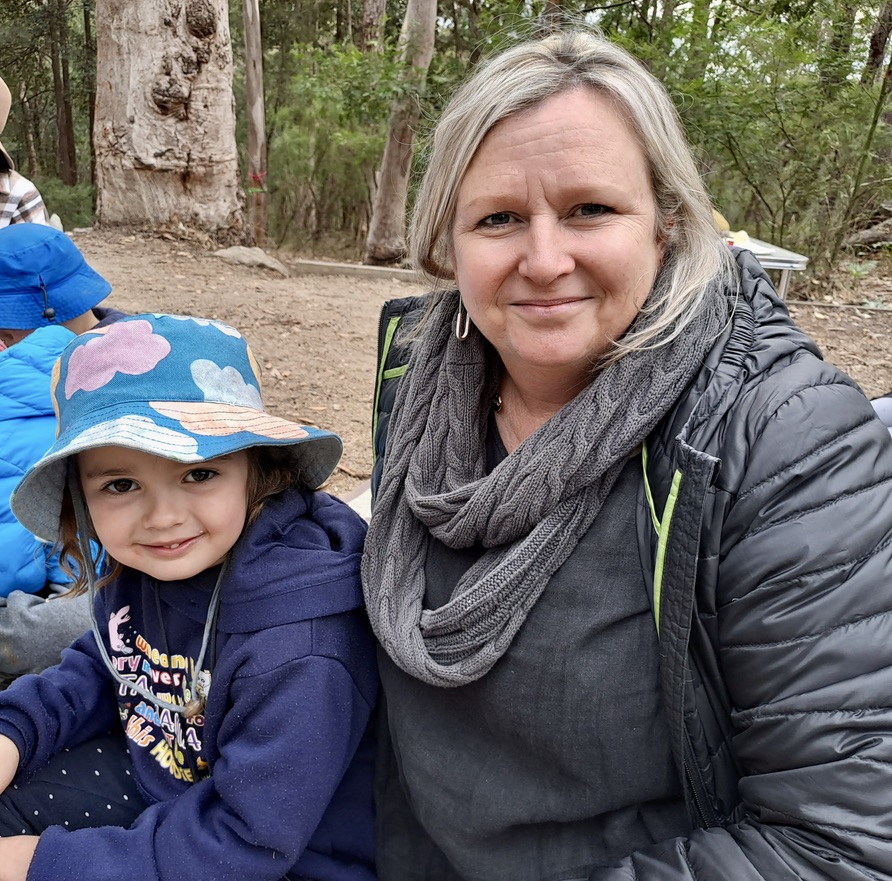 Mary and Preschool Director Dee Wilde. (Julie Nance)
Before Bush Preschool is run in terms two and three, important preparation takes place in term one. Educators get to know their class members and their abilities, and the children contribute to the program's risk assessment. This includes how to keep safe in the bush and around campfires.
The children often refer to an A3-sized document titled 'How can we stay safe at Bush Preschool?' I wholeheartedly support one young class member's message: "Don't touch a snake. If you see a snake stay still."
Another preschooler warns: "Stop and stay with the group." A little boy agrees: "We stay with our grown up and don't walk away on our own."
Dee says it's important for the children to be challenged and take part in risky play. They are encouraged to manage their own risk by thinking about what feels safe for their own bodies, particularly when climbing.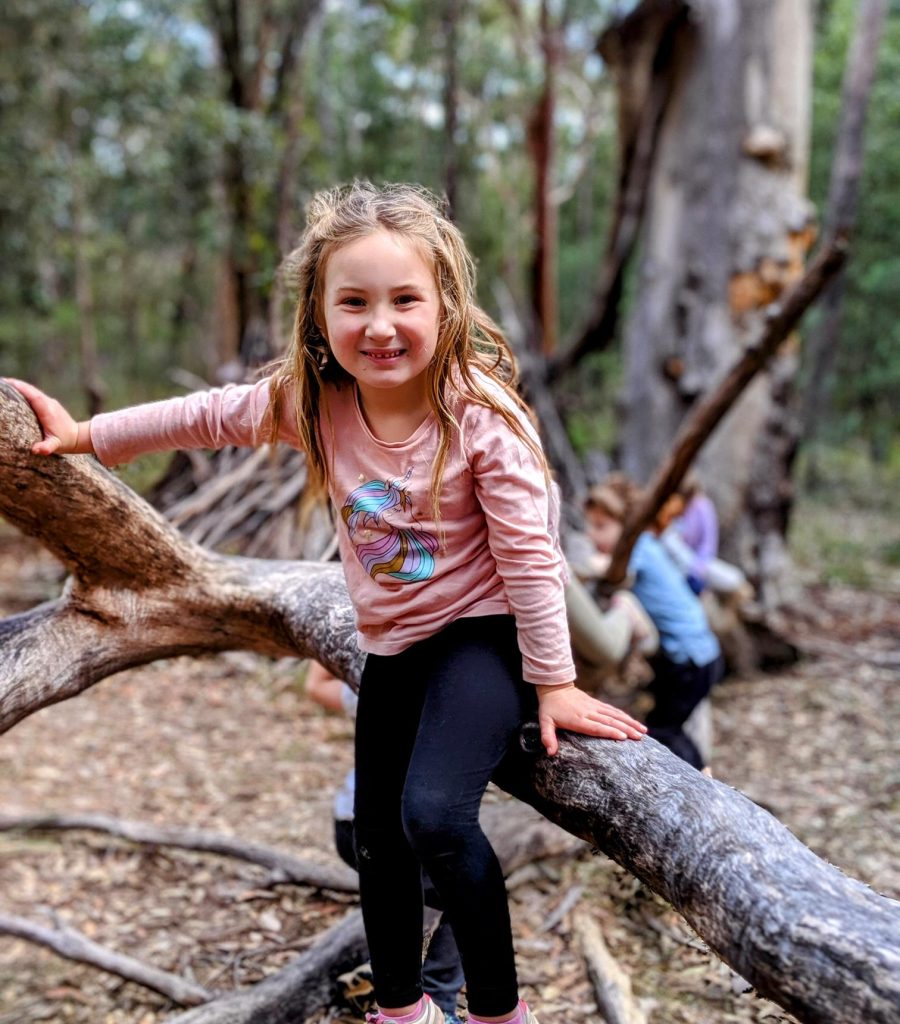 Alannah enjoys the Climbing Tree. (Jillian Jager)
Educator Tash calls the Green Emus together with "Cooee" and tells them: "We are going to do something super-duper exciting. We are going to go onto the climbing rocks. You need to help me. How can we keep our bodies safe on the rocks?"
One group member says: "We can use our hands and grip the rocks."
When Tash asks what might happen if they climb while holding onto something, a child responds: "They might fall off and hurt themselves and go to hospital."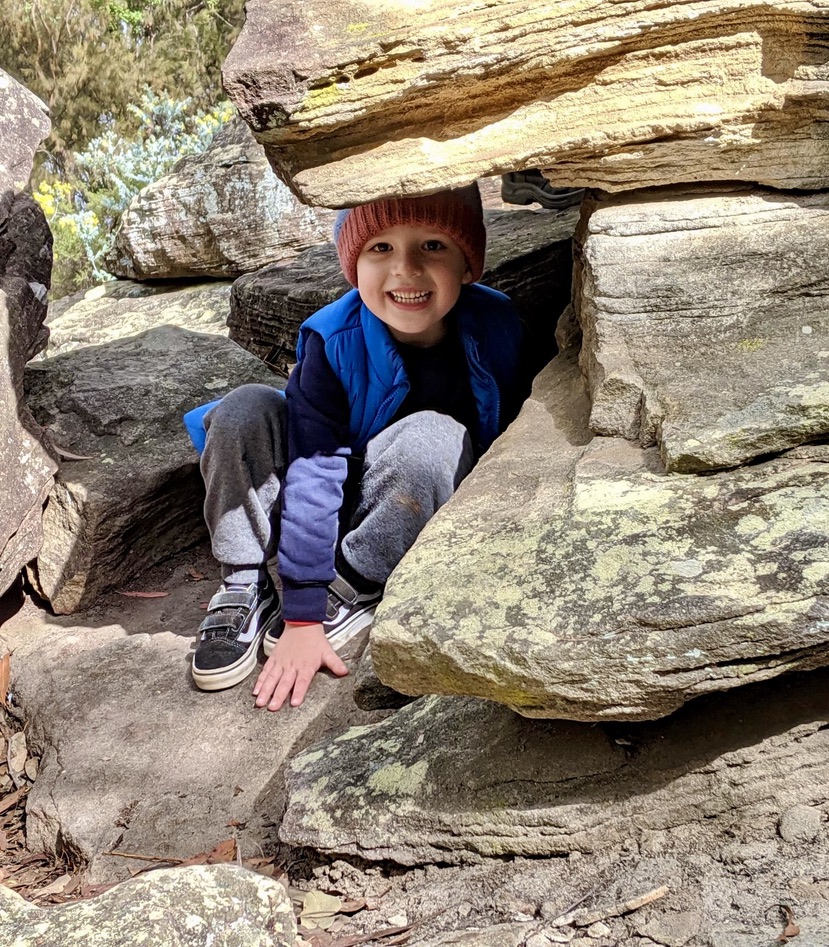 Green Emu class member Arlo finds a good spot to hide amongst the rocks. (Jillian Jager)
Children with disabilities are encouraged to join in the program, some requiring mobility aides to support their participation.
"You learn unexpected things about children here," Dee says. "Some might be shy and reserved in the traditional preschool environment but at Bush Preschool they can be more confident and take on a leadership role."
The children have ample opportunity to guide their own learning and research. They are encouraged to seek out materials to play or build with from the natural environment.
Finnigan, who says he is "four, nearly five", leads me over to the Gunya he helped build.
"I like making a little roof cover with sticks and sitting inside," he says.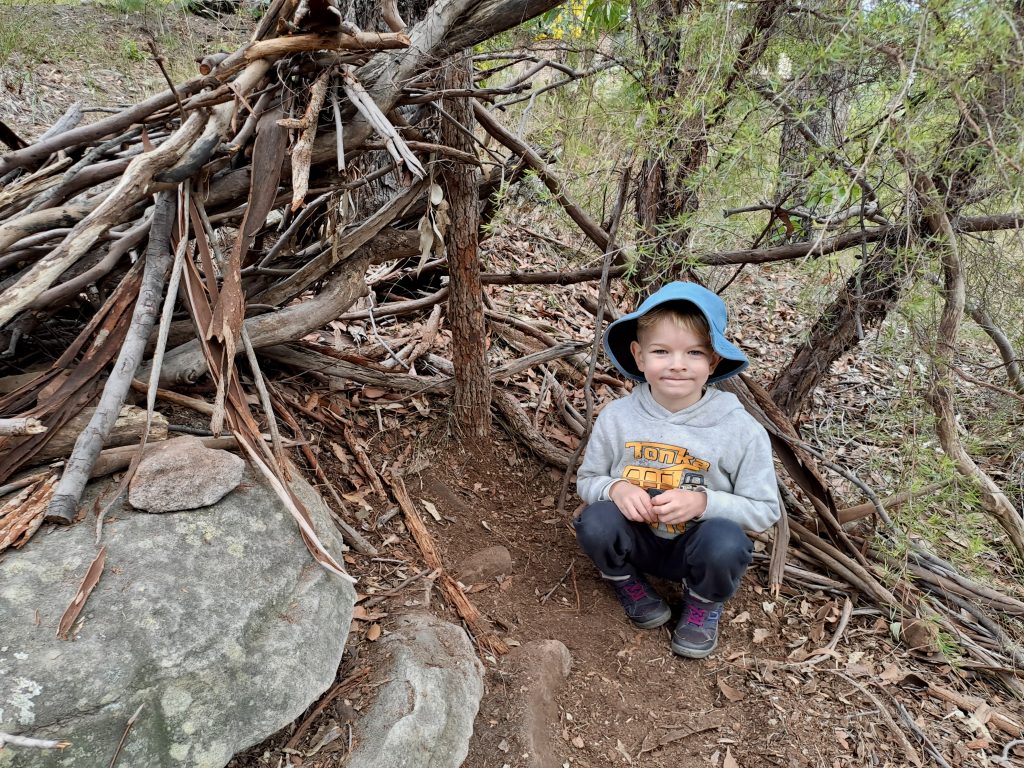 Proud Finnigan at the Gunya entrance. He says he also likes bushwalking. (Julie Nance)
There are also books and traditional toys on offer at the site such as trucks and a table with animal figurines.
The race is on! (Julie Nance)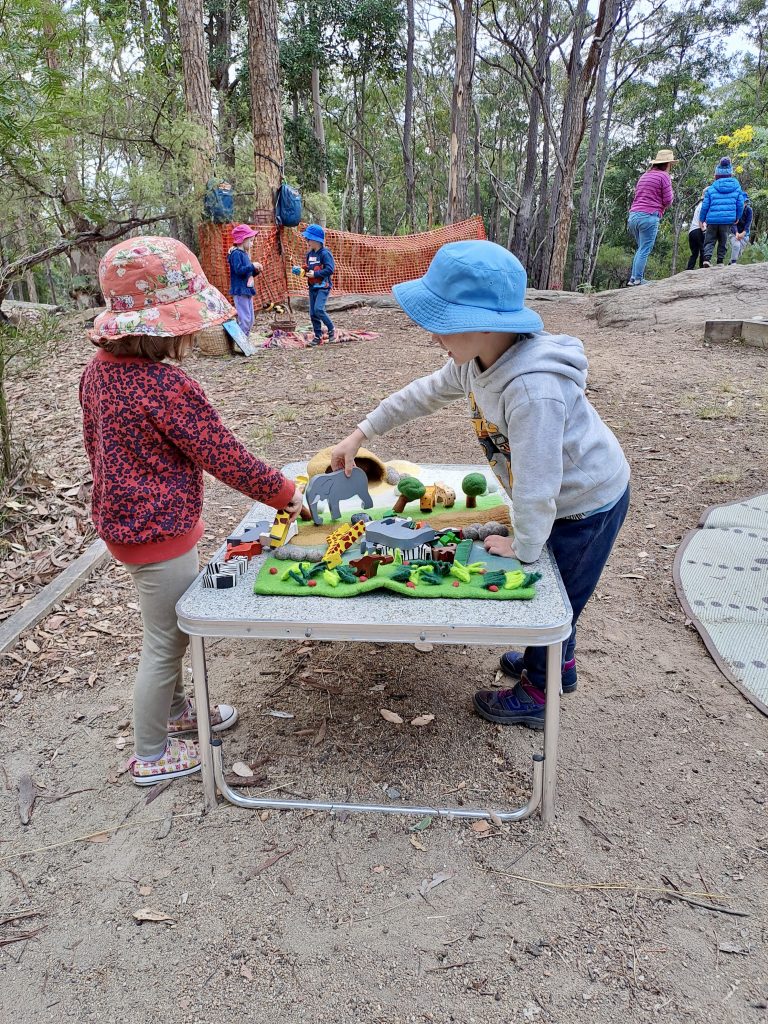 Talulla and Finnigan play happily together. (Julie Nance)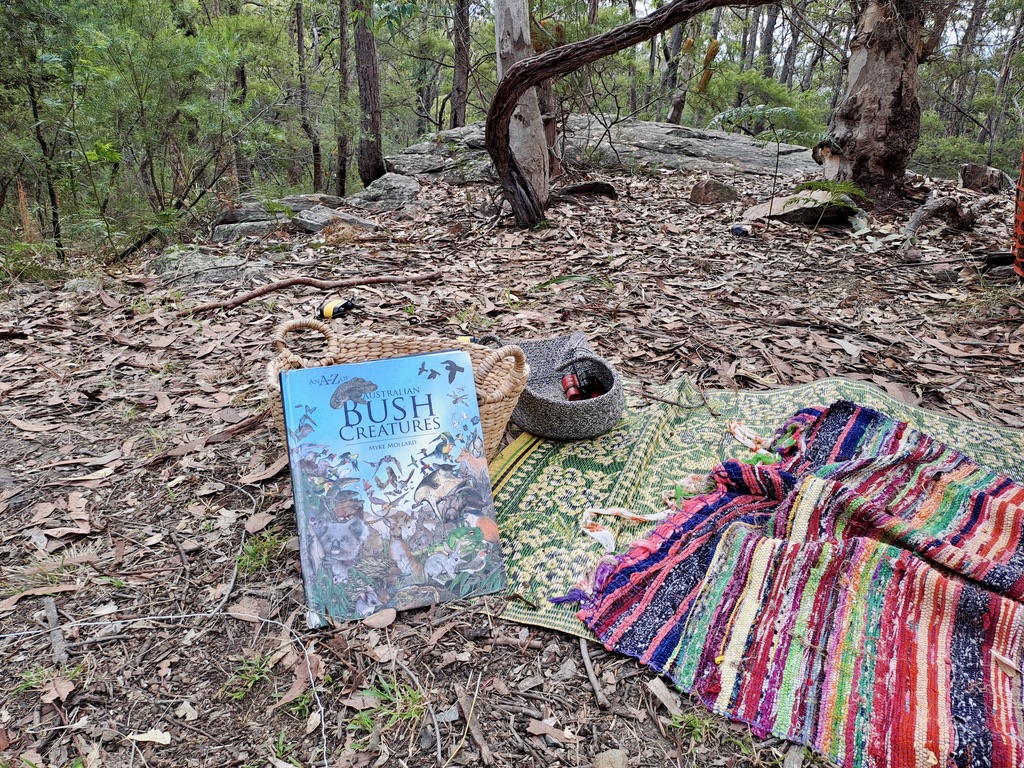 Books on picnic rugs entice young readers. (Julie Nance)
Every October the children take part in the Aussie Bird Count, spending 20 minutes counting the number of birds and collecting and sharing the data.
Learning about the abundance of life in the bush and how to live sustainably are key themes at Bush Preschool. Children also find out about the realities of the life cycle.
Mary shares: "We found a dead Spotted Pardalote. A fox may have killed it."
While the program has a strong focus on the children's wellbeing, the educators benefit as well.
It's a time for them to connect both with nature and the children, away from the hustle and bustle of normal preschool. They support the children's play and encourage them to build friendships.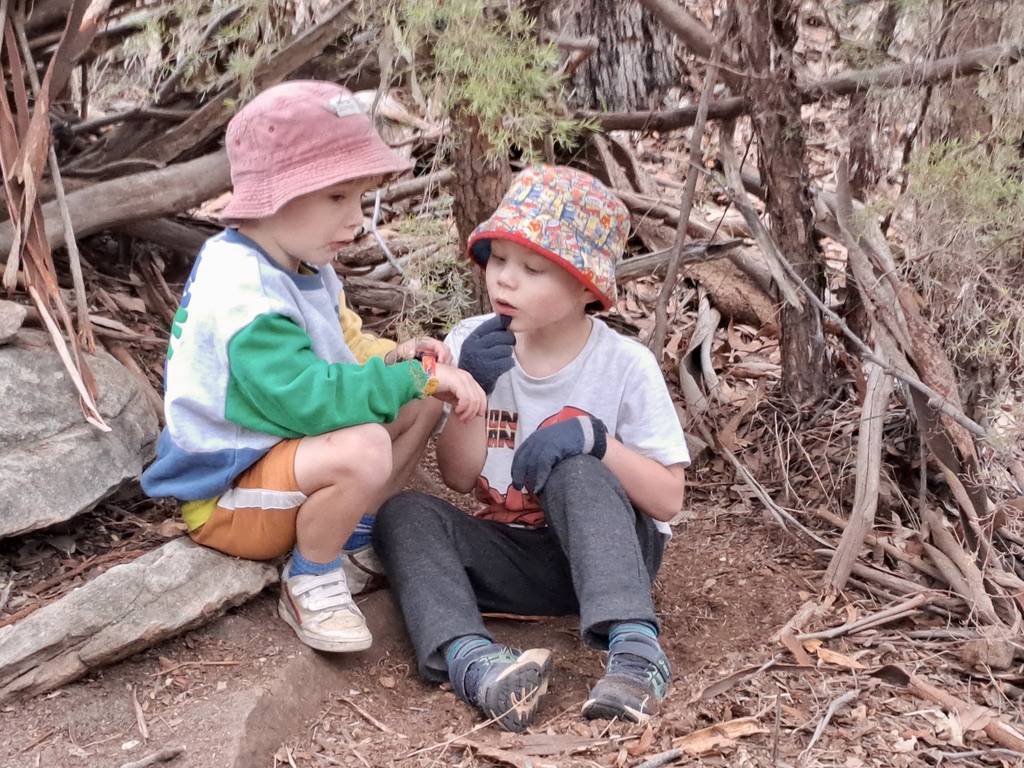 Joey and James enjoy a yarn. (Julie Nance)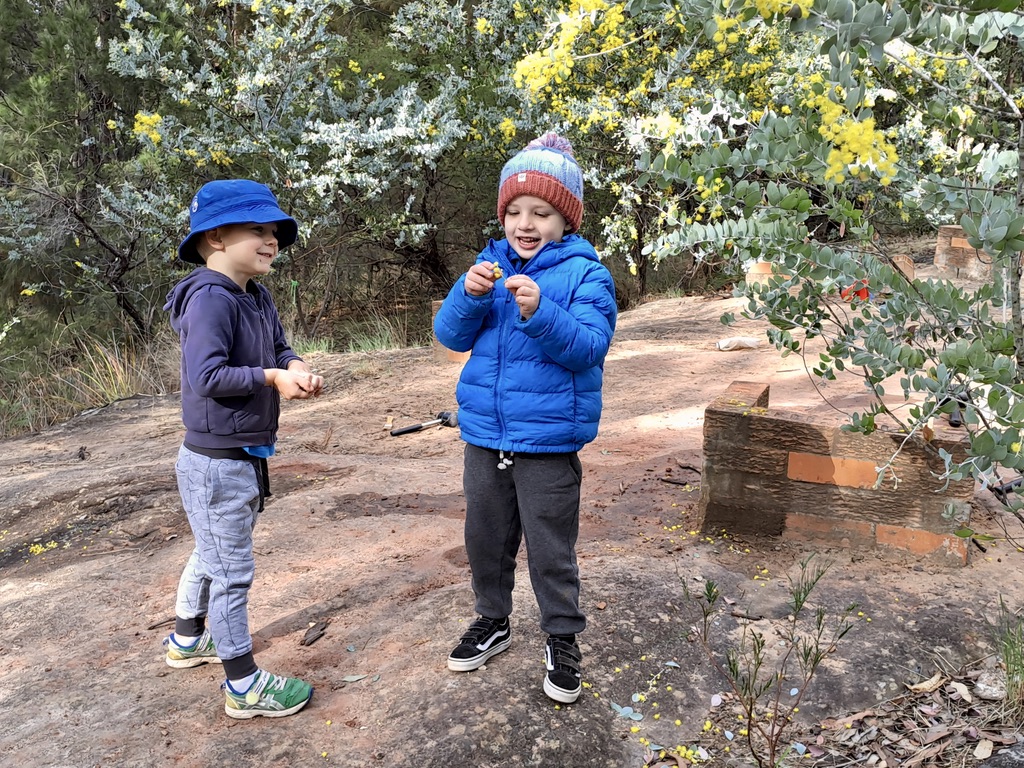 Good friends Parker and Arlo. (Julie Nance)
Jillian's daughter Claire, now aged 10, was one of the first preschoolers to join the program several years ago.
She laughs when she recalls saying to Dee in the early days: "Don't let her get too close to the fire and don't let her run off."
She soon learned there was no need to worry. Interwoven with the freedom and creativity offered is a healthy dose of nurturing and safety. As with the traditional Blaxland Preschool environment, the child to educator ratio is high. Today there's 17 children to seven educators.
In a different role now as Bush Preschool educator, Jillian feels she teaches differently here.
"I try to source as much as possible from the bush – sticks, rocks, charcoal and leaves," she says. "You don't need a plan. You come out and see what nature is telling you to do."
You could have heard a leaf drop when Jillian gathered a class together near the Gunya.
Each week a child has the chance to take home emus Yeek or Squeak and document their adventures. Annie was given the privilege of taking home Squeak for the week.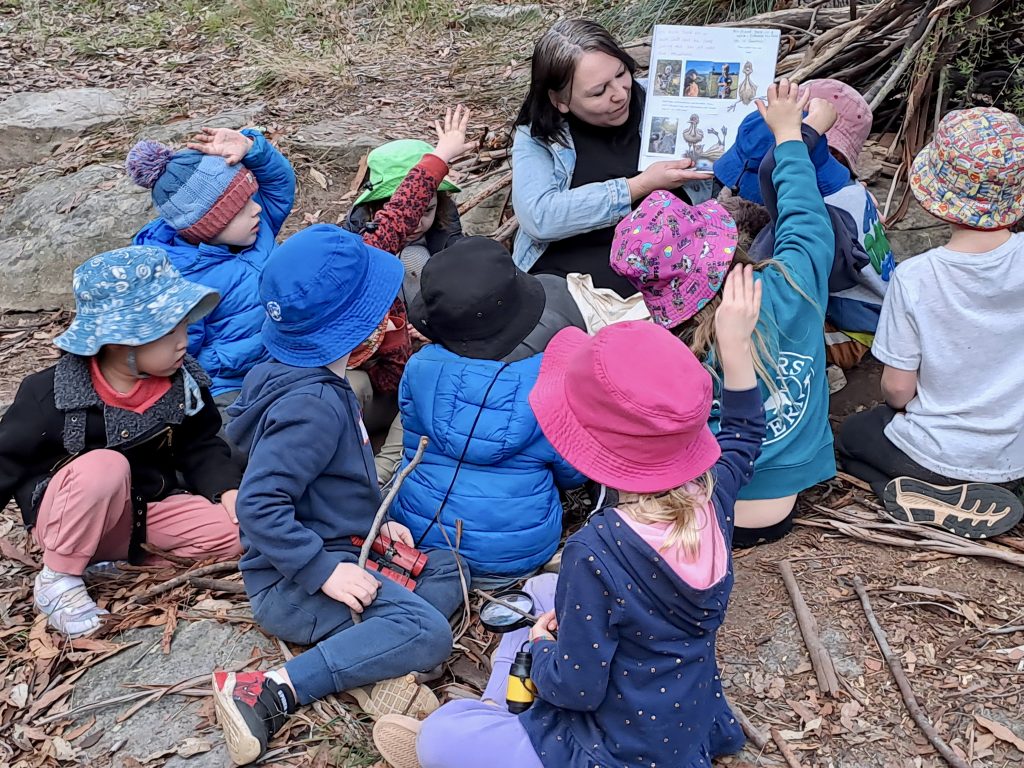 Jillian shares Squeak's exciting experiences over the past week at Joey's house. (Julie Nance)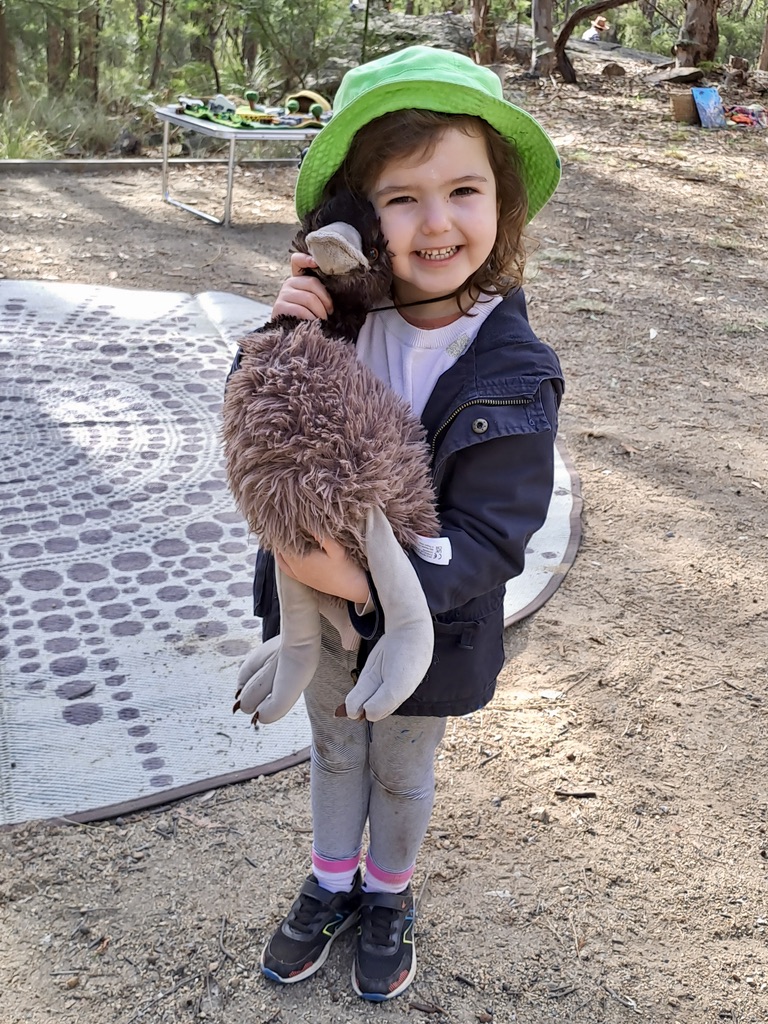 A thrilled Annie. (Julie Nance)
Bush Preschool is an enchanting place that Dee, the educators, Aboriginal Elders and the children have organically created together.
I'm not surprised other preschools seek out their expertise to emulate the nature-based learning.
"When children spend extended periods engaged in nature-based learning, it gives them the time, skills and abilities to problem solve, take risks, make decisions and collaborate with others," Dee says.
"Building relationships is an important part of our preschool's philosophy. Time in nature to connect to Country and with each other helps to build and strengthen these connections."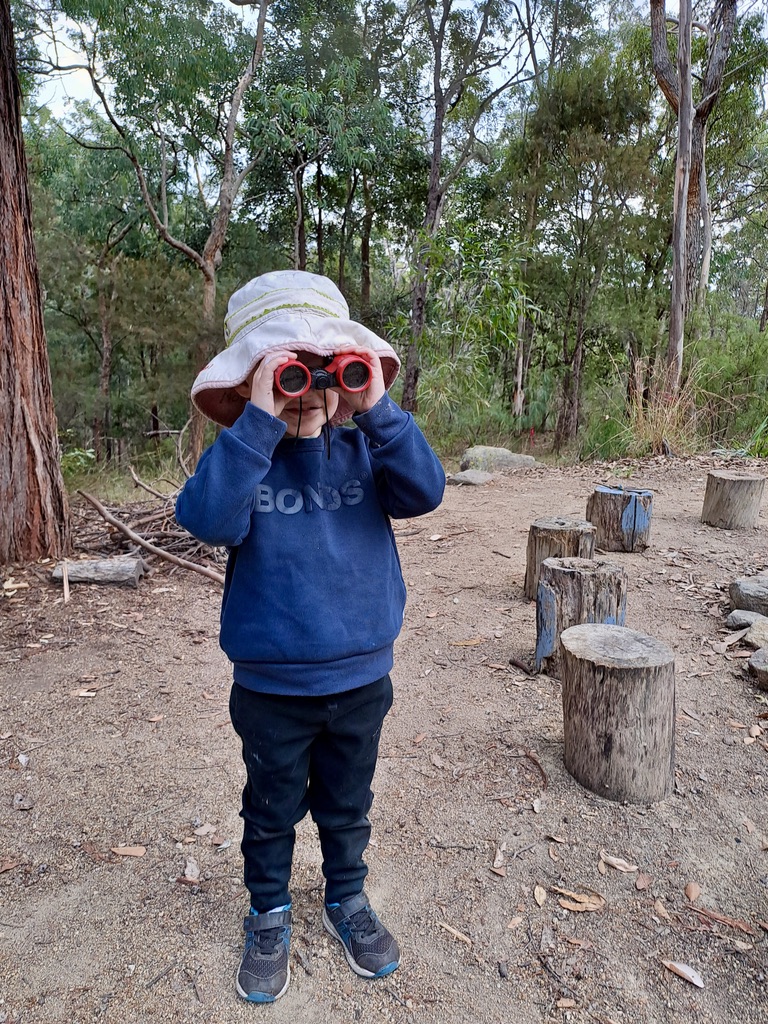 Paddy on the lookout. It's inspiring to watch the children being so curious about the natural world. (Julie Nance)
This story has been produced as part of a Bioregional Collaboration for Planetary Health and is supported by the Disaster Risk Reduction Fund (DRRF). The DRRF is jointly funded by the Australian and New South Wales governments.