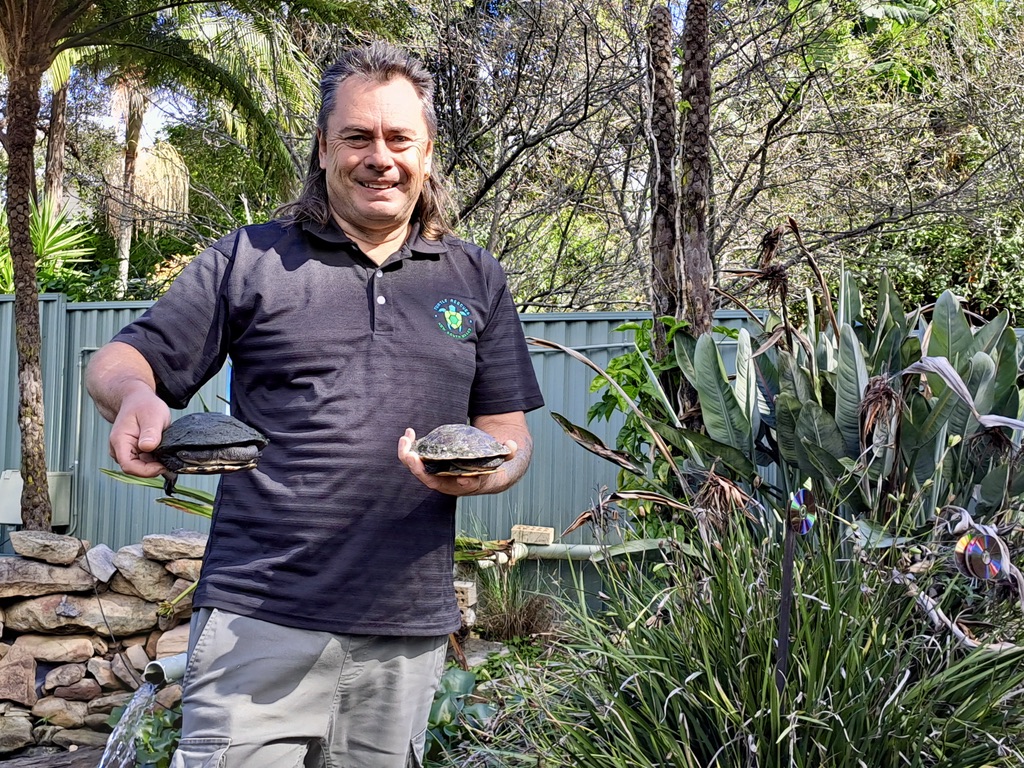 Shane at his sanctuary, with two of his Eastern Long-Necked Turtles. (Julie Nance)
By Julie Nance
A deep passion for turtles can take you to some interesting places – waist deep in mud one day and onto a movie set the next.
Shane Davies leads Turtle Rescues NSW, saving thousands of Australian native freshwater turtles from certain death each year.
Developers, civil contractors and councils regularly call on Shane to rescue wildlife when rural dams are drained to make way for Western Sydney residential and commercial developments.
Shane, his business partner Kane Durrant and their team regularly wade into murky waters. They spend hours scooping out turtles as well as eels, frogs and fish.
It's a messy and often chilly business. However, rescuing wildlife, and releasing them into safer water motivates Shane to jump out of bed each morning.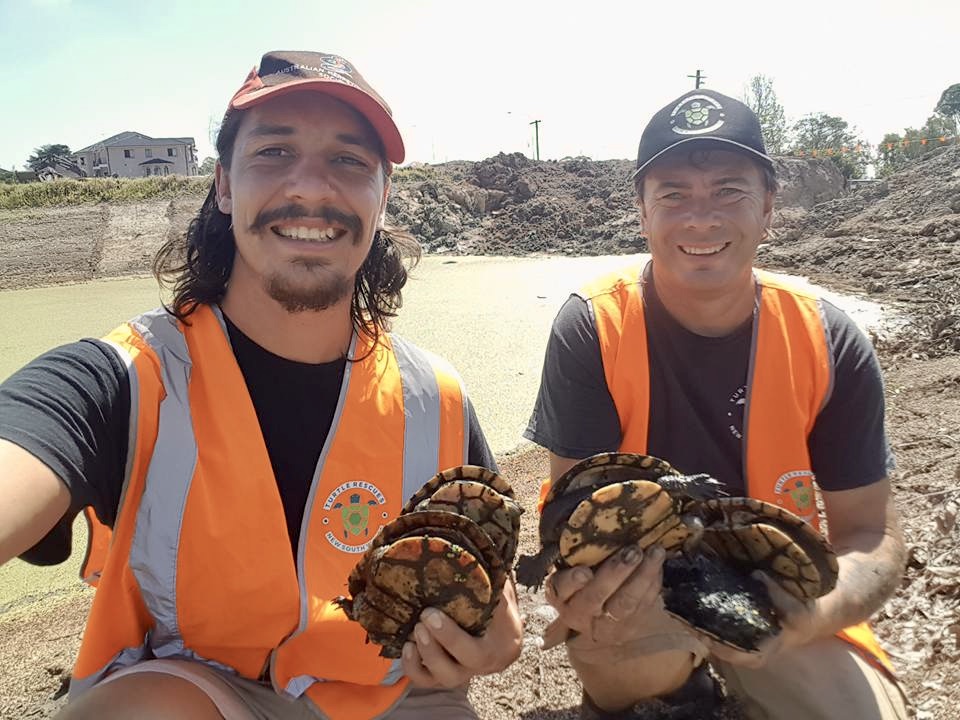 Business partners Kane and Shane with rescued turtles from a dewatered dam. Photo supplied.
Shane's devotion to turtles doesn't end there.
He has set up 'Turtle Town' in his lower Mountains backyard – a ¼ acre sanctuary full of more than 200 turtles, frogs and Eastern Water Dragons.
It's not a tourist attraction, rather a rehabilitation and recuperation haven for injured turtles and surrendered pets. The majority are destined to spend the rest of their lives at the outdoor oasis, unable to return to the wild after being in captivity too long.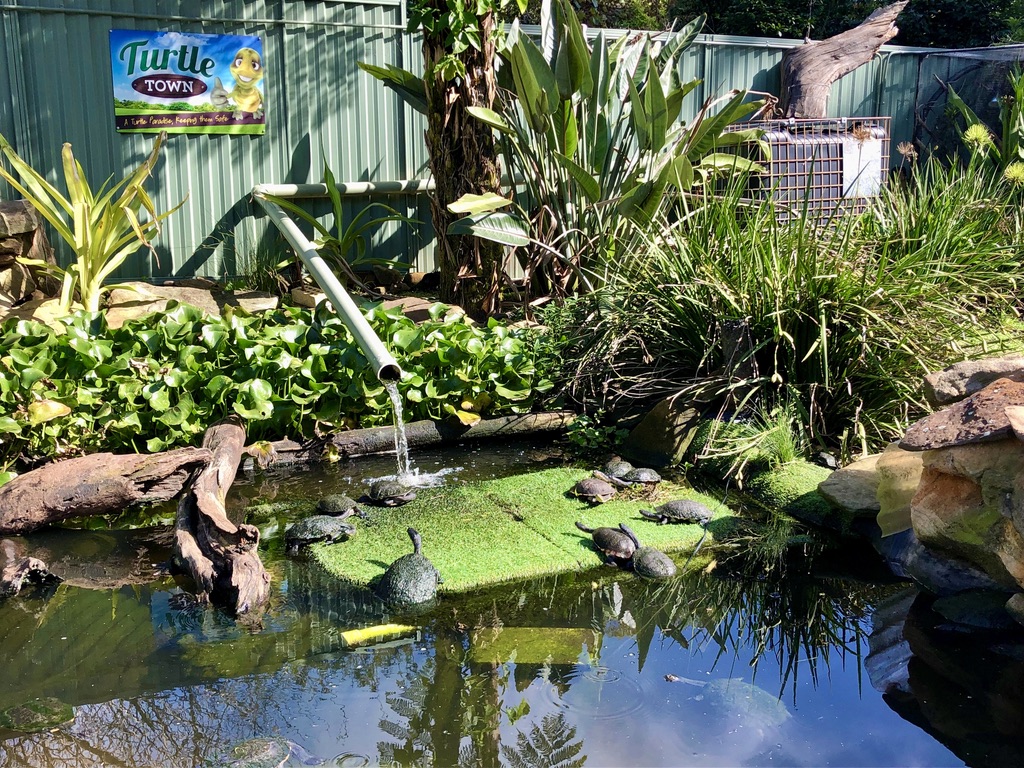 A sanctuary for injured and surrendered turtles. Photo supplied.
"In times of heavy rain and floods turtles end up being washed up in all sorts of random places including in people's backyards," says Shane, who gets contacted by the RSPCA, Sydney Wildlife and WIRES to care for misplaced or injured turtles.
"Real estate agents have called me to say tenants have done a runner and left their turtles behind in small tanks. I've even had the police contact me about turtles left in drug houses."
Shane says these turtles usually haven't been looked after properly and they're "on death's door".
Vets have trained Shane to repair turtles' broken shells but when they are badly injured or sick, he calls on their expertise. The medical bills are usually paid out of his own pocket.
"It's devastating when turtles are just too far gone but thankfully, I bring many back to good health," he says.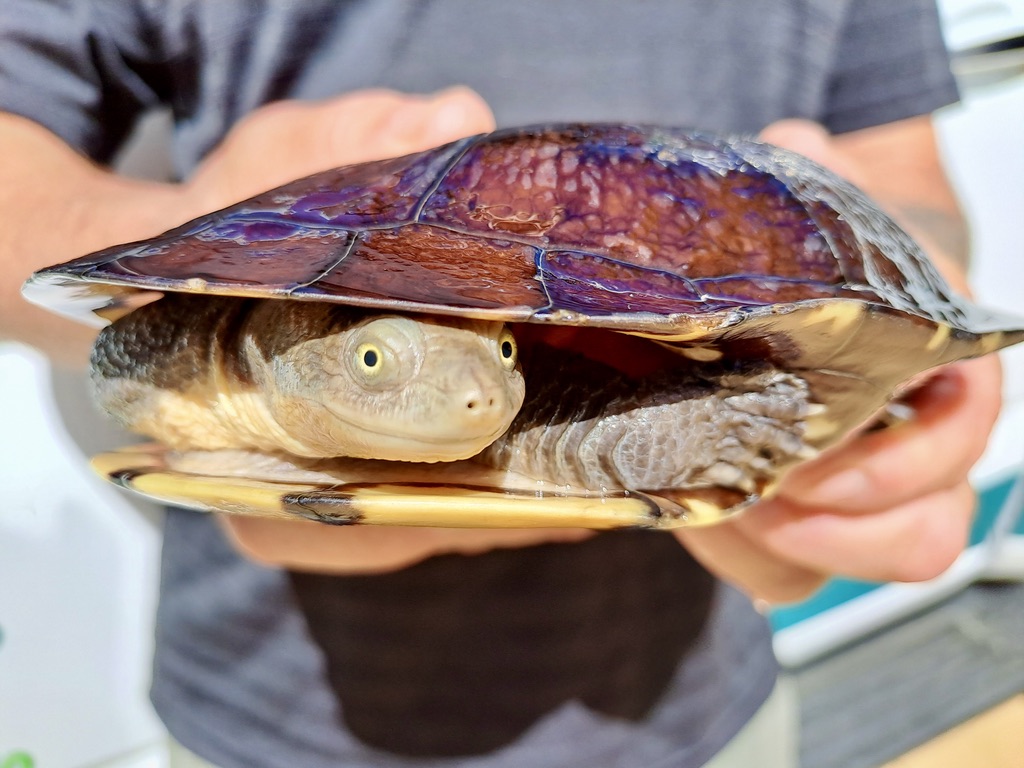 One of the lucky ones: a surrendered Eastern Long-Necked Turtle that is doing well. (Julie Nance)
Chatting to Shane on the back porch of his home, overlooking his turtle sanctuary, I can't help but liken him to wildlife warrior, conservationist and environmentalist, the late Steve Irwin.
Sure, Steve wrestled larger reptiles, but there's a similar enthusiasm, knowledge and passion for wildlife.
Although Shane hasn't appeared on screen, he received a lovely surprise when a movie production house called him in 2021. He was invited to a film-shoot at the old ABC Studios in Artarmon.
One of his turtles got a lucky break playing 'Turbo' in the action-drama Interceptor. The movie co-starred Elsa Pataky, with a cameo appearance by her husband Chris Hemsworth.
"Turbo appeared in a scene with Elsa on a hospital bed and in some background shots in a tank," says Shane, who is listed in the movie credits as 'Animal Wrestler: turtle'.
"It was a fantastic experience. I enjoyed chatting to Elsa and the director/co-writer, Matthew Reilly who was a good bloke."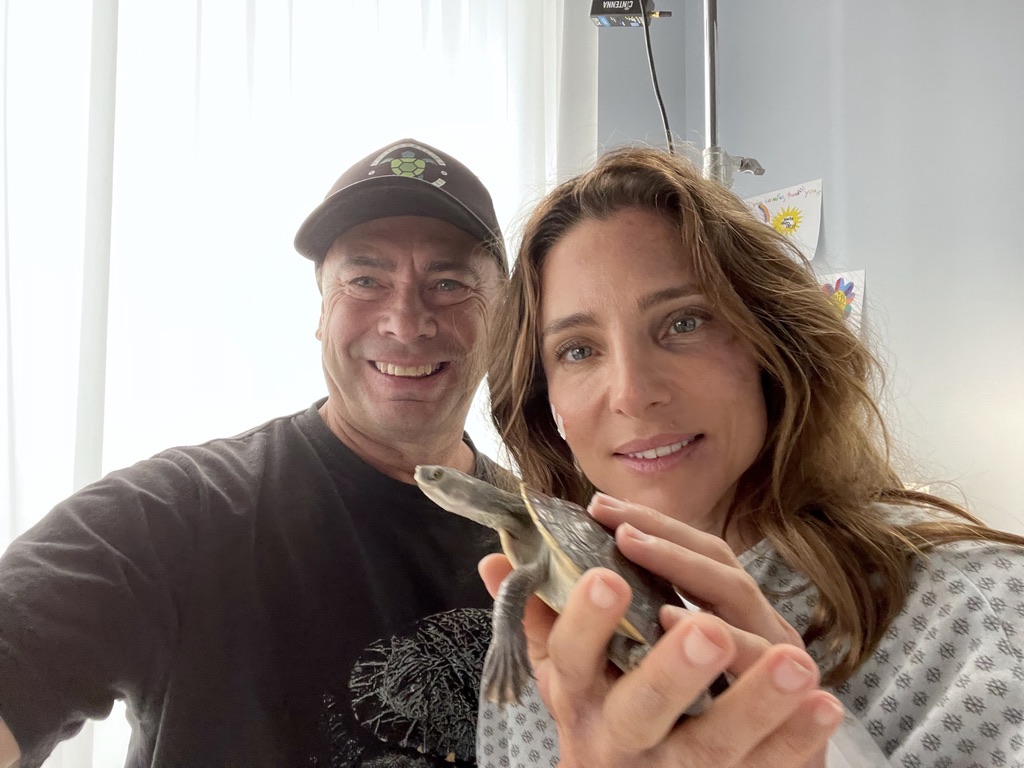 Shane enjoyed advising Elsa, who played Captain JJ Collins, on how to handle Turbo during the movie's hospital scene. (Photo supplied)
Shane's exposure to turtles began at age seven when his parents rescued and cared for a small number of turtles at their Luddenham home.
When Shane and his wife Peita, a mortgage broker, moved their family to the lower Mountains 20 years ago, he brought a handful of pet turtles. He put a large fibreglass pond in his backyard and over time added more ponds, filtration systems and water plants.
The turtles now have access to sandy soil areas to lay their eggs; protruding logs to bask in the sun; and caves under the water for hiding. There are also ponds for frogs to lay their eggs and lots of hollow logs that possums and birds live in.
However, Shane's working life hasn't always been 100 per cent dedicated to turtles.
Prior to taking on Turtle Rescues NSW in 2015, he was working up to six days a week as a fitter machinist and tool maker in a factory. It was a solid trade that paid the bills for 30 years.
Transitioning to full-time turtle rescue and care in 2018 reduced his income but boosted his life satisfaction.
"It's an adventure," Shane says. "I'm living my dream."
Turtles in the wild are protected. Shane says you can't bring them home and raise them as pets. If they are sick or injured, people are encouraged to contact Shane or WIRES for advice. Otherwise, it's best to return the turtle to a creek or dam near where it was found.
Turtles face many risks including foxes digging up their eggs, attacks by predators such as crows and dogs and being run over. Shane says if you see a turtle in danger on the road, it's best if you move it to safety in the direction it was heading.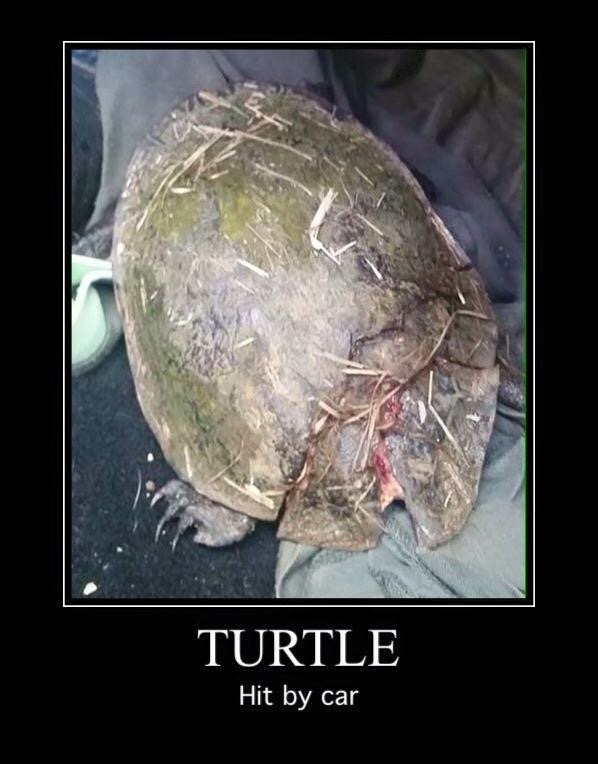 Dog attack and being hit by cars are some of the many threats to turtles. (Photo supplied)
Shane laments that loss of habitat is one of the biggest hurdles turtles face today.
Rural dams where turtles and other creatures have lived, often for decades, are being drained and filled in. This is common in housing development areas such as Schofields, Marsden Park, Oakville, Rouse Hill and Box Hill.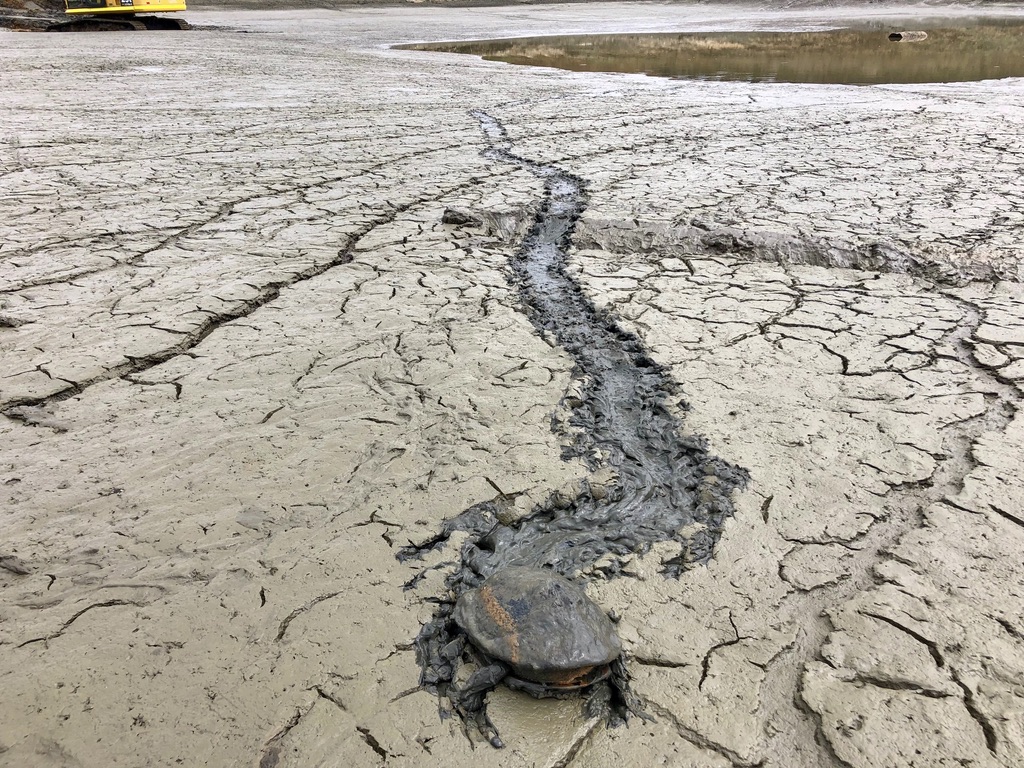 A turtle trying to make its way through the mud after his home was drained. (Photo supplied)
Shane engages ecologists for advice and reporting, and liaises with councils to ensure developers are accountable for wildlife in dams. Development applications now ensure experts such as Shane are engaged to rescue dam wildlife. Sadly, that hasn't always been the case.
Shane tackles bodies of water ranging from small ponds to dams up to the size of an acre.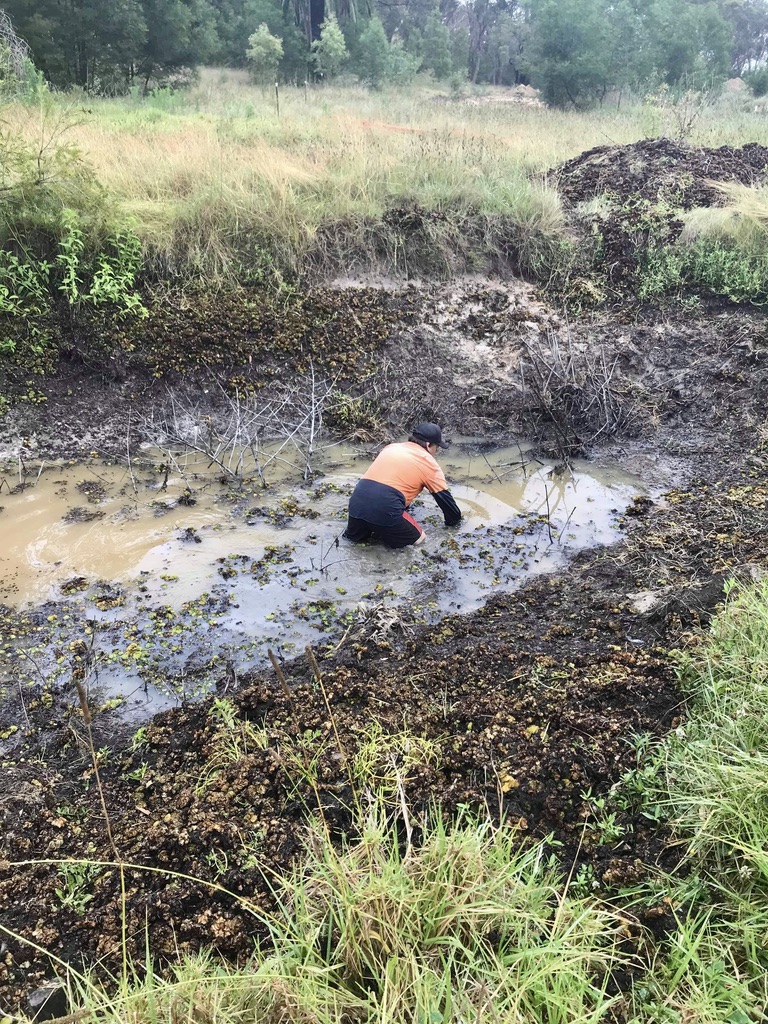 Shane combs a small area for turtles. (Photo supplied)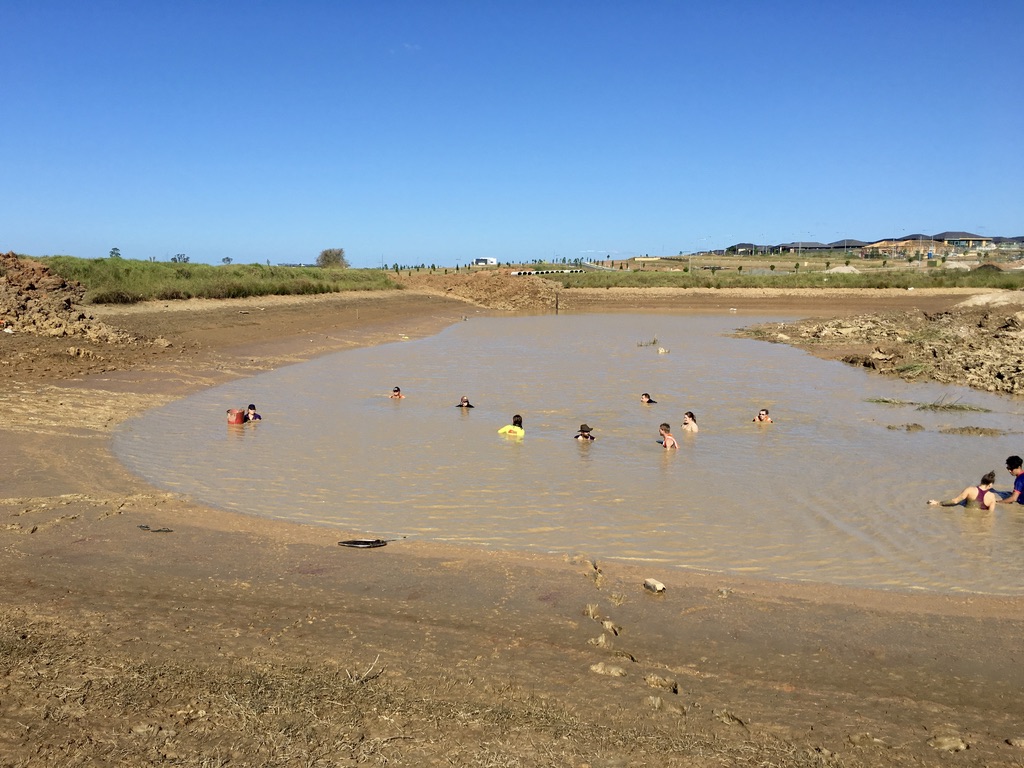 A crew of Turtle Rescues NSW volunteers in search of turtles in a dam being drained. (Photo supplied)
A turning point for Shane's business was winning a big contract rescuing turtles from a dozen dams affected by the Northern Road upgrade. He recently finished work on the Moorebank Intermodal Terminal, locating and rescuing turtles and other creatures from five dams.
Before dams are drained, custom-made traps that float on the water are often used to rescue the turtles.
"We make sure we are there for the final moments when the dam is being drained so we can get in the mud and grab the turtles straight away," Shane says.
"It can get quite daunting at times, especially when you walk out and mud is up to your waist or occasionally your neck, which can be dangerous. We've got life rings and spotters around to make sure we're safe."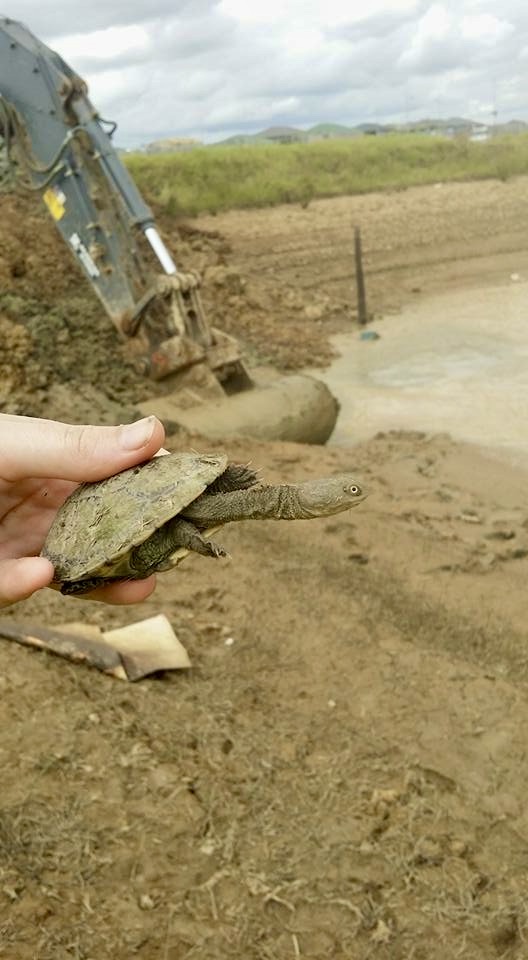 This little fella was saved from the tractor claws. (Photo supplied)
On one job alone, Shane and his team saved 234 turtles from a 1000 square metre dam in the middle of suburban North Kellyville. All other dams in the area had been drained and turtles had congregated there, competing for limited food.
Shane and his team transfer rescued turtles to safe spots – permanent bodies of water such as creeks or rivers – as close as possible to the area where they are found. This proximity is particularly important for frogs.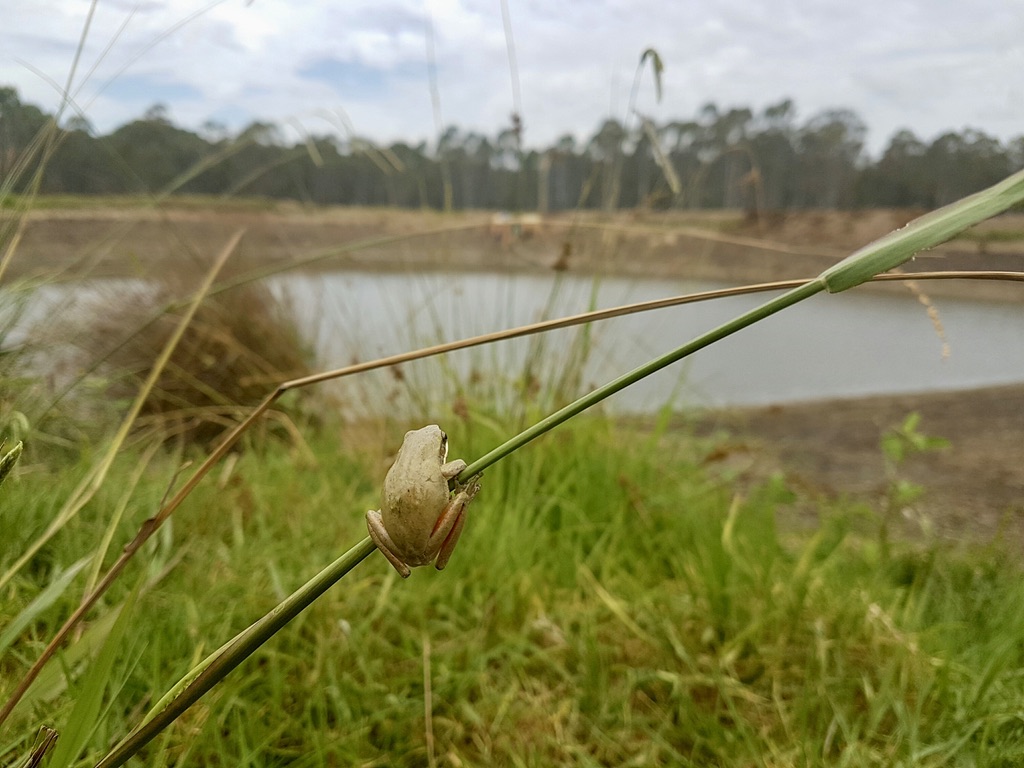 A frog watches on as his home is destroyed at Emerald Hills. (Photo supplied)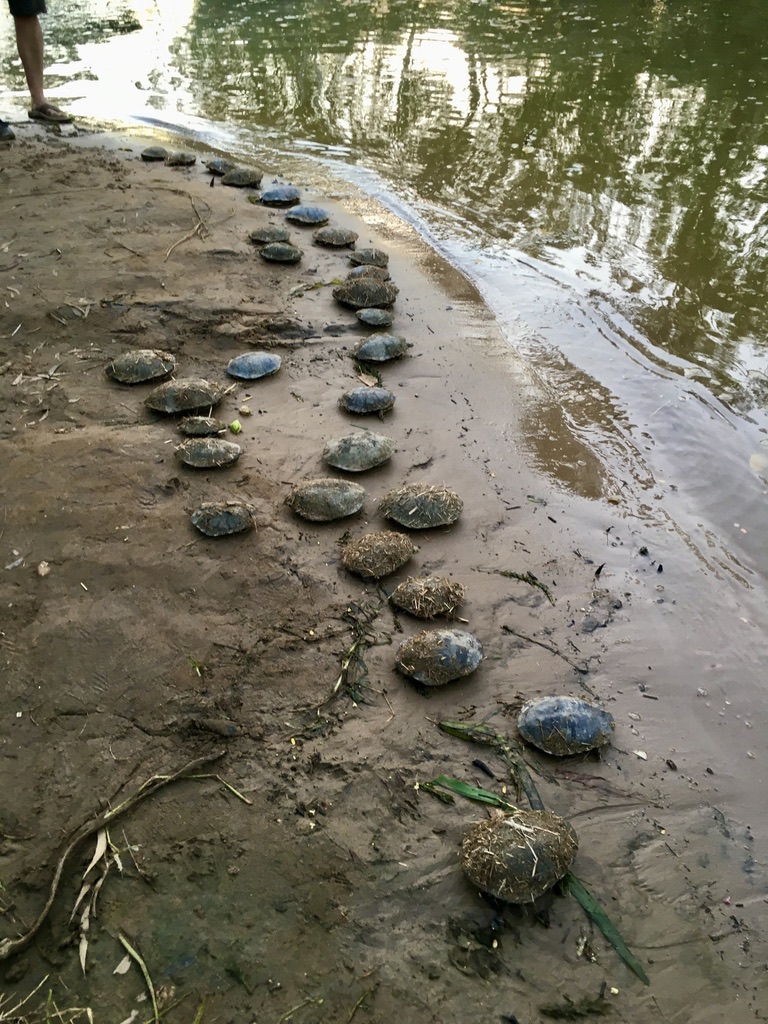 The release of turtles into a new home. (Photo supplied)
Shane never loses the buzz of releasing animals back into the wild.
"It's always a thrill and it's a good feeling to know you've helped this animal and possibly helped the species live," Shane says.
"The majority of animals we rescue are Eastern Long-Necked Turtles. They are in decline and it's an ageing population. We mainly find adults, not many baby ones."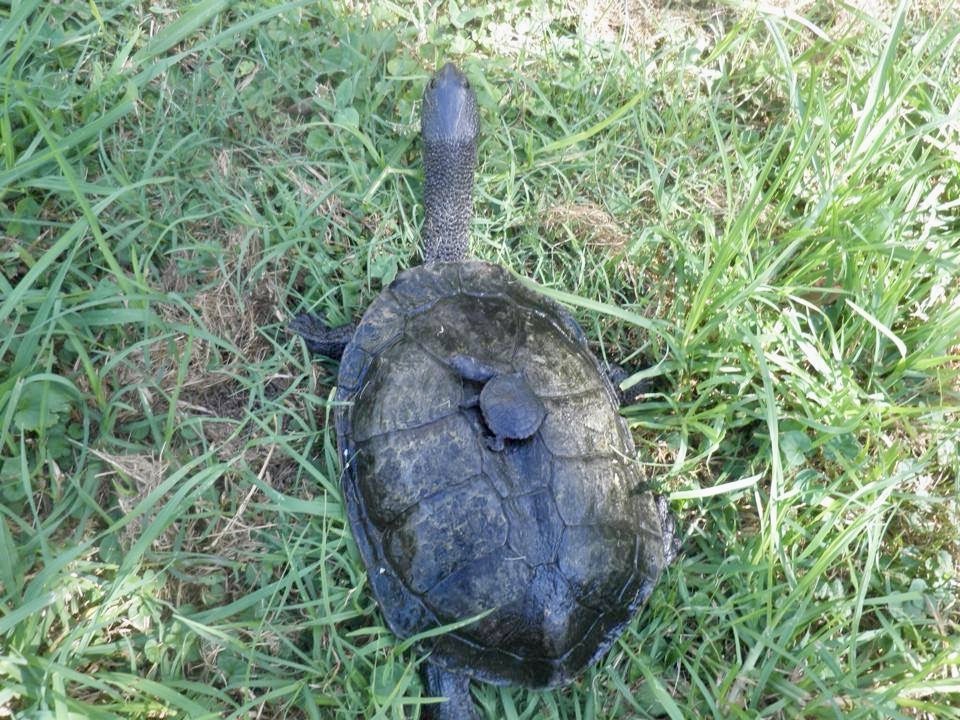 A baby hitches a ride on its mum. (Photo supplied)
Shane has conducted research with Sydney University. Tracking devices were glued to the shells of turtles rescued from dams to follow their travel to different locations.
"We ended up finding out that most of them didn't travel too far," Shane explains.
"This proved that after being rescued and taken to a different spot, a similar environment, they lived on there and didn't need to venture further afield. That was a really successful outcome."
Meanwhile, back in the lower Mountains, the work is smaller in scale but equally as important.
Shane's garage serves as a recovery area for surrendered turtles who swim about in the safety of tanks of varying sizes. In the warmer weather in summer, they are released into the sanctuary or rehomed.
There's an eclectic mix of turtle species including Eastern Long-Necks, Macleay River, Sydney Basin, Saw-Shelled and Hunter River Short-Necked Turtles.
Shane says people often buy a turtle for a friend or family as a birthday present. However, the recipient doesn't necessarily want the turtle and children often lose interest after a few months.
A pet that starts off the size of a 50-cent piece becomes overwhelming when it grows, sometimes to a shell size of more than 30cm. Tanks are outgrown. In some cases, turtles outlive their owners.
"Having a turtle is a lifetime commitment," says Shane. "It's not like having a goldfish that may only live for a couple of years and you sprinkle fish flakes into the tank once a day.
"Turtles require a lot of care and can live a long time. One man was given a baby turtle by his father when he was a little boy and he had it for 77 years.
"When he died at age 81 his daughter knew the turtle had meant a lot to him, so she brought it to me. It ended up living out the rest of its life here, another four years."
Shane also breeds turtles. He sells them to buyers who have a Native Animal Keepers License, the right equipment and knowledge to properly look after them.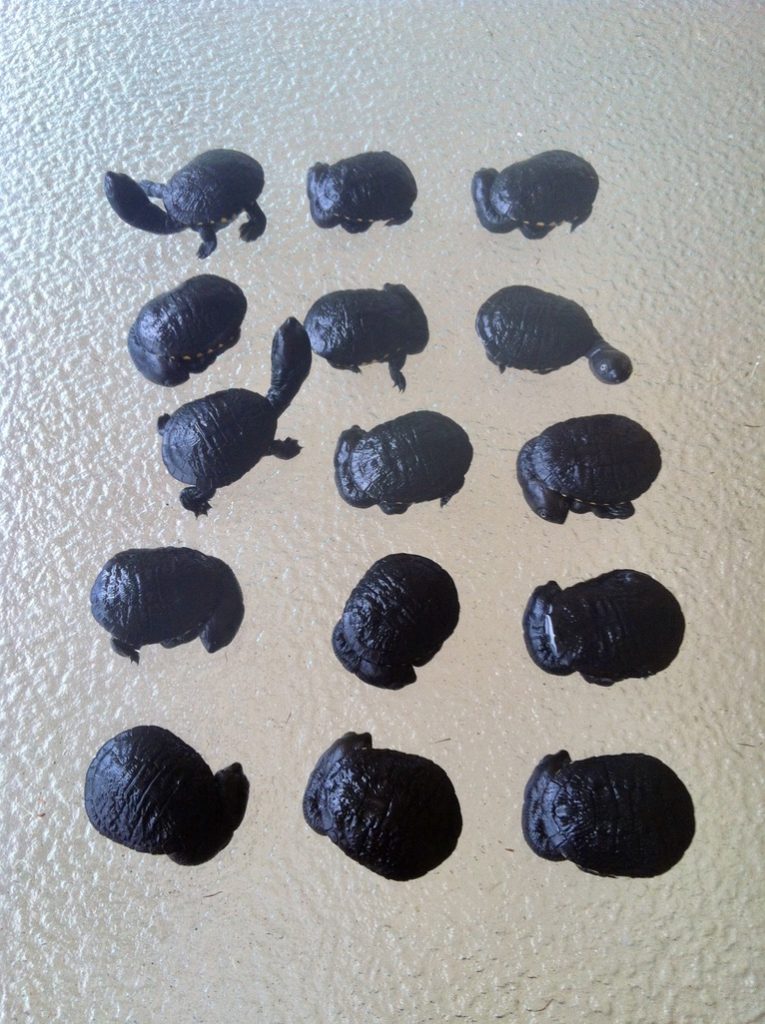 Baby turtles ready for a health check by Shane. (Photo supplied)
A dozen of his turtles will soon be sent to the Australian Reptile Park and a few have already taken up residence at Sydney Zoo.
Shane is clearly mad about turtles. He has a large turtle tattoo on one of his forearms and has turtle paraphernalia inside and outside his home.
I finish our interview with a simple, burning question: "Why do you love turtles so much?"
Shane replies: "They are fascinating, innocent animals. I like to sit and watch their behaviour. It's really soothing and relaxing."
This story has been produced as part of a Bioregional Collaboration for Planetary Health and is supported by the Disaster Risk Reduction Fund (DRRF). The DRRF is jointly funded by the Australian and New South Wales governments.