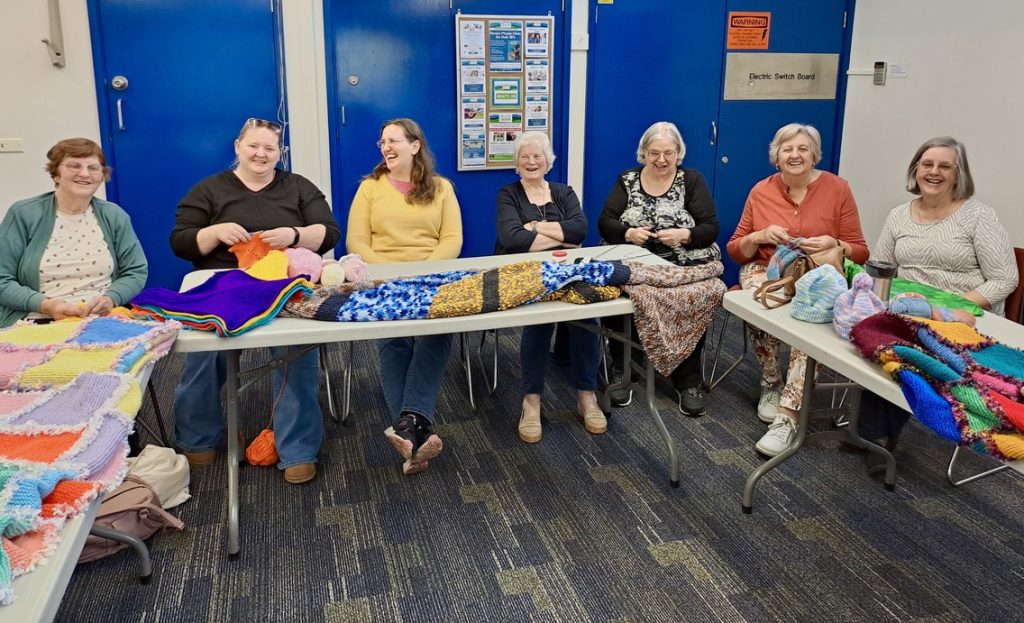 Left to right: Members of the Clak 'n' Yak Social Group – Margaret, Natalie, Felicity, Dawn, Julie, Margaret and Dee – enjoy their weekly catch up.
Story and photos by Julie Nance
It's impossible to put a price on the love and care that goes into creating one woollen blanket.
When you consider up to five people contribute colourful knitted or crocheted squares to produce that beautiful item, the value is amplified.
Every Friday at the Lower Mountains Neighbourhood Centre, a group of women come together to transform balls of wool into blankets, beanies and teddies. Their creations find their way to older Australians living in nursing homes, premature babies, vulnerable children, homeless people or those living with terminal illness.
While the members of the Clak 'n' Yak Social Group provide comfort and warmth to others, what they gain is also priceless.
Friendship, acceptance, respect and a healthy dose of fun keep women of all ages and backgrounds coming back.
Margaret found comfort in joining the group after her husband passed away. She processed her grief while chatting and making little bonnets for premature babies.
"When you come here you feel like you are valued," she says.
"We all enjoy each other's company and socialising. Sometimes there is so much laughter we have to close the door."
Clak 'n' Yak is designed for people interested in knitting, crocheting, crafting and quilting. Beginners are welcome and you may help yourself from the free box of yarn, needles and patterns or bring your own supplies.
The group is one of many offered by the Neighbourhood Centre at Blaxland, bringing together people with similar interests and strengthening community connections.
Sharise, of the Lower Mountains Neighbourhood Centre, Belong Blue Mountains, says COVID ramped up the amount of people knitting and crocheting in the community.
During lockdowns she posted yarn to knitters and crocheters to keep them going. With community members having ample time to clear out cupboards, balls of wool from unfinished or yet-to-be-started projects were donated to the centre as well.
"Knitting was a nesting, comforting thing during lockdown, a bit like cooking sourdough," Sharise says.
"One lady brought in a bag of 220 squares and another one knitted 700 squares over two years."
The pace of donations hasn't slowed down.
Several blankets are dropped into the centre each week. Bags full of squares are also regularly donated, sewn together by a dedicated volunteer into blankets and lap rugs gifted to local people in need.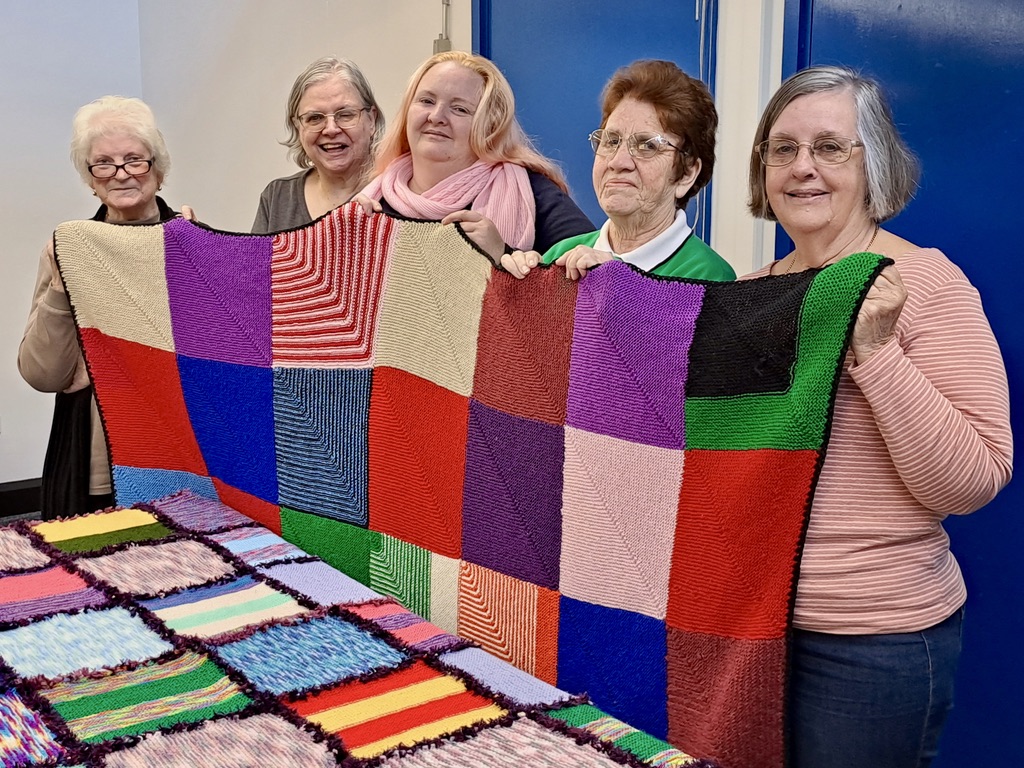 Left to right: Dawn, Julie, Natalie, Merilyn and Dee show off donated blankets.
Woollen wraps are given to the charity Wrap with Love. Since 1992, the organisation has supported more than 414,000 people in Australia and overseas.
It's heart-warming to think the efforts of Blue Mountains residents are bringing comfort to people of all ages throughout the world, many experiencing extreme poverty or natural disasters.
"When people walk into the centre and hand you a blanket they have made, worth a few hundred dollars in a gift shop, I find that quite amazing," Sharise says.
Before the pandemic, the Clak 'n' Yak group met fortnightly. The members now get together weekly to enjoy the benefits of connecting face-to-face.
Julie has been a member of the group for five years and feels they are "doing something of value for the community".
"You feel comfortable and safe within the group – it's helpful for everyone's mental health," she says.
"It's really fascinating what people tell you about their lives. You just realise how resilient people are and that helps strengthen your own resilience."
Mary is a prolific knitter and has been enjoying the craft since she was a teenager. She now concentrates on making teddies that are placed in 'Operation Christmas Child shoeboxes', sent around the world by the Christian organisation Samaritans Purse.
"I often make the teddies at home in front of the TV or while listening to music," she says. "I've found the group a great way to meet people. We talk, laugh and check out what other people are doing."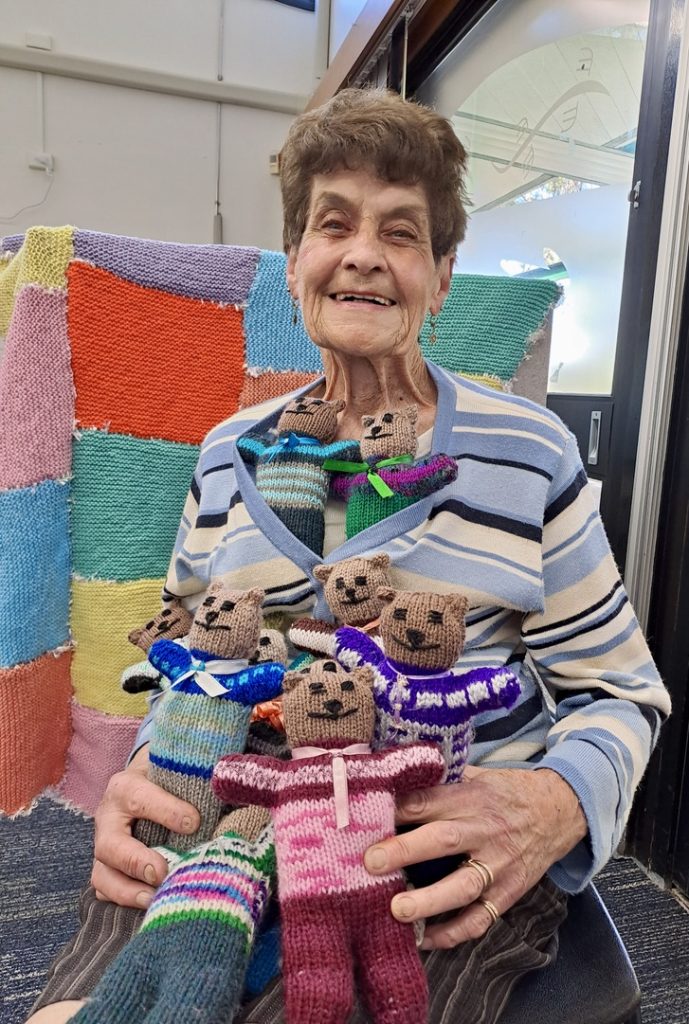 Teddies galore, lovingly made by Mary.
Swapping skills outside the craft arena has been an unexpected bonus.
"Mary has taught me how to garden," says Felicity, who credits the group with getting her through some difficult times.
When Dee moved to the Mountains from the Sutherland Shire, the group was a great way to "make new friends with similar interests".
"Not everyone comes each week but that's OK," she says. "I love the companionship and knitting beanies for children. It relaxes me. Once I've got pleasure out of them, I'm happy to donate them to Samaritans Purse."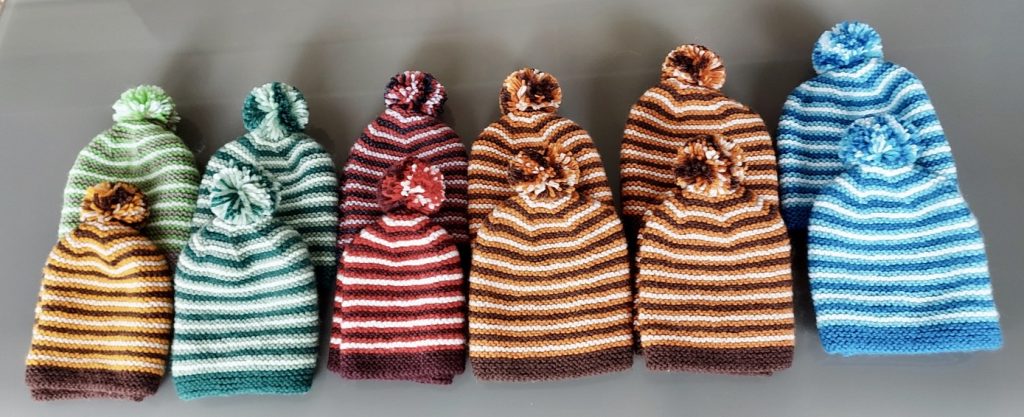 Some of Dee's colourful beanies.
Dee's daughter Natalie also enjoys participating in the group with her mum.
"There's lots of young people knitting and crocheting across the world now," she says. "It has really taken off."
Merilyn has been participating in groups and volunteering at the Neighbourhood Centre for 25 years. She started volunteering on the front desk, has worked in the back office and now enjoys the myriad of different groups on offer.
Spending time with fellow members of Clak 'n' Yak is a highlight.
"I crochet items for Macquarie Home Stay attached to Dubbo Hospital," Merilyn says. "I've got a connection to the area through my niece."
Merilyn says joining one group usually leads to participating in others.
This includes 'Harmony' – a social group for seniors who enjoy music, poetry, book reviews, trivia, guest speakers and outings. Another one of Merilyn's favourites is 'Social Stories'. An expert facilitator reads a story aloud and group members are encouraged to share their reflections, if they are comfortable to do so.
"I enjoy the company of the groups," says Merilyn, who also volunteered as a 'pink lady' at Nepean Hospital for many years.
"I have found great benefit from giving things a go."
———-
The 'Clak 'n' Yak Social Group meets at the Lower Mountains Neighbourhood Centre at Blaxland each Friday from 10am to 12pm. Priority is given to people funded by the Commonwealth Home Support Programme (CHSP) but everyone is welcome. Tea and coffee are available and a gold coin donation is appreciated. For more information about Clak 'n' Yak and other groups phone 4739 1164.
This story has been produced as part of a Bioregional Collaboration for Planetary Health and is supported by the Disaster Risk Reduction Fund (DRRF). The DRRF is jointly funded by the Australian and New South Wales governments.