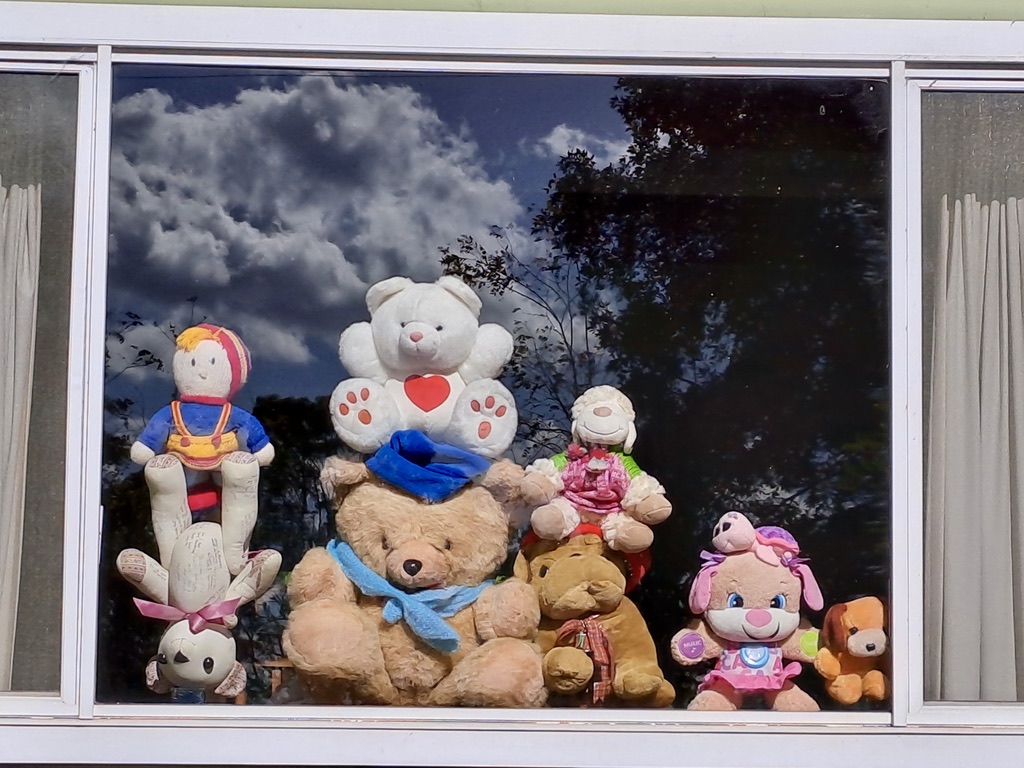 Teddy bears entertain passersby (Julie Nance)
By Julie Nance
Every morning I walk past a house in my neighbourhood, look in the front window and smile.
An ever-changing array of teddy bears of all shapes and sizes are on display. Some days they are relaxing on the windowsill, while on others they are doing acrobatics or chilling out around the nearby dining table.
The bears started appearing in the shop-like window during the first COVID lockdown in 2020. Teddy bears in all manner of dress posed in windows across Australia and abroad to entertain children. Even then-Prime Minister of New Zealand Jacinda Ardern took part.
The global pastime was inspired by the touching book by Michael Rosen, We're Going on a Bear Hunt. It was a firm favourite of my sons' when they were little.
Memories of my two boys nestling up to me each night, declaring on cue "we're not scared," flood back.
Although the window bears have brought on feelings of nostalgia, something else has captured my imagination. It's the simple act of kindness and connection that endures long after the lockdowns are over.
The iconic Play School song begins: "There's a bear in there, and a chair as well. There are people with games, and stories to tell…". I recently knocked on the door of the 'teddy bear house' to find out the stories within.
A lady gingerly opened the door. I explained I was a community storyteller interested in finding out about her teddy bear display. She graciously let me into her home.
I thought I'd be there for a 15-minute chat. A two-hour conversation about family, community connections and resilience followed. We discovered we had many things in common.
Deirdrie is a sprightly 87-year-old former secretary with an infectious sense of humour. Twice a week she swims for an hour at her local pool and she regularly joins a fitness class. She has been volunteering for decades and is a proud mother and grandmother.
At the beginning of the first COVID lockdown, Deirdrie noticed a teddy bear in a window and decided to join in the fun.
"My children are in their 50s but I still have some of their teddies which I put on display, along with others I bought at Salvos," says Deirdrie, who changes the window scene weekly.
"I was hoping it would bring a bit of joy to people, put a smile on their face or make them laugh.
"What thrilled me was seeing a father walk past with his toddler in a pram. He pointed up at the window. I thought that's good, the teddies are doing their job."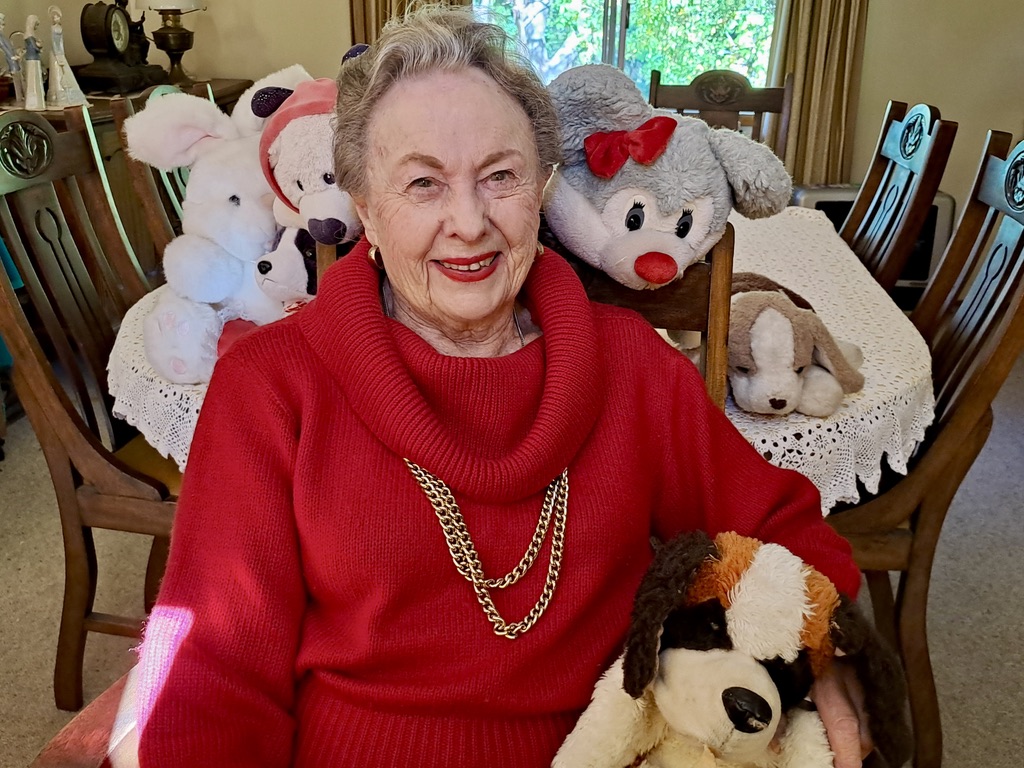 Deirdrie with some of the teddies waiting in the wings for their turn in the spotlight (Julie Nance)
Deirdrie's house is just around the corner from mine. I have walked past it almost every day for the past 26 years as part of my exercise routine.
Initially I pushed a pram with one baby, then two. In the years that followed, I'd walk solo, with my husband or the whole family, including Luey our dog. After he passed away at age 14, our second Cavalier Albie started walking the same route.
I know many wonderful people in our neighbourhood but I had never crossed paths with Deirdrie.
Her small act of kindness with the teddies drew me in. I walked into her home as a stranger and left feeling like we had known each other for years.
Over the course of our chat, I learned Deirdrie was at boarding school from age 5 to 15. She grew up living in hotels her parents ran, including Springwood's Royal Hotel.
In 1956, at age 21, Deirdrie and three friends sailed to London by ship to work for 12 months as temping secretaries. Three months of travel around Europe followed.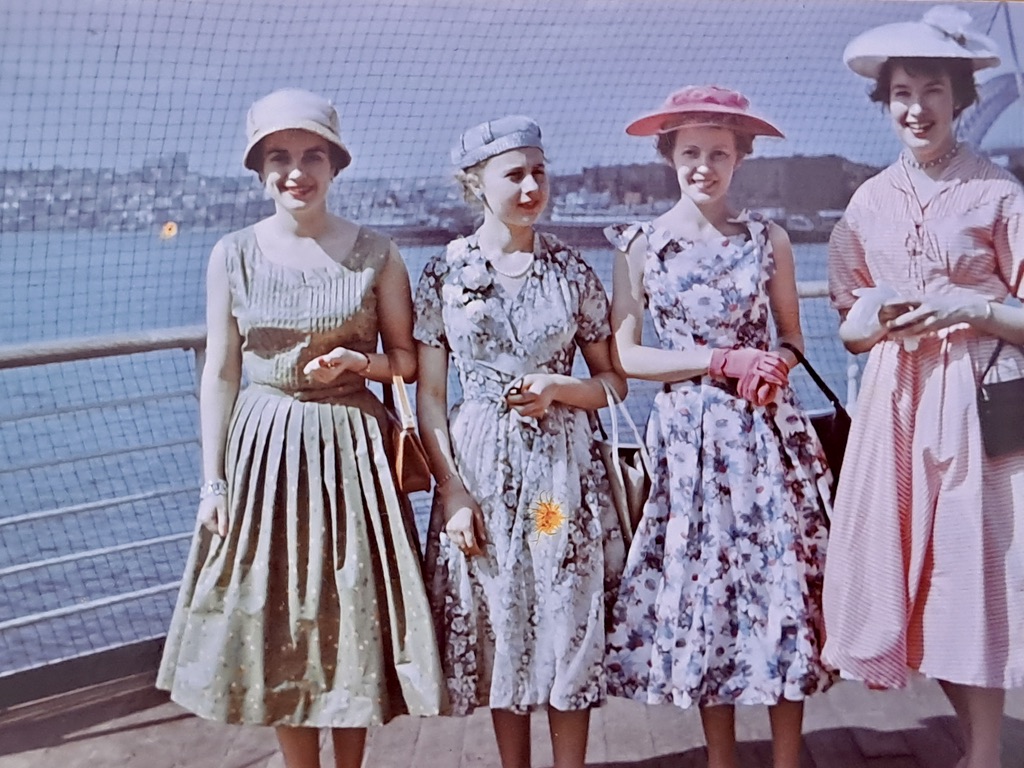 Deirdrie (second from left) with friends on board the Arcadia, bound for London in 1956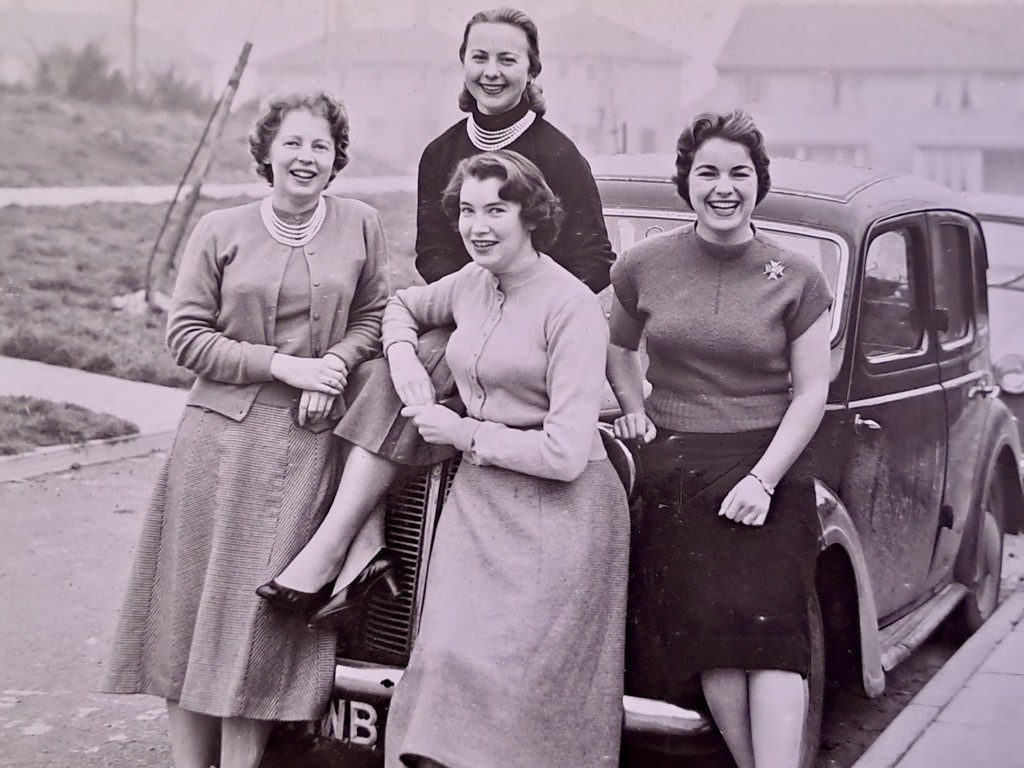 Deirdrie (top) and friends on their European adventure
My 82-year-old Mum's travel journey closely mirrored Deirdrie's.
Four years after Deirdrie made her voyage, Mum joined a friend sailing from Sydney to London. The 20-year-old worked as a temp secretary for a year and hitchhiked around Europe for three months.
It was obviously newsworthy for young Australian secretaries to be working in London at that time because both Deirdrie and Mum had write-ups in London papers.
On Deirdrie's return to the Blue Mountains she went on a blind date with RAAF Instrument Fitter Laurie and fell in love. After marrying, they rented at Faulconbridge for a couple of years and built their house further down the Mountains in 1964.
"It was the first actual place I could call my own home," Deirdrie says.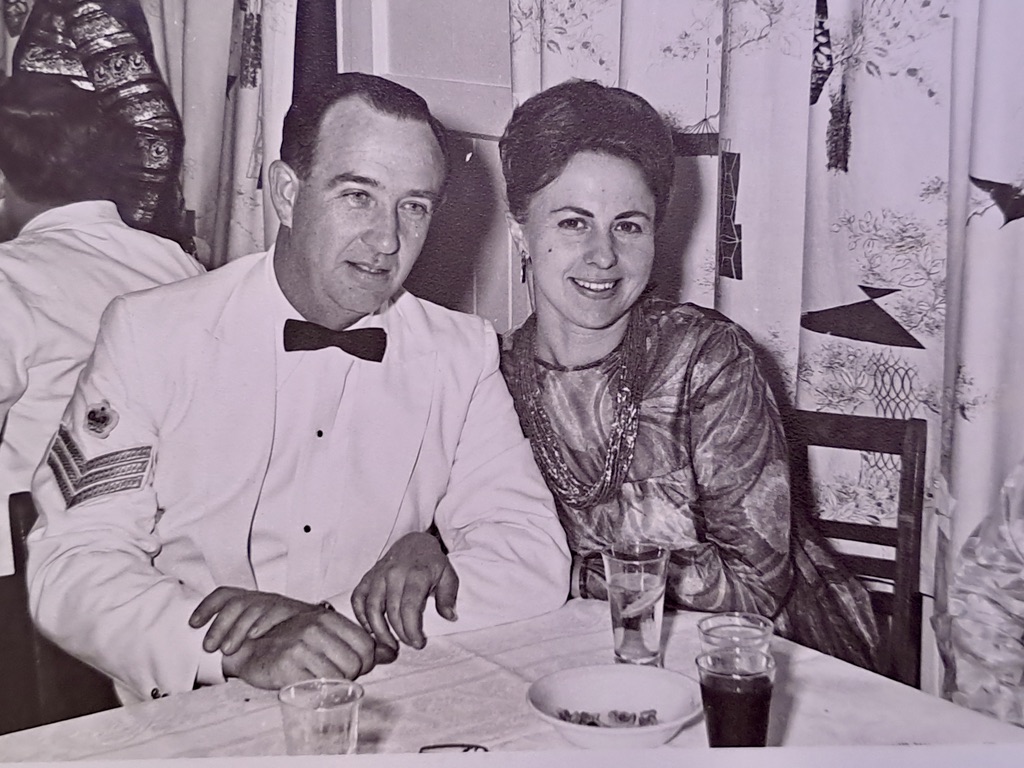 Laurie and Deirdrie a few years into their marriage
The couple had four children over the following years. Sadly, Michelle passed away from leukaemia in 1968, age 5 and 8 months.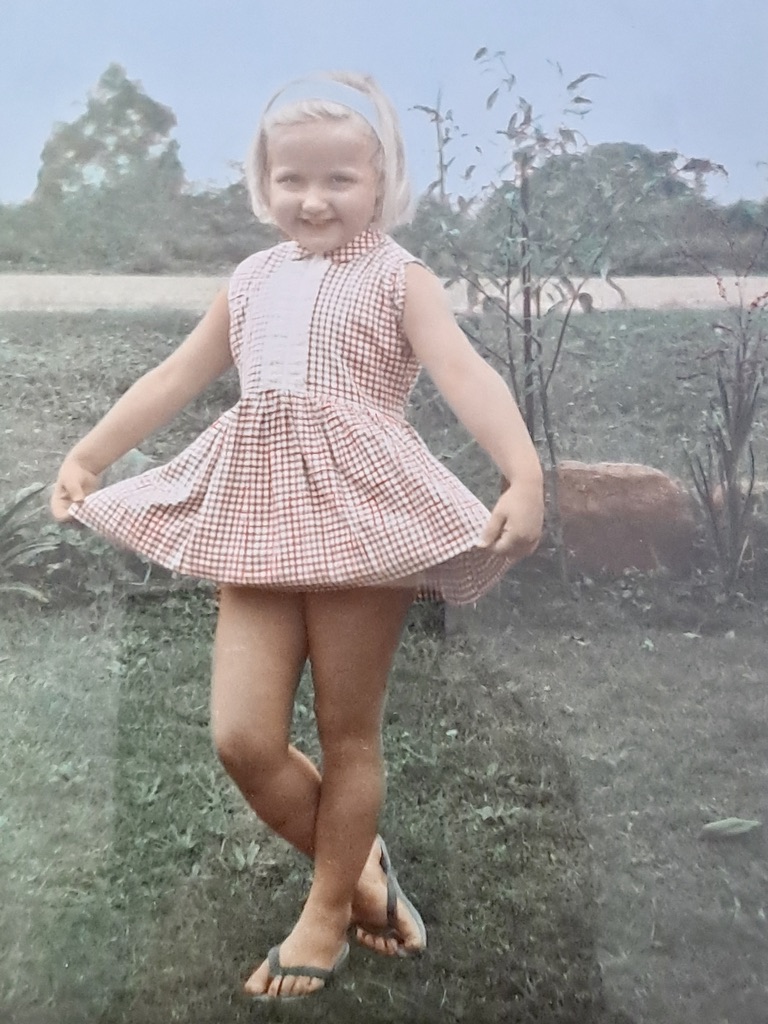 Beautiful Michelle
"When our little girl died, I realised there were three 'fs' that were important and kept me going – family, faith and friends," Deirdrie says.
"People get busy but when something happens, in times of strife, everyone pulls together. The same thing happens during floods or bushfires. The heart of the community is still there and people do what they can to help straight away."
After the October 1968 fires in the lower Mountains that killed two people and destroyed 120 houses, Laurie joined Valley Heights Rural Bush Fire Brigade.
The members offered friendship and support to the grieving family.
"There was a wonderful sense of camaraderie and unity within the group," says Deirdrie, a life member of the Brigade.
"Laurie was involved in building the Valley Heights fire trail. I joined the women making morning teas and lunches and setting up camp down there."
As it turns out, my husband Steve has been a member of the same Bush Fire Brigade for the past 26 years.
Deirdrie and I both know what it's like caring for children while our husbands are busy training for future fires or away fighting blazes for up to several days at a time.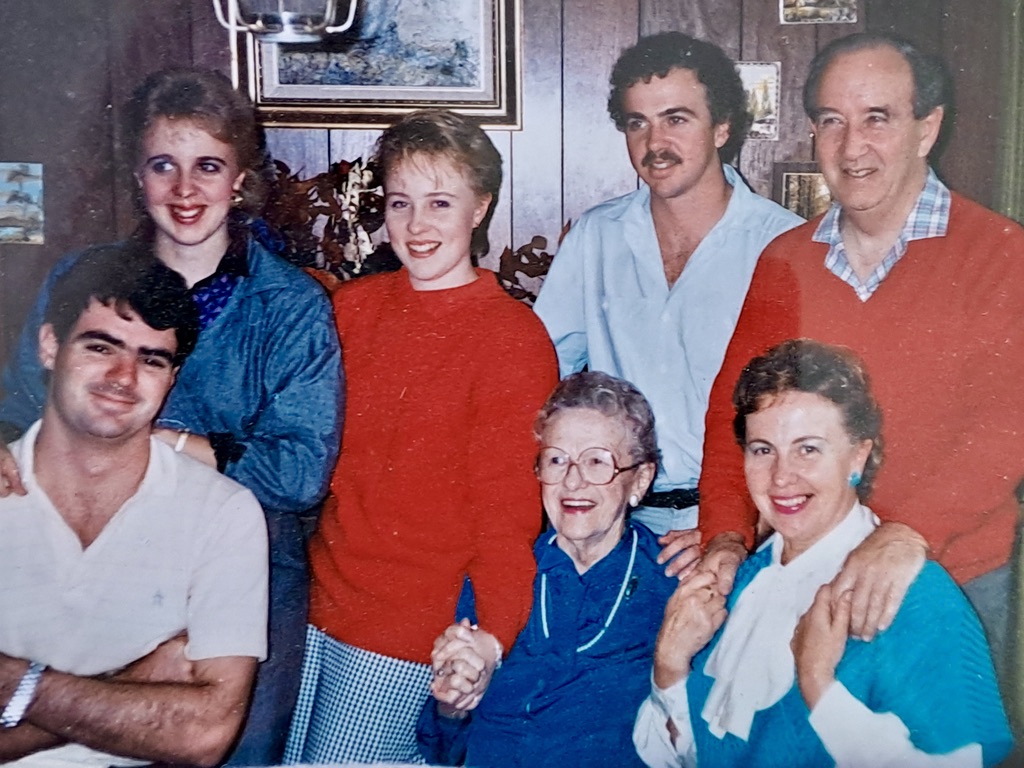 A late 1980s family snap. From left: Deirdrie's son-in-law Mark, daughters Deborah and Susie, son William and husband Laurie, with Deirdrie and her Mum Nancy in front.
Deirdrie has been a parishioner at St Thomas Aquinas Church in Springwood since 1955. Long-standing friends and volunteering roles have helped her through the ups and downs in life, including Laurie's death at the young age of 63.
Two months after his passing, she started volunteering with Blue Mountains Food Services.
"I love helping out with the senior citizen lunches. We have such a wonderful time," says Deirdrie, who is still volunteering there 30 years later.
"I have found that helping other people has been good for me. Volunteering takes you out of yourself and your own grief.
"Social researcher Hugh Mackay says everyone needs their own tribe. I really value the little tribes I belong to."
For many years Deirdrie and a fellow parishioner have been supporting a priest with monthly Mass at Buckland Nursing Home, the same place where my Dad lived for three years.
Deirdrie and I marvel at the parallels in our lives.
As our time together draws to an end, the teddy bears make even more sense to me now. They are a small, touching extension of the support Deirdrie has been providing the local community for decades.
"I've enjoyed entertaining people but I'm thinking of taking the teddies away from the window soon," says Deirdrie. "Lives have gone back to a bit of normality and people might be over it."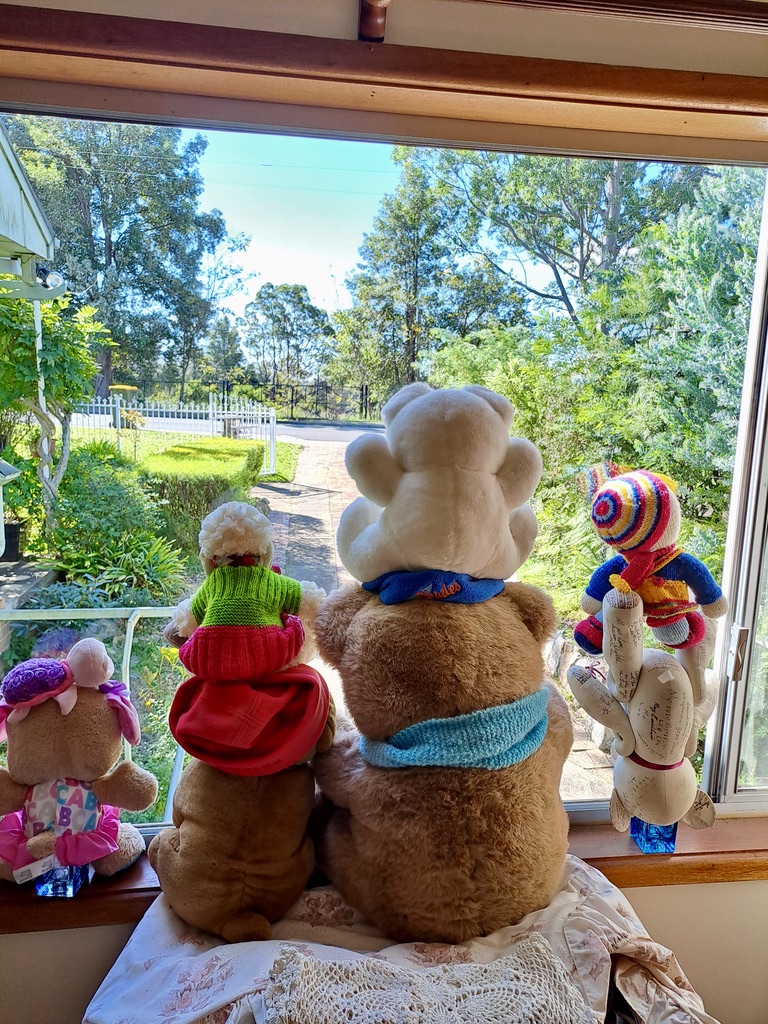 The teddy bears may not be looking out onto the street for much longer (Julie Nance)
Passing a bear-less window on my daily walk will take a bit of getting used to. But as my Dad used to say, "all good things must come to an end".
As I was preparing to leave her lovely home, Deirdrie gave me a hug and said: "I'm so glad I opened my door."
This story has been produced as part of a Bioregional Collaboration for Planetary Health and is supported by the Disaster Risk Reduction Fund (DRRF). The DRRF is jointly funded by the Australian and New South Wales governments.