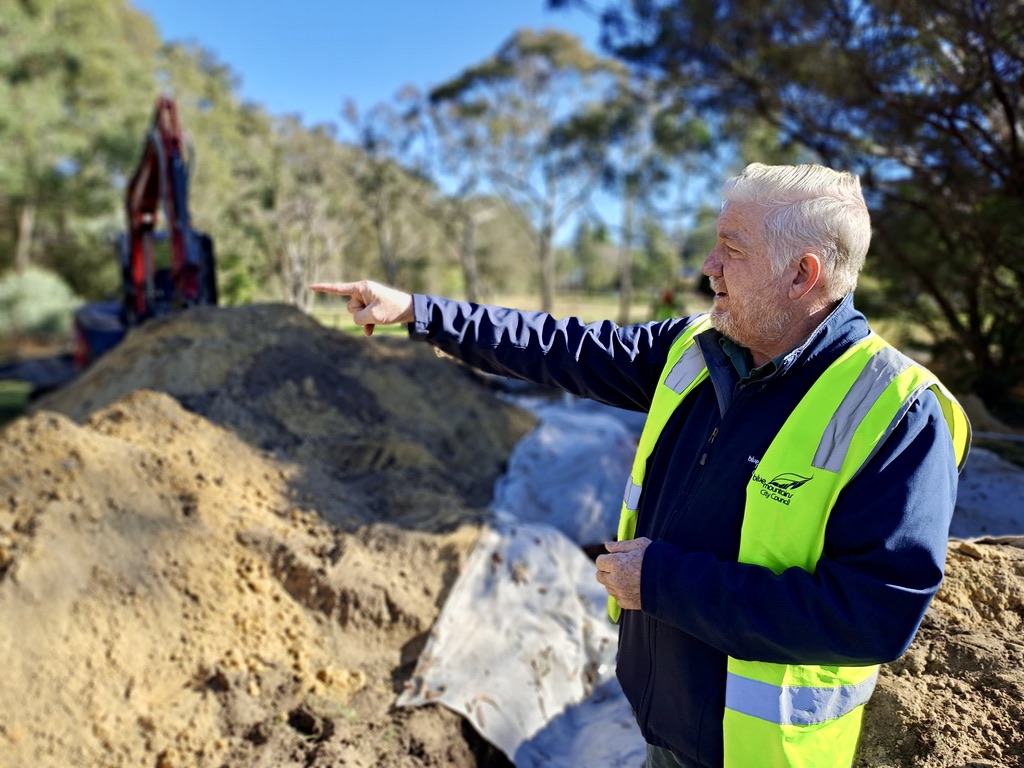 Eric Mahony is leading the construction of a complex project (Julie Nance)
Southeast Asian rice paddies are one of the inspirations behind a stormwater treatment initiative at Glenbrook, designed to protect Knapsack Creek and ultimately, the Hawkesbury Nepean River. Writer Julie Nance visited the site to learn more.
---
Key Points:
Rain gardens and naturalised stormwater channels slow and clean stormwater, reducing the nutrients and sediments carried into waterways. Left unchecked, these nutrients promote algal blooms and weed growth. Excessive loads of sediments change the natural flow of streams.


These 'nature-based' treatment systems are also examples of 'water banking' which focuses on storing water in the landscape. This supports biodiversity and creates a cooler environment. It also recharges groundwater, preventing surface flows from running quickly through the system and causing erosion.
Share this article:
---
As a boy, Eric Mahony enjoyed riding his bike around dry concrete stormwater drains in Bankstown. He admits they were well engineered structures but "aesthetically pretty ordinary, and from a habitat point of view, very ordinary".
These days Eric devotes his energy and expertise to improving the way we deal with urban stormwater in the Blue Mountains. As Program Leader for Natural Area Management at Blue Mountains City Council, he strives to mimic what happens organically in nature.
I drop in at Whitton Park, Glenbrook to check out the joint project between Sydney Water and Blue Mountains City Council. I learn it's Sydney Water's first pilot scheme under the Hawksbury-Nepean Nutrient Management Framework, implemented by the Environment Protection Authority (EPA). More on that later.
Nestled between the picnic area and playground on one side of the park and the off-leash dog area on the other, raingardens and naturalised stormwater channels are under construction.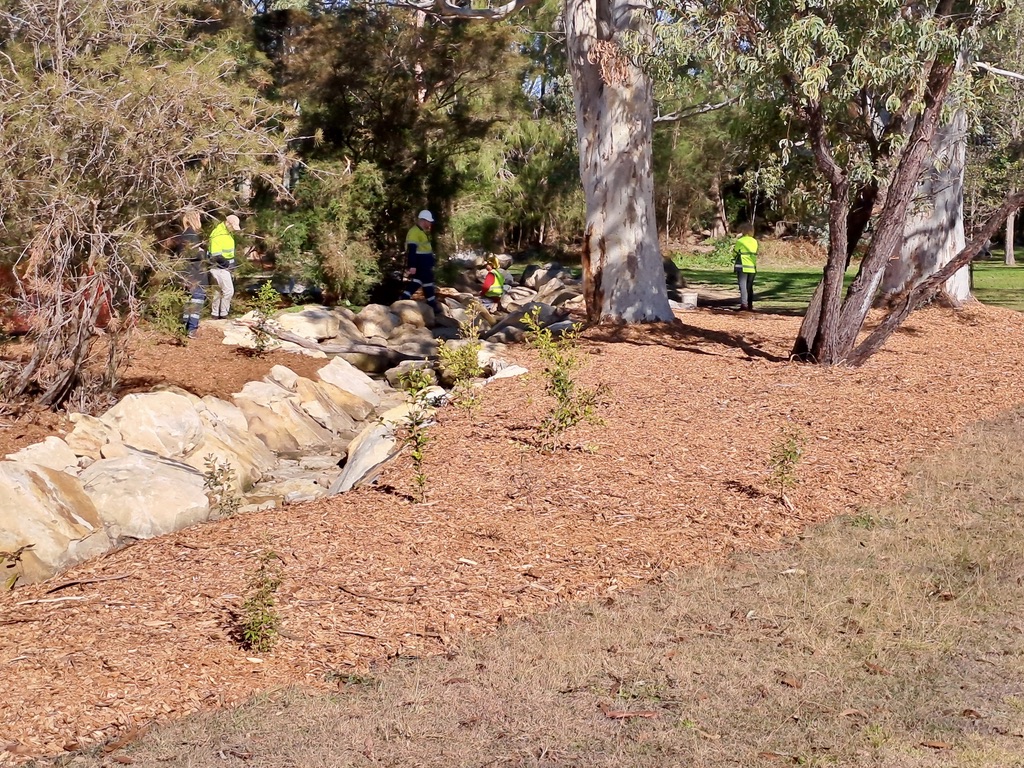 Former eroding drainage channels are being transformed into rock-lined flow paths that help slow stormwater and stop sediment being washed into the creek. (Julie Nance)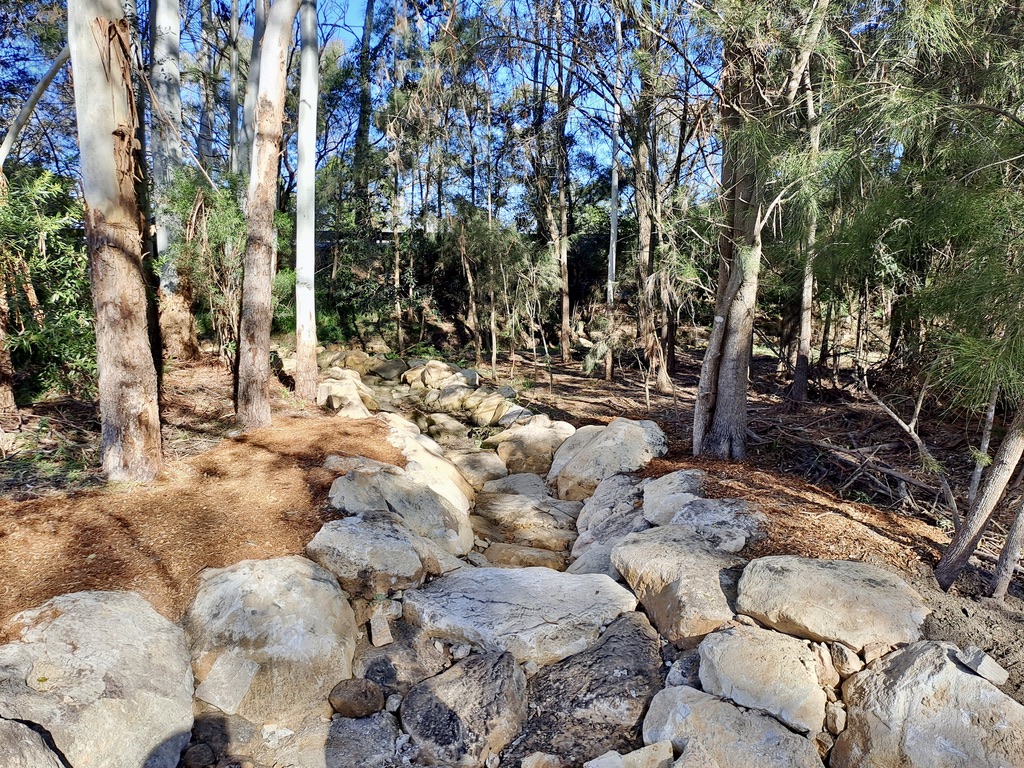 The innovative system is designed to remove nutrients – phosphorus and nitrogen – as well as sediments from stormwater flows. This prevents them from entering Knapsack Creek and polluting the Hawkesbury Nepean River. The nutrients promote algal blooms and weed growth, and the fine sediments and gravel change the natural flow of streams and creeks.
In addition to improving waterway health, the project will also create habitat and improve biodiversity at Knapsack Creek.
Eric takes representatives from Sydney Water's monitoring and design teams on a tour of the site he describes as a challenging, "pretty flat system".
He takes every opportunity to praise the intricate work of the team members involved. This includes Brent Bones, owner of Bones Excavations, and Shane Grundy, of The Bush Doctor. He's been collaborating with the pair on similar projects in the Mountains over the past 10 years.
Eric describes 'Bones' as "a sculptor, more of an artist". He says Shane comes from a strong environmental restoration background like himself, with a keen interest in swamps and stormwater.
"It's a mix of creative and scientific thinking that is critical," Eric says.
"We have to be really good with our design, otherwise as soon as we get our levels wrong, the water will back up in the pipes and can't come out. If we're out by centimetres or even millimetres, the whole thing stops functioning."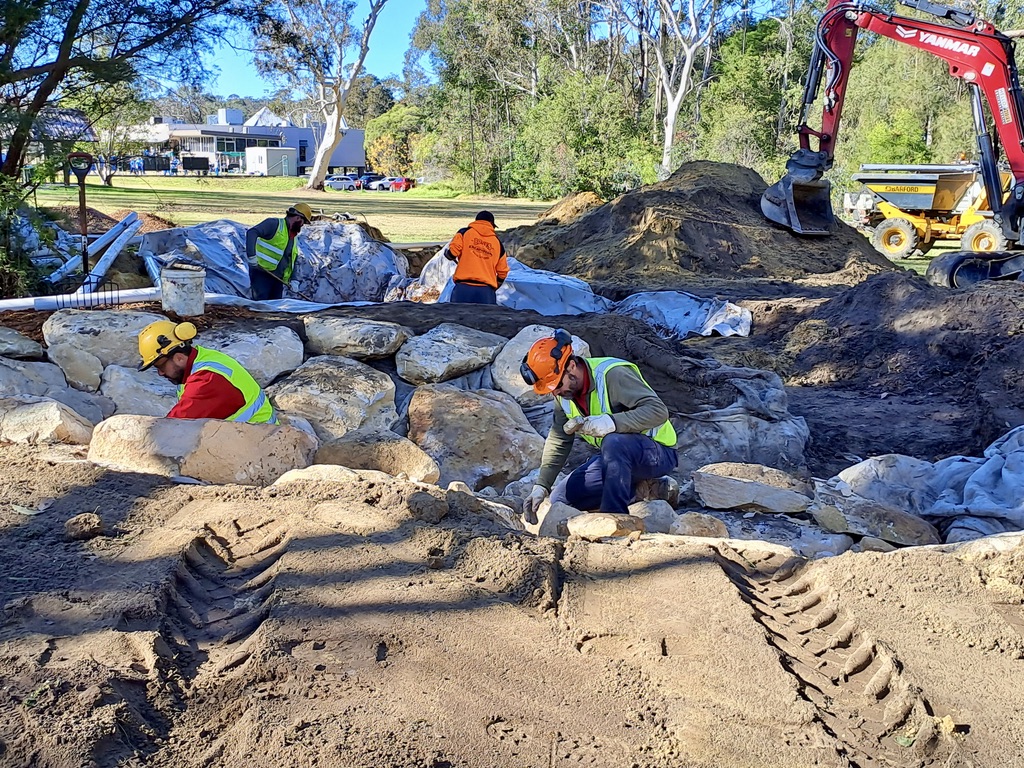 Eric: "We can have good concepts and drawings but you still need people who are able to do the work. These guys are artisans."
In addition to the nutrient reduction program, Shane explains there's also an emphasis on soaking and storing water in the landscape, as opposed to it running quickly through the landscape into the creek and river.

"It's really about capturing that first flush of stormwater which carries the dirty water, trying to remove the nutrients and recharging the groundwater," he says. "We call it water banking. We try and hold the water up in the head of the system as long as we can and let it move through the ground into the natural flow lines."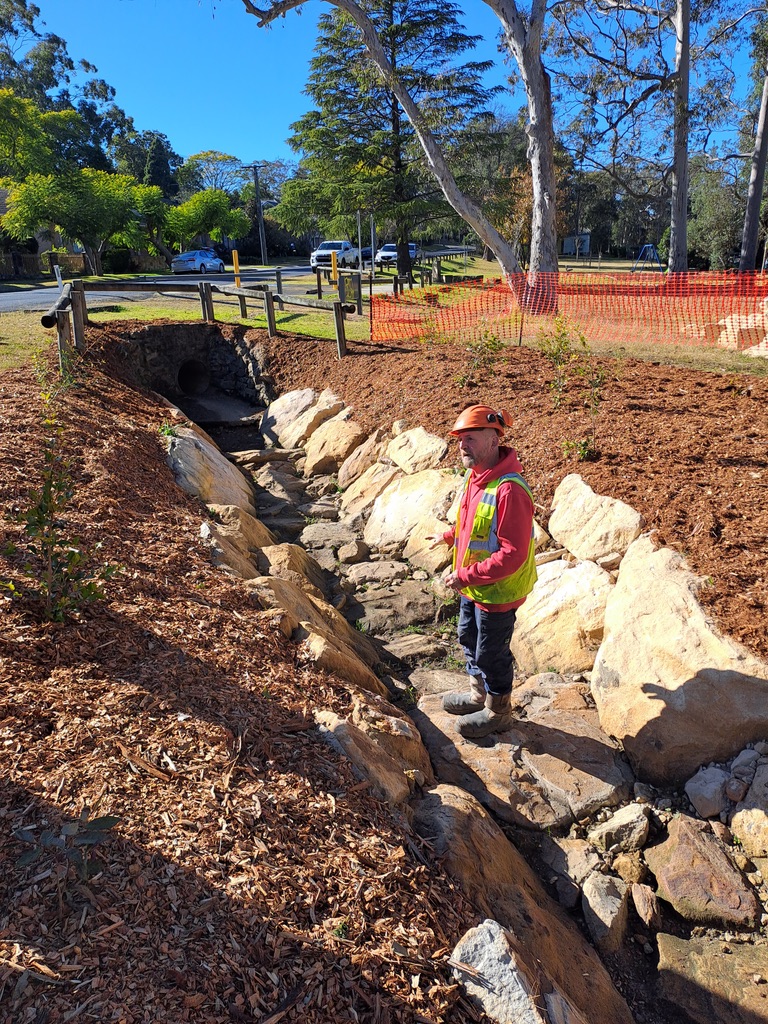 Shane points to the pipe where the stormwater first enters the system from the homes, school, churches and streets upstream. (Julie Nance)
Raingardens are a major feature of the project – natural garden beds that filter large volumes of stormwater and encourage infiltration to recharge groundwater. The bottom layer of the gardens contains high quality mulch, provided by Blue Mountains City Council's tree team. This is mixed through a layer of gravel to cover biofilter pipes, with coarse sand on top.
Plants will be added that rely on the dirty water to grow. Their roots are important in helping microbes establish to remove nutrients from the water.
Eric says the biofilters operate like a kidney or dialysis machine. "The water is being processed and put back into the system," he says. "It migrates through the soil and appears through the banks of the creek, rather than rushing down as a surcharge flow and eroding the stream."
Eric explains there's a chain of ponds throughout the system that hold no more than 300mm depth after a rain event, removing the risk in public places. "It's a bit like a game of water dominoes," he says. "One pond fills up and the next one tips over. It's all quite lovely to watch."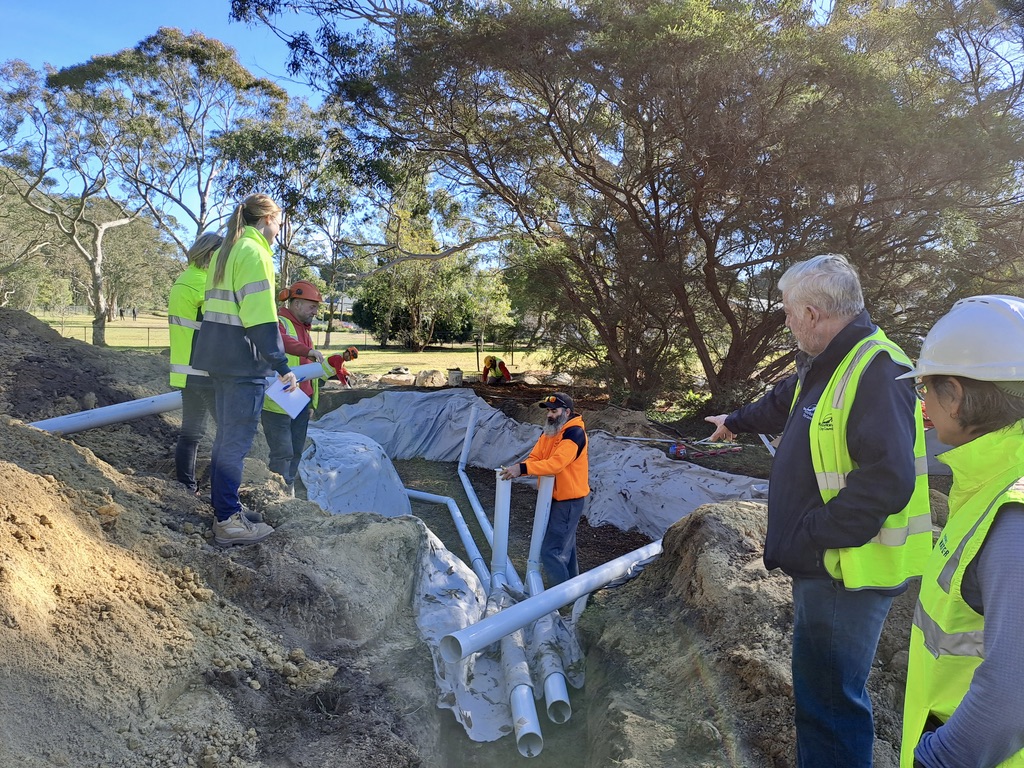 Eric, Shane and Bones show Sydney Water representatives how the construction of the raingarden biofilters are progressing. (Julie Nance)
Although the project relies heavily on precision, Eric and the team allow "nature to put its own little stamp on it". A large branch that fell out of a nearby tree will remain.
"We'll lock it in because these are useful for reptiles to bask on," Eric says. "We don't want to build a neat object. That's why we want to get away from the concrete stormwater drains I grew up riding around in Bankstown to systems that have more natural attributes to them."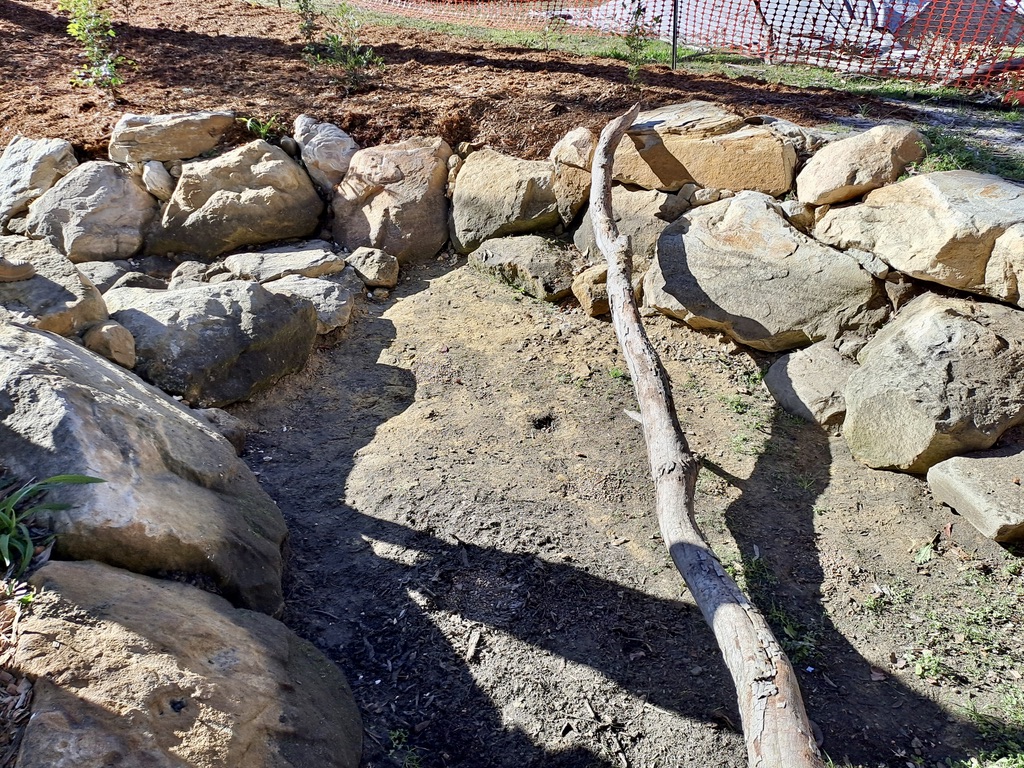 The fallen branch. Eric: "It's a very precise but organic design process." (Julie Nance)
Eric says the "wonderful, generous partnership" with Sydney Water is allowing the team "a bit of free play of thought and experimentation".
They are always on the lookout for ways to assimilate agricultural practices into their designs, to help move water around the system.
"We've borrowed heavily off the Southeast Asian rice paddies design and from swamp work," Eric says. "We've also used principles from the cotton farming industry."
Although the project is not yet complete, Shane says early improvements in soil hydrology means a lot of Juncus and other water loving native plants are regenerating.
"The system is already working," he says. "Once it's finished and the plants are established, you will have a really natural looking eco system that looks soft and passive in the landscape."
As part of the initiative, an eroded drainage channel is being recreated into a 'natural' creek line using rock repurposed from Blaxland Waste Management Facility's landfill cell excavation.
Amy St Lawrence, Council's Aquatic Systems Officer, says the presence of Caddisflies is a positive sign a healthier habitat is being established.
"The sensitive little aquatic invertebrates are an indicator of good water quality," she says.
"Different types have varying sensitivities but the fact they are in there is a pretty good sign the water is good enough to support life and quite sensitive life as well. That's a big tick from the locals."
Amy with Caddisfly larvae. "At juvenile stage they are aquatic and then they come out and fly away as winged insects." The creek is also expected to be full of skinks and Water Dragons when the weather is warmer. (Julie Nance)
Before construction of the system commenced in late 2022, Sydney Water conducted pre-sampling of stormwater from an automatic flow gauge installed downstream near the Glenbrook Native Plant Reserve and Nursery.
Jenny Rogers, Sydney Water's Environmental Regulatory Manager, says once the work is complete, the sampling will be redone to calculate the nutrient load removal after each rain event.
"We will be able to monitor, calculate and prove to the EPA how effective this rain garden is at stripping nitrogen and phosphorus from flows, from one end of the system to the other," Jenny says.
"We're trialling this with Council to see how it works. We don't have the assets or the infrastructure that would enable this. It's Council-owned land but we're taking the gains of our investment to benefit our treatment plants."
Collaborators making a difference: Shane, Bones, Jenny and Eric. (Julie Nance)
As I'm preparing to leave the site, I chat with Will Goodwin, Council's Environmental Healthy Waterways Cadet. While Eric has been working around streams for 30 years, Will's journey has only recently begun. His enthusiasm for the project is compelling.
"It takes a village to look after a creek," he says. "It's not that long ago that stormwater drains were designed to do one thing, get rid of stormwater.

"We do that here but we're also talking about supporting skinks, water bugs, maybe platypus one day, and growing plants including rainforest varieties that cool the air when they transpire. This will cool the park down which means more kids playing and healthier residents. This is just phenomenal for the community and for the environment."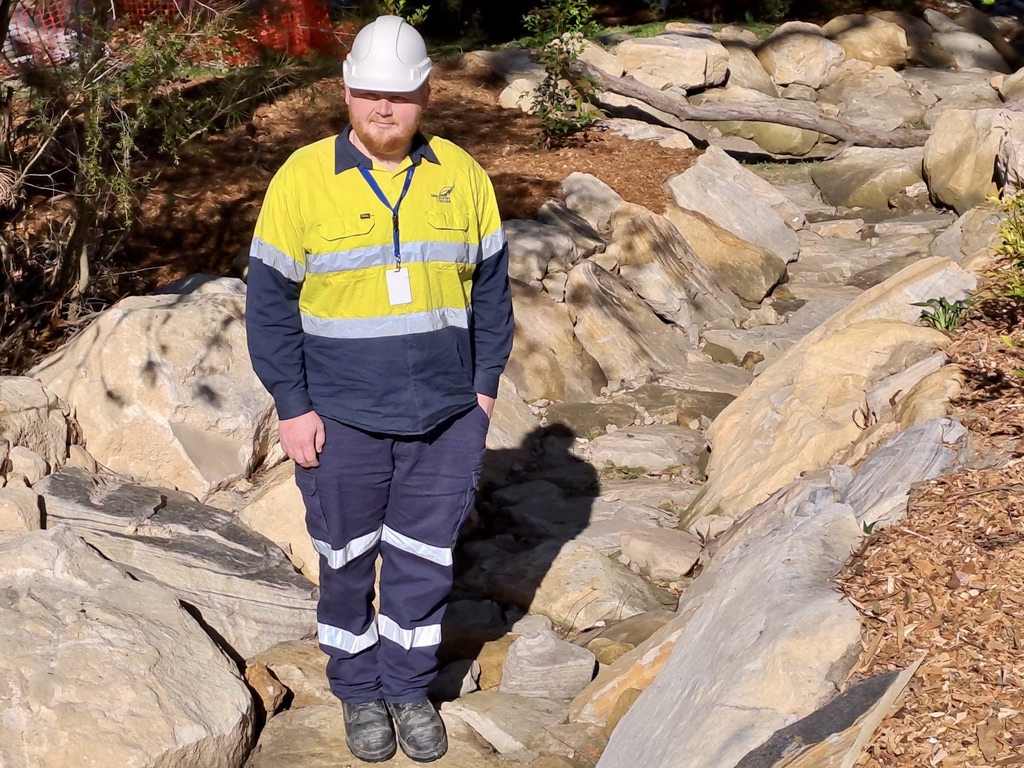 Singing the project's praises, Will Goodwin. (Julie Nance)
---
---
This story has been produced as part of a Bioregional Collaboration for Planetary Health and is supported by the Disaster Risk Reduction Fund (DRRF). The DRRF is jointly funded by the Australian and New South Wales governments.