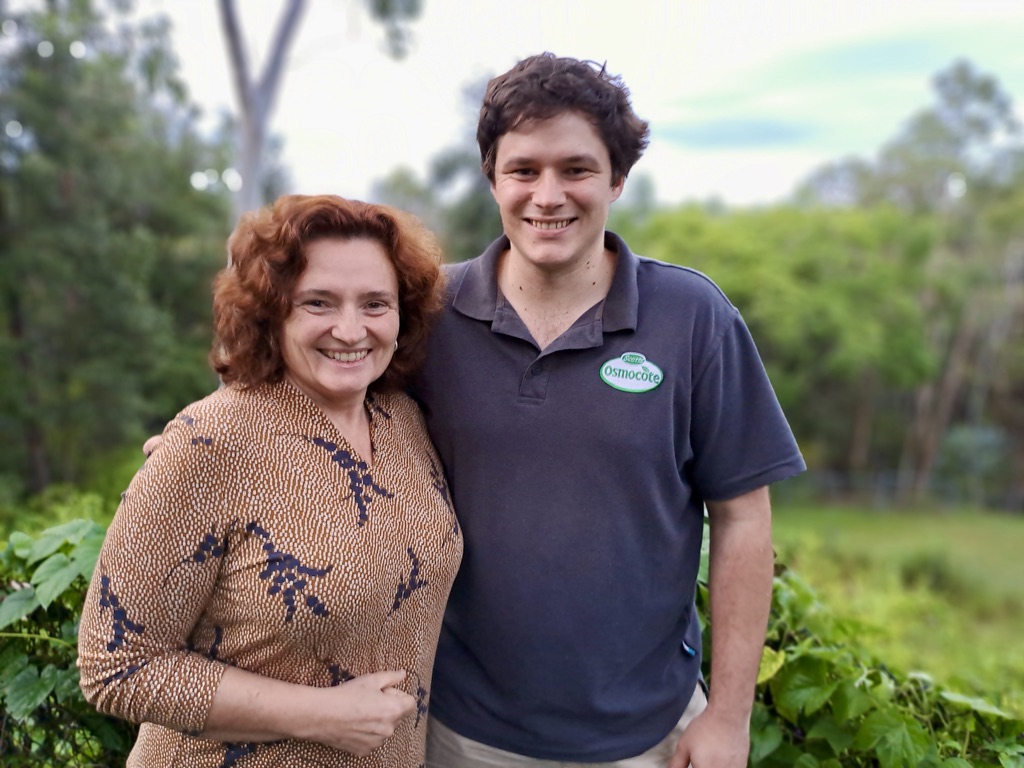 Mary and Tom Gleeson: Sustainability Street project legacy lives on
Story and photographs by Julie Nance
Sometimes in life there's an experience that leaves such a memorable mark it sends positive ripples throughout the years that follow. Tom Gleeson was just 11 years old when he joined his mum and 20 other Warrimoo residents in a community-based training program called Sustainability Street. Locals of all ages and backgrounds met regularly in backyards, lounge rooms, a school hall and parks to learn about sustainable ways of living, working, thinking and acting.
Tom's participation in the initiative, led by Blue Mountains City Council 15 years ago, had a profound impact on him. It influenced his choice of tertiary study, career and his everyday life. Today the 25 year old is an award-winning horticulturist, sharing his innovative research and techniques in Australia and internationally. Julie Nance caught up with Tom, his proud mum Mary and other Sustainability Street participants to find out how their lives and habits have been influenced by the project.
Mary Gleeson remembers the turning point in the project when Tom's passion for sustainable living was ignited.
"We had this fantastic session on waterways, led by Amy from Council," Mary recalls.
"We went to a creek and Amy had all these samples of water and the kids had to look for bugs and evidence of life in the waterways including frogs. We looked at what all the native species were. The whole experience had a massive impact on Tom."
Before the project began, Tom and his best mate Harry Wood helped teachers set up a little vegetable garden at Warrimoo Public School. He also enjoyed picking tomatoes with his beloved 'Nonna' on her Leppington farm.
It was Sustainability Street, however, that set him on his life course.
"It was the main foundation for bringing me into horticulture and gardening," Tom says. "It was through Sustainability Street that I learned sustainable gardening practices like worm farming, gardening, composting and the nutrient cycle.
"They taught us how to build raised garden beds and nurture the soil microbiome. They promoted stopping weeds by laying down cardboard and creating a layered compost to plant other plants on top of the weeds. I really enjoyed turning kitchen scraps and other organic waste streams into fertilisers and soil."
For Tom, there were so many real-life applications of lessons learned, even in the construction of his family's 'earth home' at Warrimoo a couple of years later where he became a labourer and unofficial advisor.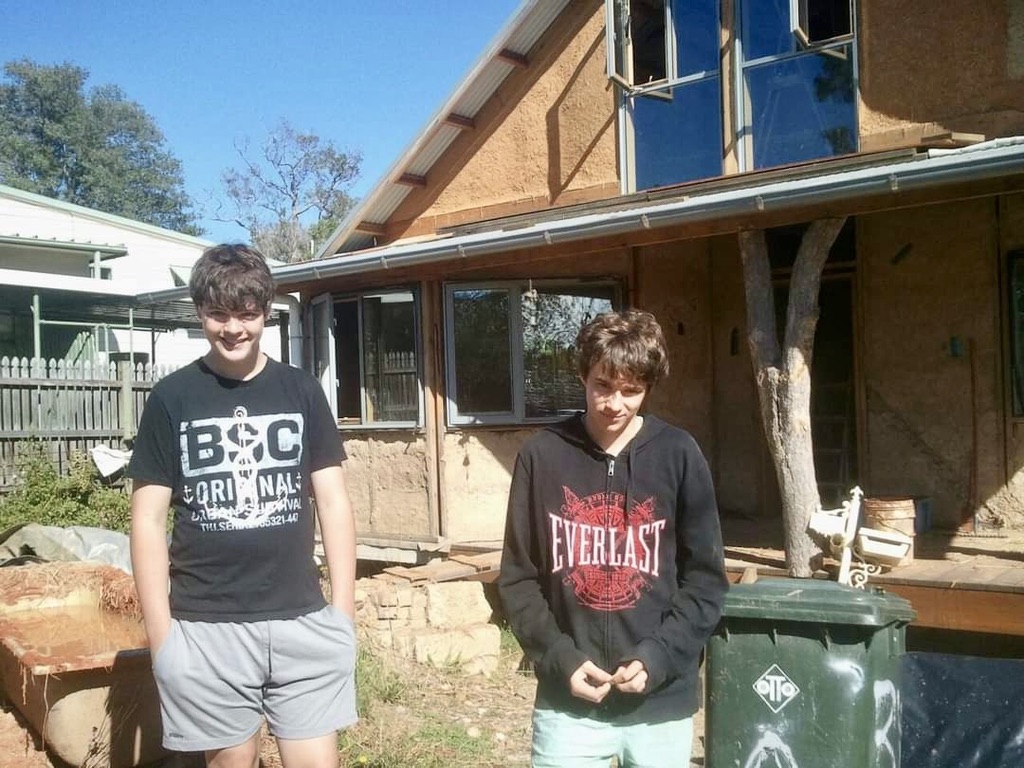 Tom & his mate Harry Wood as teenagers on the home building site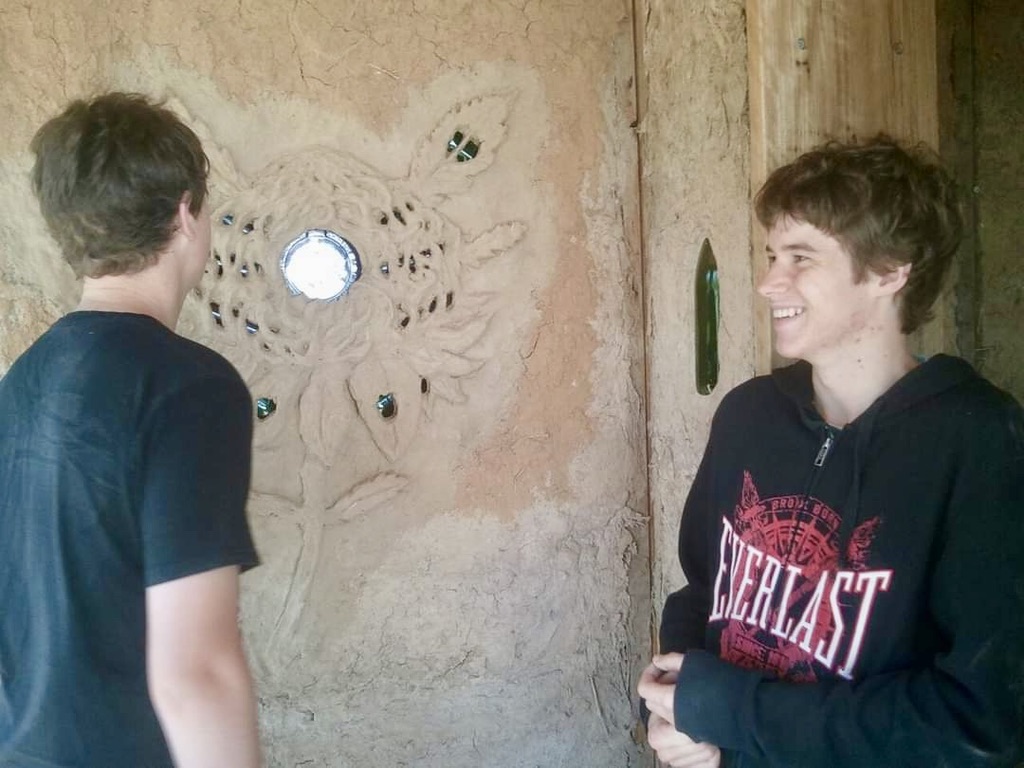 Tom & Harry inspect the mural they made on the earth home
Tom helped ensure as little waste as possible left the building site and the maximum number of materials were recycled. In fact, he wrote up a research plan for a Year 10 geography assignment titled 'Waste management in a home construction'. The lengthy document stated:
The walls were made of wasted clay and soil fill taken off other building sites. The front verandah posts were recycled yellow blood wood trees that had died in the backyard. Concrete form block foundations were made from recycled crushed concrete and road base. Reject Australian hard wood black butt was used in timber framing and a rice straw bi-product of rice production was used in the wall insulation.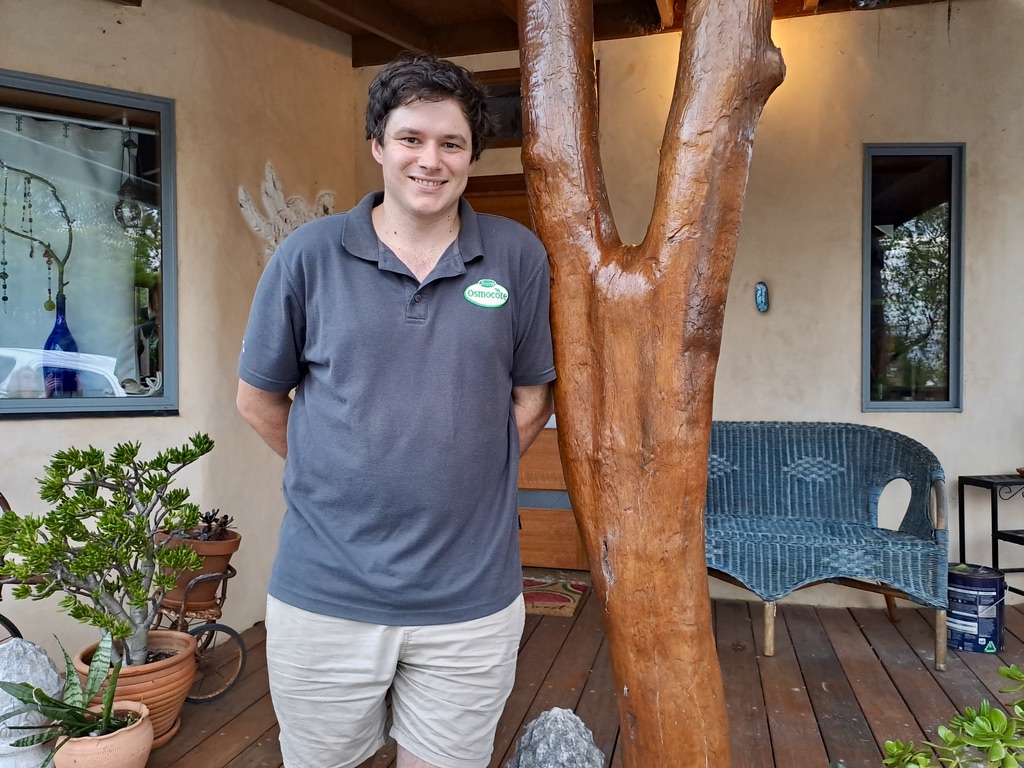 Tom, now aged 25, visits the family home
Sustainability Street enabled participants to connect with expertise, both at Blue Mountains City Council and within the community. Mary remembers that before the project, "some of us were kind of fumbling around just doing the basics in our own backyards".
She says: "Sharing skills and forging new relationships benefited everyone and particularly helped broaden Tom's horizons."
During his HSC year, a member of the group gave Tom a heads up about an innovative degree being offered at Western Sydney University (WSU): a Bachelor of Sustainable Agriculture and Food Security.
Tom spent the next few years completing the degree. As the WSU webpage explains, the course 'merges topics of agriculture, food and health to empower students to design solutions for international development, community education and the urban-rural interface'.
Tom was inspired to find solutions to difficult, global problems.
"I ended up getting a university scholarship to go to the Philippines as a delegate to discuss agricultural practices, visiting local farms and Bohol University," Tom says. "We met with the local council and government agricultural departments to discuss sustainable agricultural practices and water management techniques.
"Overall, they had very sustainable and resourceful farms. One of the issues farmers did face was the lack of good plant genetics. We organised a seed bank full of lots of different seeds for them to grow and trial."
Hi-tech greenhouse food production became one of Tom's key specialties. He was awarded the prestigious BBM Global Industry Scholarship in Agriculture for his achievements.
Tom now applies his educational and life learnings at Evergreen Garden Care, working at their research station at North Richmond.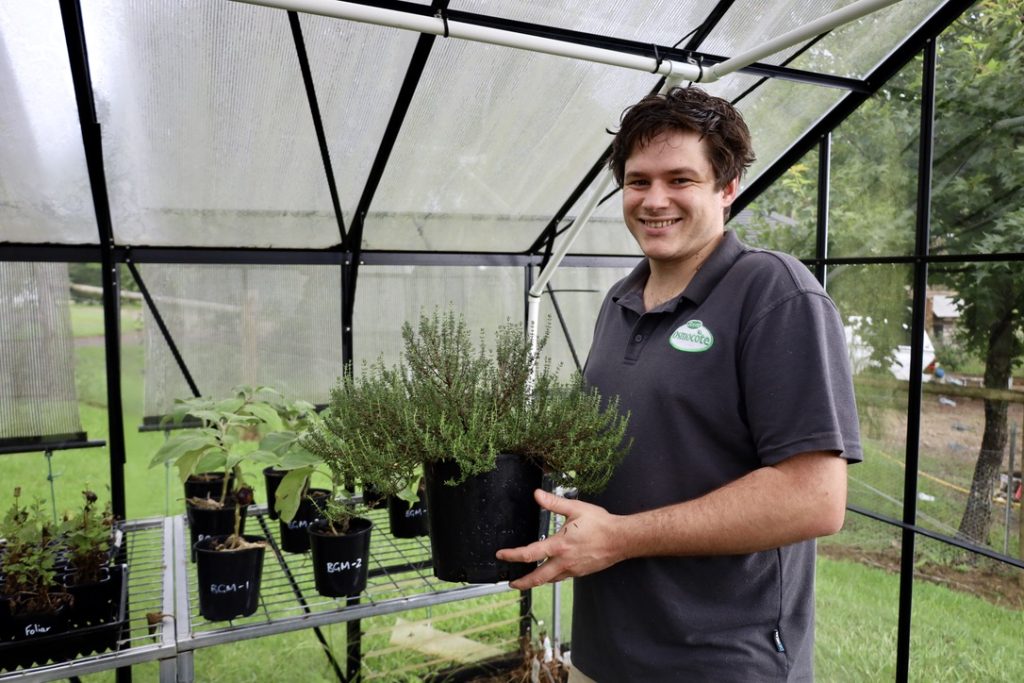 Tom in his work greenhouse
He has trialled and developed industry-leading, organic slow-release fertilisers, liquid fertilisers and other garden products that are sold into Bunnings nationally. He talks about leading a new liquid fertiliser manufacturing plant as part of his role:
"I provided the technical support and helped design the layout of machinery for the fertiliser manufacturing line.
"I love the technical aspect of designing different trials and developing new products."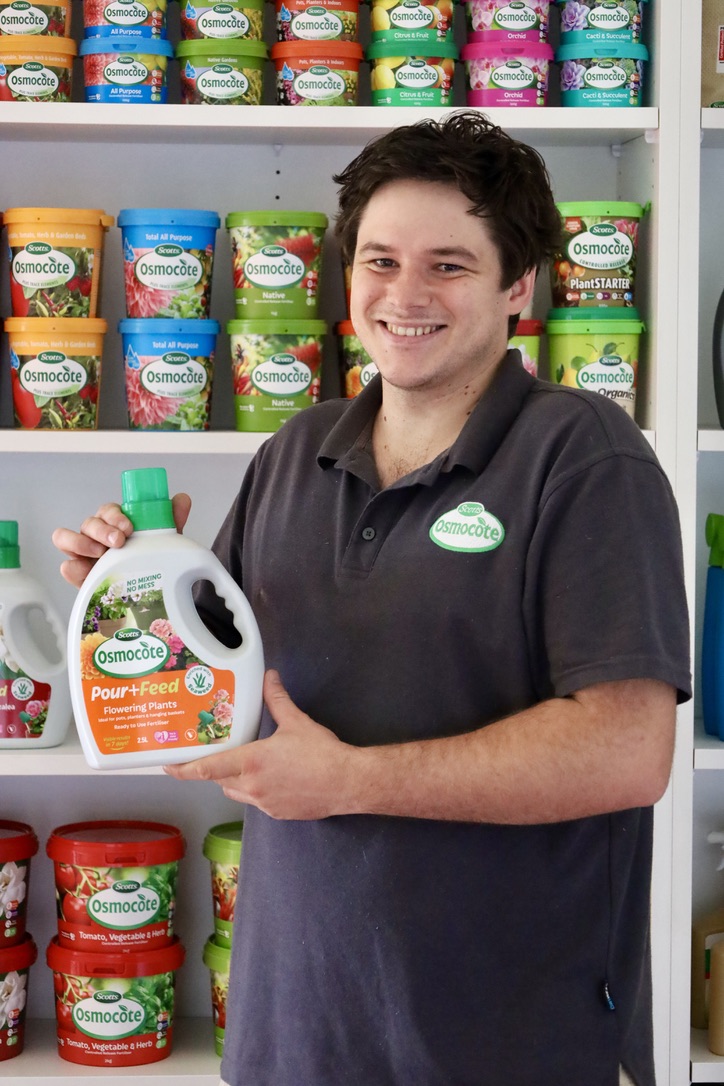 Tom with a product he formulated
Tom and his fiancée recently purchased a five-acre property at Faulconbridge, covered in fruit trees. They plan to turn it into a food forest using permaculture techniques.
The BBM scholarship provided Tom with funding to build a hi-tech backyard greenhouse. It will utilise climate control systems to manage perfect environmental conditions for growing year-round.
Tom explains: "I want to use the greenhouse to cultivate nursery stock and flowers to sell locally for Valentine's Day and use it to research different fertiliser and gardening products. It will be an education resource as well."
One of Tom's passions gained from Sustainability Street is teaching people how to grow plants and be successful vege gardeners.
His family home at Warrimoo – complete with gardens, vege patches, chickens and bees – was his safe haven for experimentation and fun.
"It's important for kids to be in touch with nature, get outside and learn where their food comes from," Tom says.
"So many kids nowadays don't even know where bananas or even milk comes from. They think it just comes from Coles."
The bigger picture
In 2001 the Victorian environmental education consultancy Vox Bandicoot piloted a project called 'Sustainability Street Approach', with the support of Moreland City Council in Melbourne.
The motto was 'local people and local government – leading the nation'. The pilot was a big success and the program expanded throughout more than 200 communities in Victoria and NSW.
Warrimoo and Wentworth Falls were part of that expansion.
In late 2008 a celebration of the Blue Mountains project was held in Katoomba. Mayor at the time, Clr Adam Searle, presented certificates to participants and unveiled 'Sustainability Street' signs in Wentworth Falls and Warrimoo.
Countless times over the years I've driven from my Valley Heights home to the Warrimoo general store, passing the Sustainability Street sign at the beginning of The Avenue. I've always been curious what this symbolised. I now know it represents a special community project that extended to several streets on the north and south sides of the village.
Kicking goals
The three main aims of the project were:
1. reducing participants' waste and consumption of energy and water
2. capacity building and
3. creating a sense of community.
Mary believes the project achieved those objectives. In addition to gaining valuable knowledge about living more sustainably day-to-day, she says the experience enriched her family and others, building strong connections within the community.
"At the start, we were kind of a motley group of people that wouldn't necessarily have connected and then some people were already quite good friends," Mary says.
Other sustainability street experiences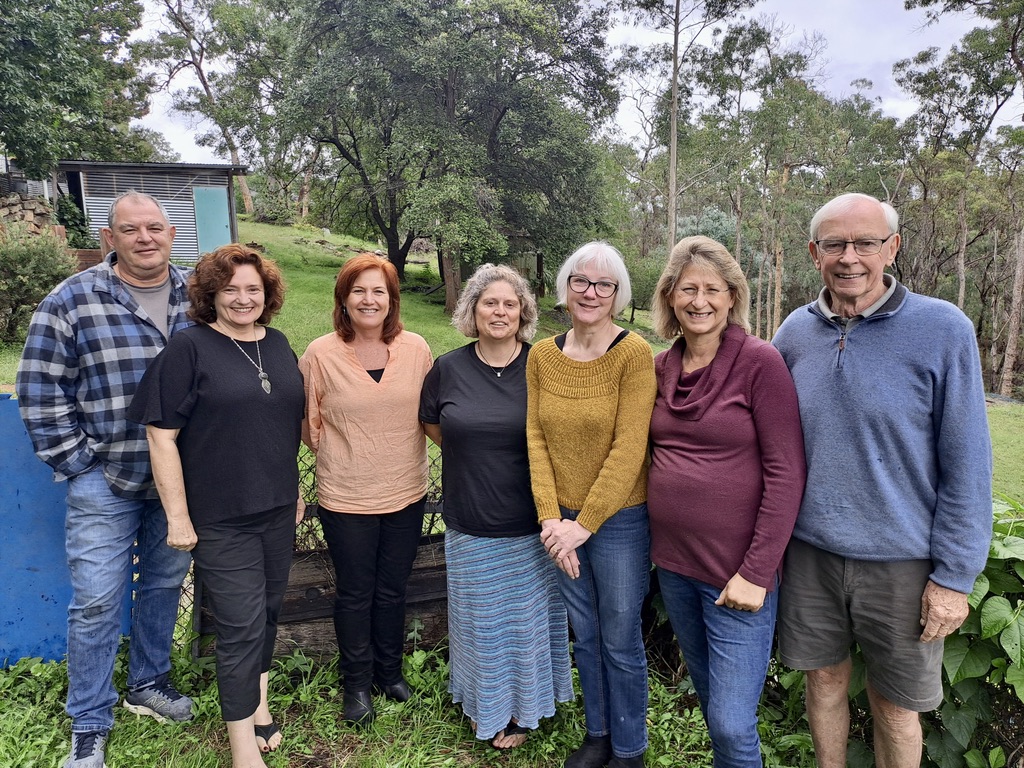 Sustainability Street participants and now firm friends catch up recently to reminisce
L-R: Martin Patfield, Mary Gleeson, Kim Wood, Joanna Schofield, Evelyn Richardson, Naomi Houston & Hugh Houston
Hugh
At the end of the project, residents were encouraged to spread the word about sustainability throughout their communities and to live by example. Students became the teachers.
Hugh Houston completed the project with his wife Naomi and agrees "education is everything".
"After the project I was more aware of educating others about ways we can be kinder to the planet and be more conscious of our footprint," Hugh says.
"We benefited from listening to other people's ideas about sustainability. With climate change it has become a lot more important in everyday life to be mindful of everything we do."
Clare
Clare Tilden originally heard about the project via playgroup and was keen to get involved so her two young daughters could participate.
She says Warrimoo was already a close-knit community but "the kids got all excited about it and it has brought everyone a bit closer together.
"The project enabled the kids to connect with kids they wouldn't normally hang out with or give the time of day to at school," says Clare whose girls often drew on knowledge they gained for school assignments over the years.
"The kids really got into the waste management side of things. They took it to school and it flowed through the community really nicely."
Clare remembers going to a solar day after the project.
"It was in the early days when a lot of people were quite sceptical about outlaying money for panels," she says. "People who had done Sustainability Street knew the benefits and quite a few of us went ahead and got solar."
Evelyn
An enduring legacy of Sustainability Street for Evelyn Richardson is a heightened awareness that "everything I touch and bring into the house doesn't go away".
"I am particularly careful about landfill and only a small amount goes into our red bin each week," she says. "In terms of shopping, we don't buy packets or tins and I'm a big re-user."
Robyn
Fifteen years on, Robyn Totenhoffer still uses the composting and worm farming fundamentals she learned during the program. She enjoyed visiting other people's backyards and seeing what they were doing in their gardens.
"I liked the community part of it, getting to meet other people and having a common goal," Robyn says. "We've continued to be friends.
"Everyone gets busy, but you may bump into someone in the street and have a chat to see what they're up to. When you need it, you can easily engage people you know have the expertise to help you."
Adrienne
Adrienne Murphy was Blue Mountains City Council Environmental Education Officer at the time of the project. She welcomed the opportunity of becoming one of the mentors. The project remains one of her favourites.
To keep participants engaged, project mentors used a wide mix of educational techniques including presentations, games, hands-on activities, one-on-one interactions, focus group discussions and debates.
"There's a real value in meeting in people's lounge rooms, at their kitchen tables and in backyards," Adrienne says. "It creates a friendly and safe learning environment.
Adrienne says it was wonderful for kids to experience the communality of the project.
"You're learning from each other, you're having dialogue, problem solving, having a bit of fun and getting your hands dirty," she says. "That was a lovely thing to witness and be a part of."
This story has been produced as part of a Bioregional Collaboration for Planetary Health and is supported by the Disaster Risk Reduction Fund (DRRF). The DRRF is jointly funded by the Australian and New South Wales governments.