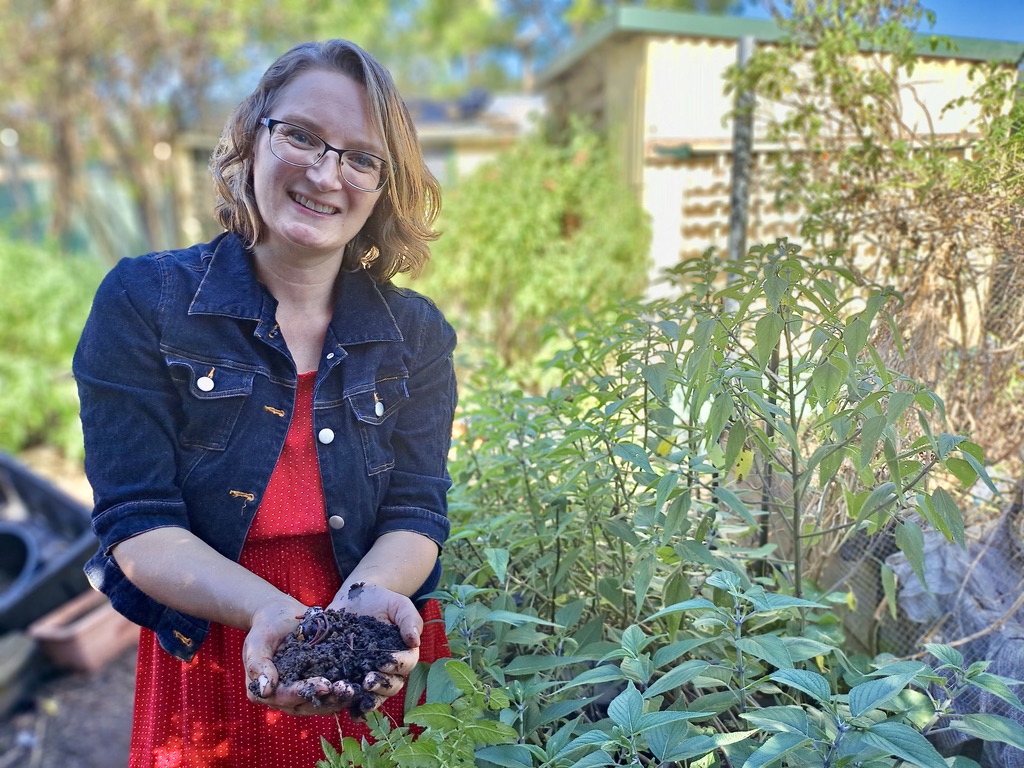 Beth Healy in her beloved home garden. (Julie Nance)
By Julie Nance
As a child, Beth Healy loved reading The Secret Garden. When she became a mum, Beth created her own outdoor treasure trove at her Blaxland home. The 39-year-old is passionate about spreading her love of nature and its bounties to her 9 and 11-year-old daughters. Lower Mountains school children benefit too. Fondly known as DirtMum, the kitchen garden educator specialises in sustainability and wellbeing. Beth was unable to finish her own HSC due to chronic illness that still challenges her to this day. Her tonic has always been, and continues to be, the soil. I met up with Beth to find out why she's so passionate about sharing her love of vege gardening with others.
Beth: My girls are the reason I wanted to grow more than just a strawberry patch. I wanted to create that secret garden. I wanted some way for them to feel free to explore, to watch the apples and lemons grow and to walk down the driveway and discover a humongous zucchini. I wanted a place of wonder for them.
Unfortunately, due to my health I've had several times in my life where I've been told I'm not allowed to get in the garden and get my hands dirty and that was soul crushing. I got bitten by a white tail spider just a couple of weeks ago while I was sleeping and I couldn't get that hand dirty. For me, being connected to the soil is being connected to my soul. So, now I really need to go and explore, pull a few weeds, and clear my mind – that's really important to me.
To think of all the hours you spend in the garden, with so many critters about, and you get bitten in bed? That's bad luck.
I know, I have funnel-webs at home. I see them in the garden and redbacks too. We teach children at school about how spiders are part of the soil food web, that we need them, and we need to encourage them in our garden because we all live in the garden together. The surprise attack at 3 in the morning was not ideal.
Not everyone would want 'dirt' in their business name but I'm guessing you wear that as a badge of honour?
A friend was teasing me for being dirty and she called me "dirt mum". I thought: you know what, I am her, I'm proud of it and I own it. And my friend is now very proud that I've turned that teasing into a business.
So DirtMum began in 2017 as a blog?
Yes, and I also started volunteering at Blaxland East Public School when my daughter started kindy. The garden was overgrown and the weeds in the old vege garden were taller than me. I needed somewhere beyond the home garden to experiment. The principal, Mrs Bryan, was very supportive of me pulling out the weeds and starting a garden club at lunch and recess with the kids. So, I volunteered for three years. I was then employed in 2019.
What does your work with the schools involve?
I'm employed at Faulconbridge Public School to run 'Science in the Garden', a practical and experiment-based program of connecting to nature and wellbeing. We went into lockdown a few weeks after I started which put a spanner in the works. I learned how to teach compost online! We helped the kids to see the beauty in the garden despite the weeds, and how to appreciate what we have, despite the weather.
At Blaxland East Public I run a sustainability and wellbeing program Mind, Body and Soil which develops the children's scope of thinking beyond the classroom. We're all busy, whether it's at school, work or just life. We need to take time to be unbusy. The program has structure but it's also about exploring the garden, being together, making connections, having gratitude and being kind to others.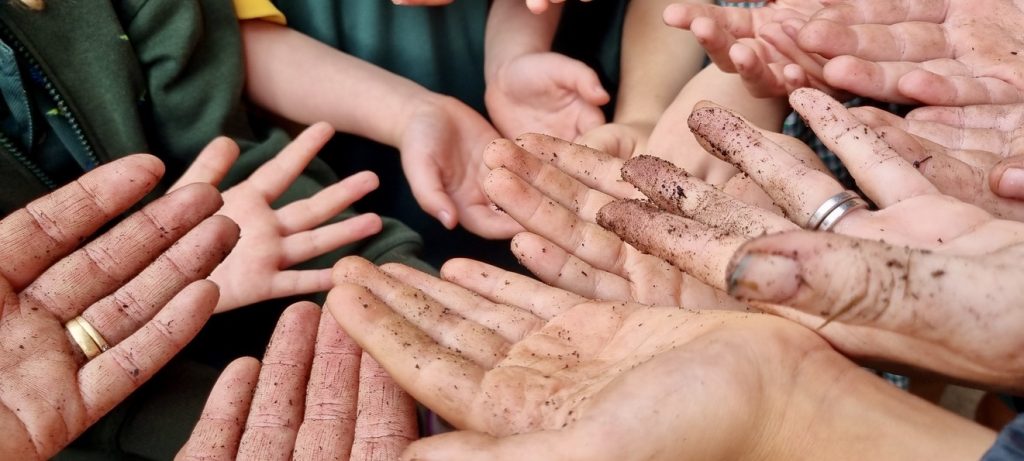 It's OK to get your hands dirty. (Photo supplied)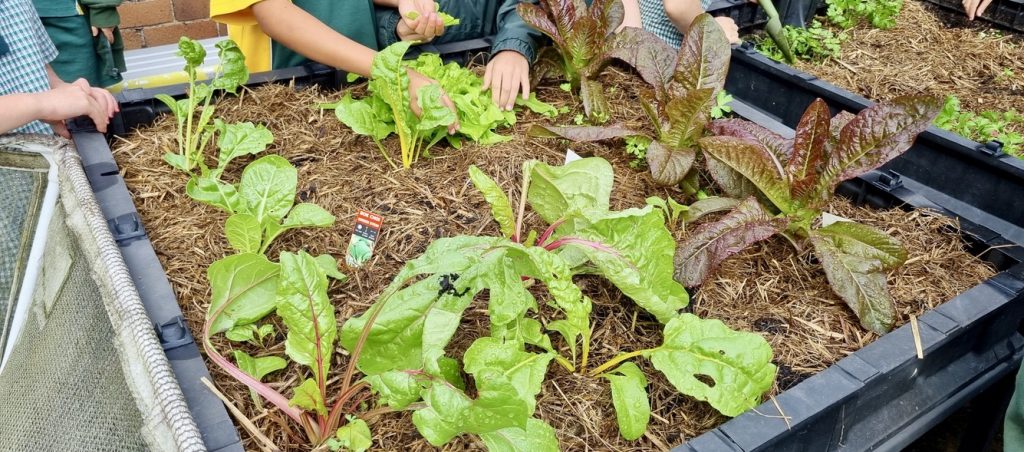 The joy of gardening. (Photo supplied)
So, it's a mix of science, gardening, cooking and fun?
Absolutely. I've incorporated meditation and art into our work. Our students are amazing artists.
In our cooking classes we always have the rainbow diet, which includes a huge range of different coloured fruits and vegetables, herbs and edible flowers. One of the kids made a dressing with pineapple sage flowers the other day. We like using bush tucker herbs, spices, and other ingredients. What we don't grow, we buy at Springwood Growers Market or our local box divvy.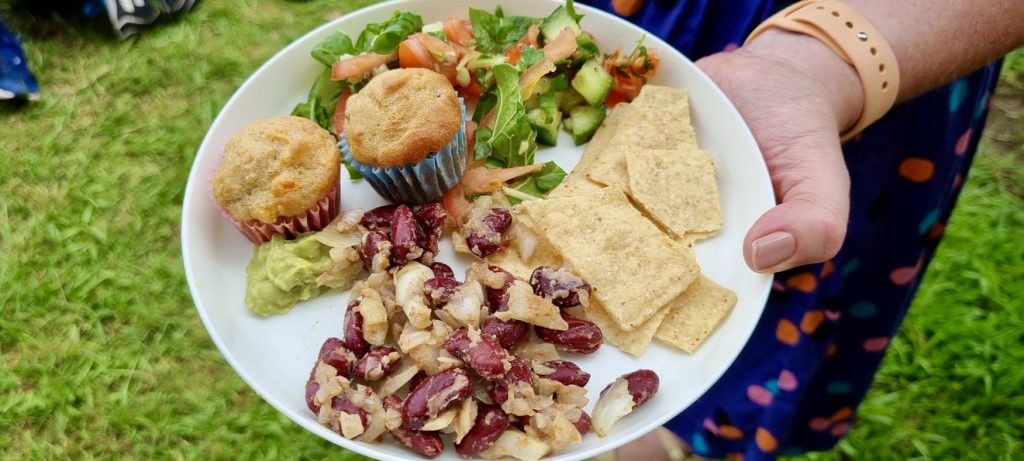 From the garden to the plate. (Photo supplied)
What are your biggest rewards working with children?
It's the laughter and the joy on their faces when they eat a strawberry straight out of the patch or when they discover a worm that they nickname Jimmy or Bob. Just that childhood joy, that bliss that we as adults forget sometimes, a simple thing like the discovery that your seed has sprouted, a flower has blossomed or that flower has become a fruit. It's the whole life cycle. We love to hatch butterflies in the garden.
You nurture children of all ages?
I work from kindy to year six and I've also been volunteering with early childhood groups and playgroups. After school care groups, local day care centres and other playgroups also come and visit me at the little Hope Community Garden. I have started mentoring at a high school as well.
Oh my goodness – you have a lot of volunteer gigs on your plate as well as work and family?
It really helps my mental health. I've been working and volunteering with the Blue Mountains Edible Garden Trail since 2019 as the school coordinator.
Every garden you go to is full of secrets, whether it's a community garden, somebody's backyard or a school garden. It's a discovery tour where you meet like-minded people. We are a series of villages in the Mountains but sometimes we can feel disconnected between the lower, upper and middle. The Trail is trying to unite us to explore our own backyard and to learn new things, get cuttings and just talk about what grows in the Mountains.
Tell me about the Blue Mountains Sustainable Schools Network that you co-created with a fellow educator?
Our purpose is to unite educators, to inspire, encourage and support. We want to unite all the villages, all the schools in the Mountains whether it's public schools, private or early education. I was trained as an early childhood educator so I'm quite keen to incorporate any educational centres interested in being more sustainable. That might be learning to reduce their waste, having a worm farm or chickens at school – anything to do with sustainability.
So, getting back to the soil, it's been special to you since you were little?
There's something about the microbes in the soil, breathing in the smell and looking for worms. It helps me feel connected to my childhood and how I was raised. I grew up on a farm and there's a love of gardening spanning many generations. It's who I am. Being connected to the soil is the most important thing.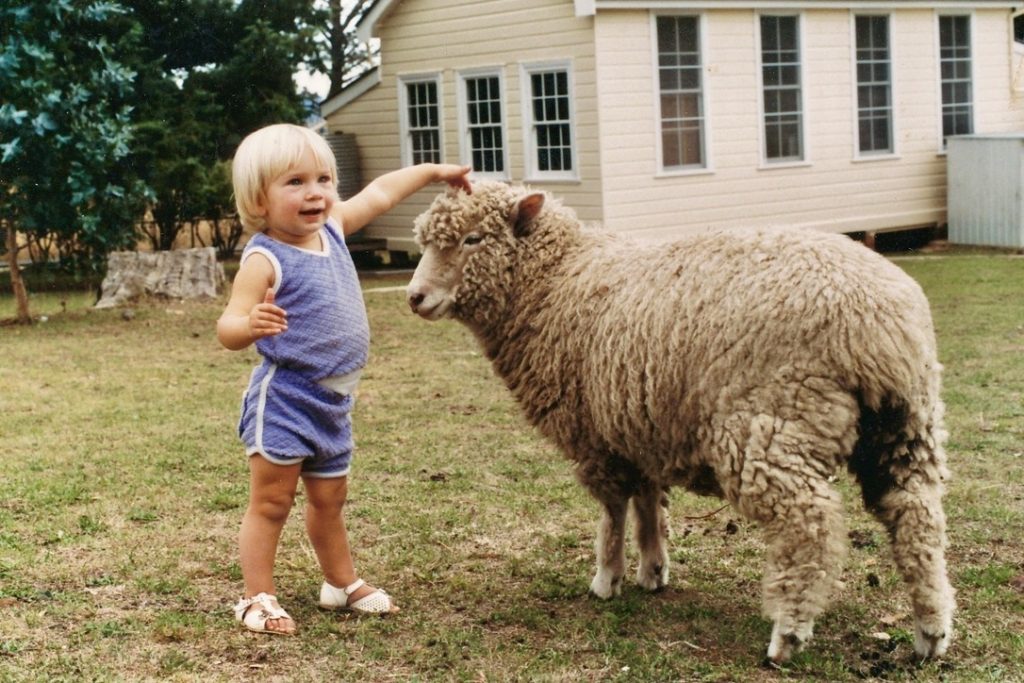 Beth as a toddler on the farm. (Photo supplied)
Where did you spend your childhood?
I grew up near Canberra. We had a hobby farm with cows, chickens, rabbits, guinea pigs, horses and of course, cats and dogs. It was lovely. Of course, the snakes were there too but we tried to socially distance from them.
Both my Mum and grandmothers loved their gardens, and I was always out in the garden with them.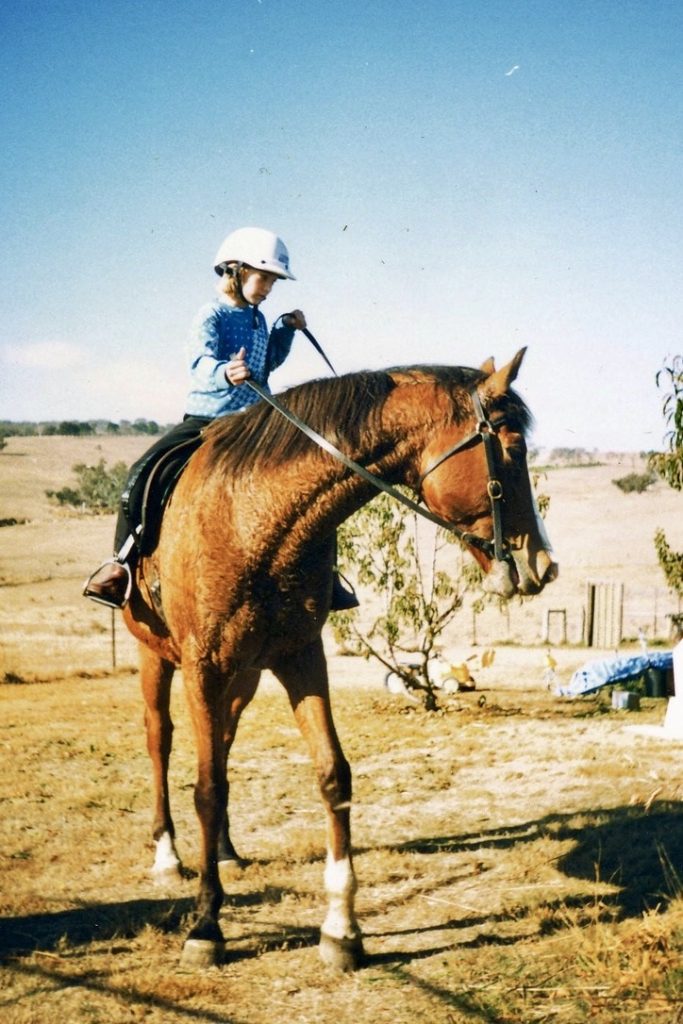 Beth on her favourite horse Bobby.
(Photo supplied)
You finished school in Year 11 due to illness?
I had chronic fatigue and was diagnosed with fibromyalgia after a wrist accident that damaged my nerves. So, I wasn't able to finish my HSC or go to uni. I wasn't able to get out of bed some days.
Years on, after I had children, I had postnatal anxiety and depression. So, I've learned to balance what I can and can't do and appreciate the in between, respect my body and listen to it. I take it one plot at a time.
You earned a scholarship to study a Diploma of Sustainable Living at the University of Tasmania. Congratulations on graduating last year – 22 years after leaving school.
It felt good. And it has inspired people that I know, including my husband, to go back to study. It was hard studying online in lockdown when the whole family was home, but I did it!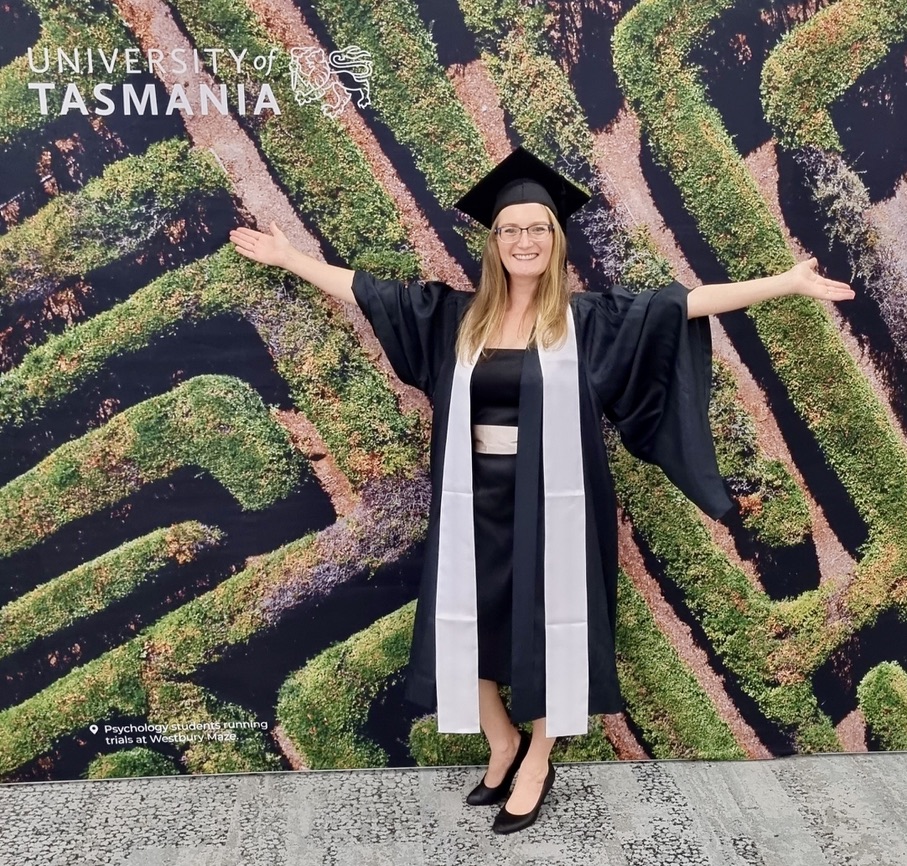 "I did it!" Beth on graduation day. (Photo supplied)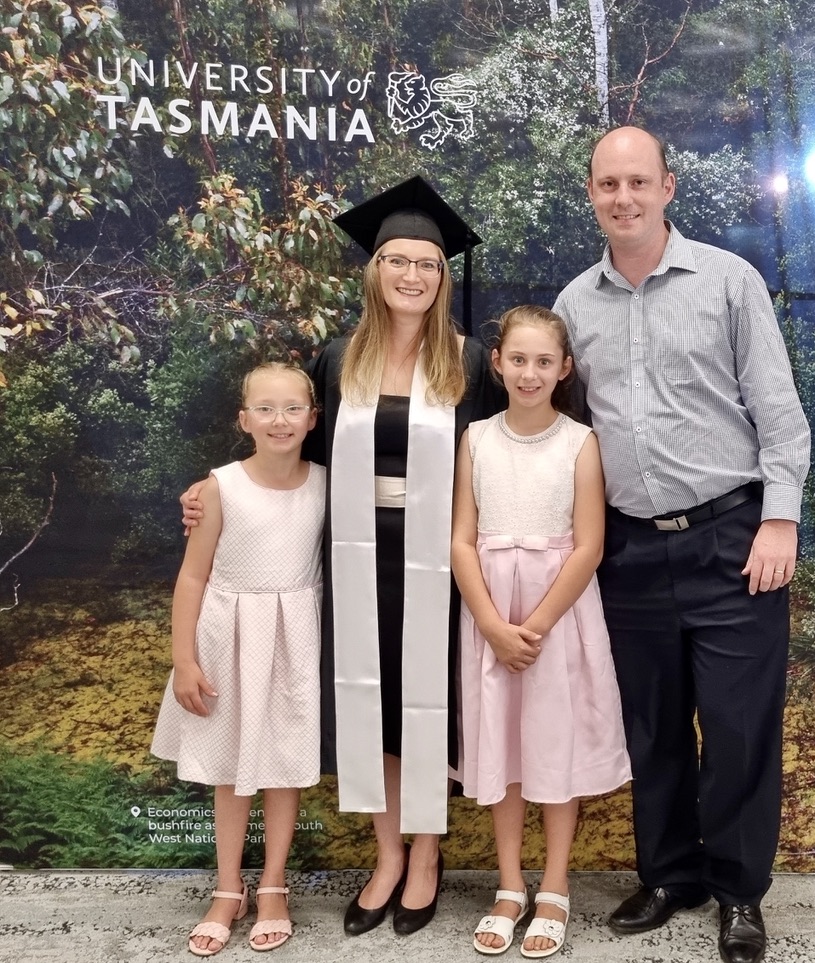 Beth enjoys the support of her family. (Photo supplied)
You've certainly learned to adapt to your changing circumstances
I have. I wasn't able to do workshops during the lockdowns, but it gave me time to refine what I actually want to do, my purpose. I'm not out there to make money and be rich because I would rather be rich in compost and soil.
Your business tag is 'learn, grow and blossom'
I'm always learning so that we can grow and blossom together.
I'm celebrating my 40th this year and taking my Mum on a road trip out west to reconnect with family history. My goal for my 40th year is to try new things – go to 40 new places and try 40 new foods. I'm celebrating in DirtMum style.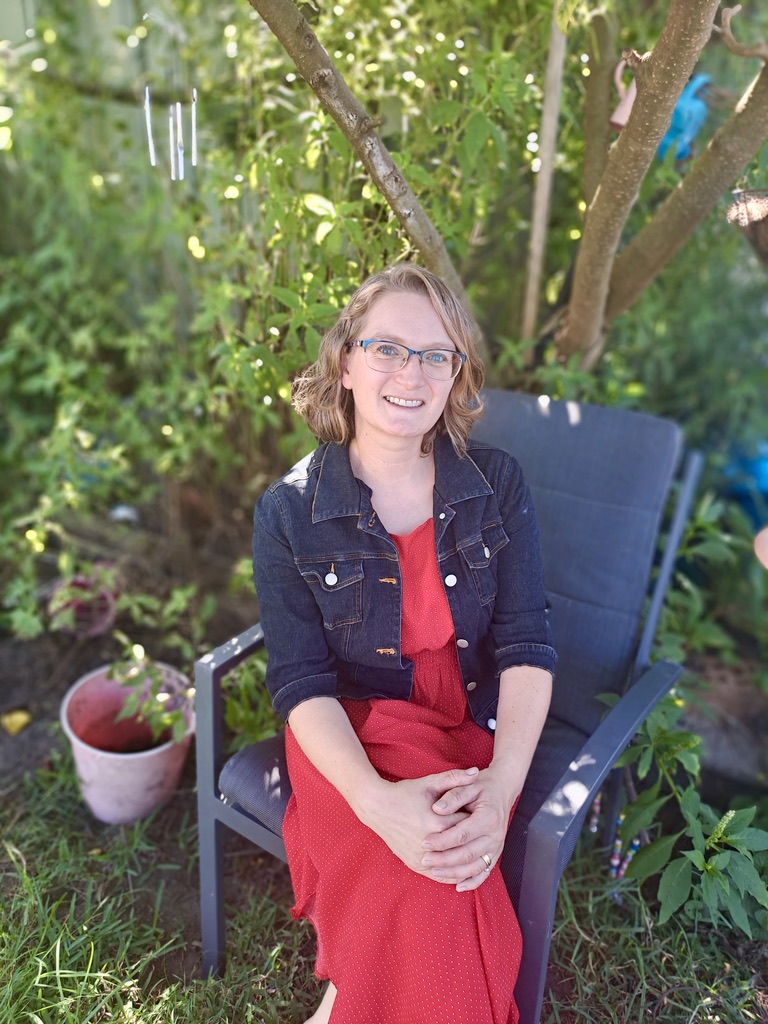 Beth's 40th year is going to be special. (Julie Nance)
This story has been produced as part of a Bioregional Collaboration for Planetary Health and is supported by the Disaster Risk Reduction Fund (DRRF). The DRRF is jointly funded by the Australian and New South Wales governments.