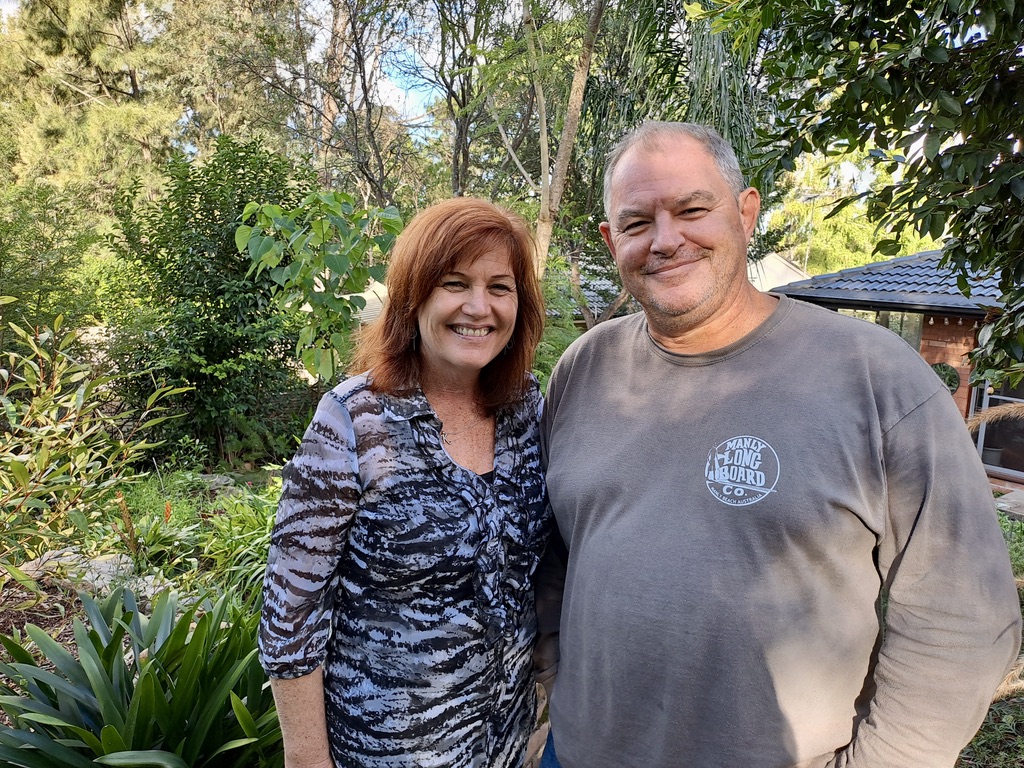 Kim Wood and Martin Patfield at their East Blaxland home. (Julie Nance)
By Julie Nance
Imagine needing a treasure map to navigate around your own backyard.
That's exactly what Kim Wood created after discovering rare and endangered plants in her native garden.
The primary school teacher and her partner Martin Patfield moved into their Blaxland East home 14 years ago. Kim was pregnant and life was super busy with three children to care for. Looking after a large property was time consuming and not their highest priority.
Kim recalls being frustrated by the tall trees at the back of the yard that were blocking the sun. She grimaces now at the thought of wanting to "chop it all down".
"I liked the lemon myrtle but that was the only native I was aware of," she says.
"I went out there one day and saw red fruit all over the ground. I thought, I wonder what this is? I brought them in, Googled it and found it was Small-leaved tamarind. The website highlighted how critically endangered they are. I thought, oh my gosh, I've got one of those in my backyard!"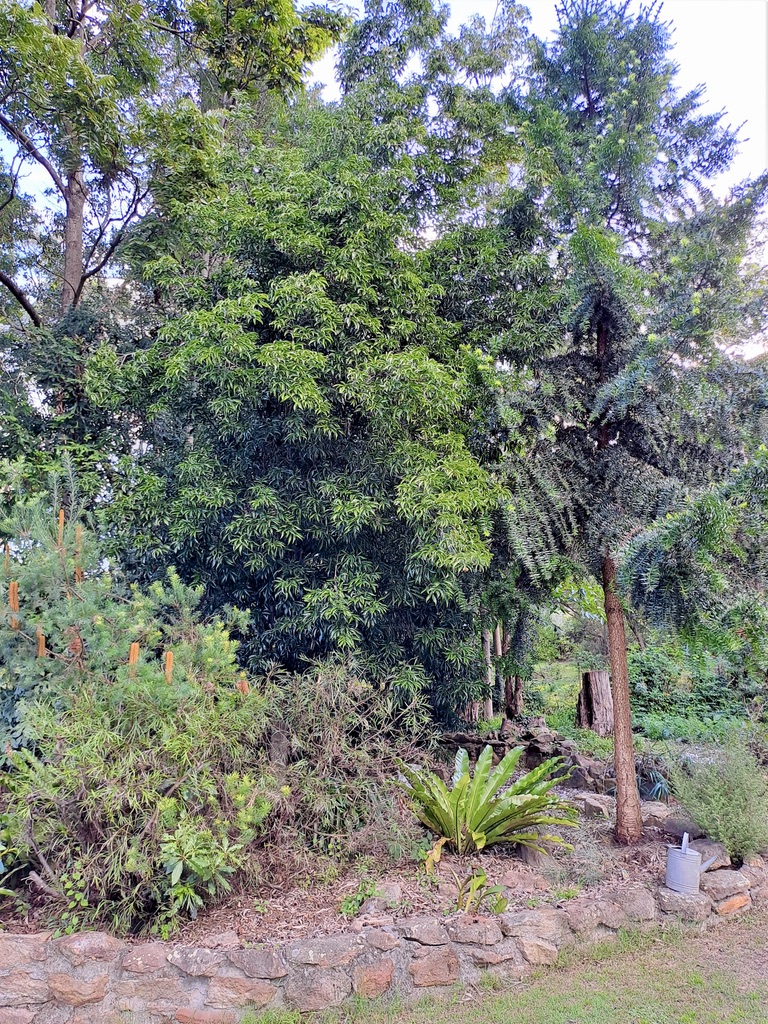 Critically endangered Small-leaved tamarind. (Julie Nance)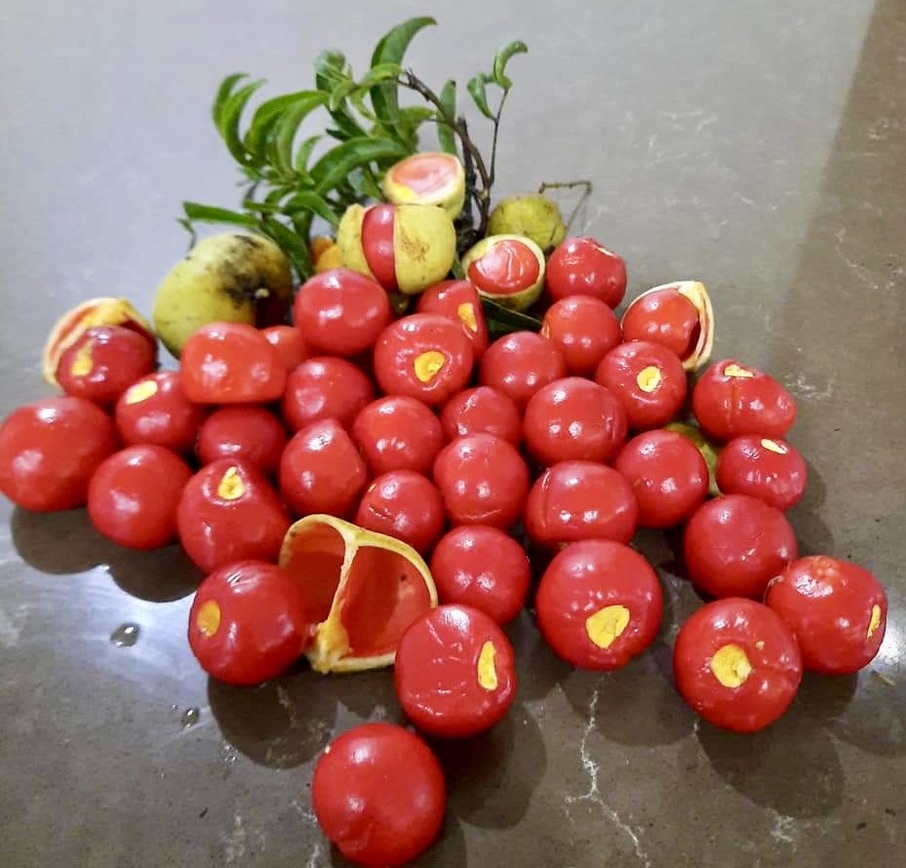 The joy of discovery – the fruit from the Small-leaved tamarind. (Kim Wood)
Kim knew their property had previously belonged to Dorothy and Evan Weatherhead and that Evan was a long-time volunteer at the Glenbrook Native Plant Reserve and Nursery.
A few years after Evan passed away in 2005, entrance gates and a plaque were installed at the Reserve in his memory. It recognises his passion for native plants and his commitment to the Reserve and the Australian Plants Society Blue Mountains Group. The ribbon cutting ceremony was attended by politicians, Dorothy Weatherhead and other family members.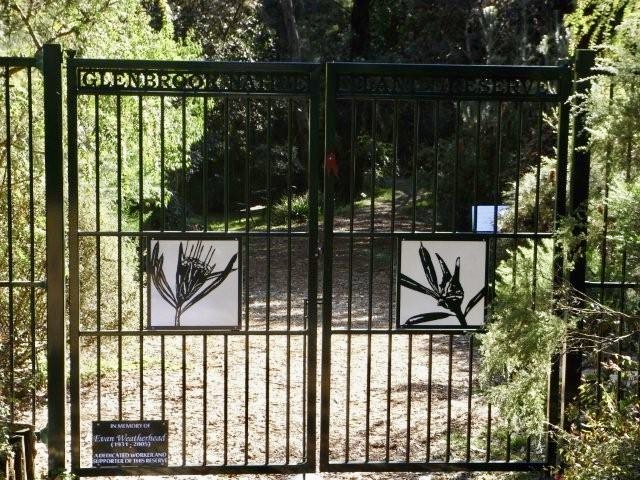 Gates installed at the Glenbrook Native Plant Reserve and Nursery in memory of Evan. (Julie Nance)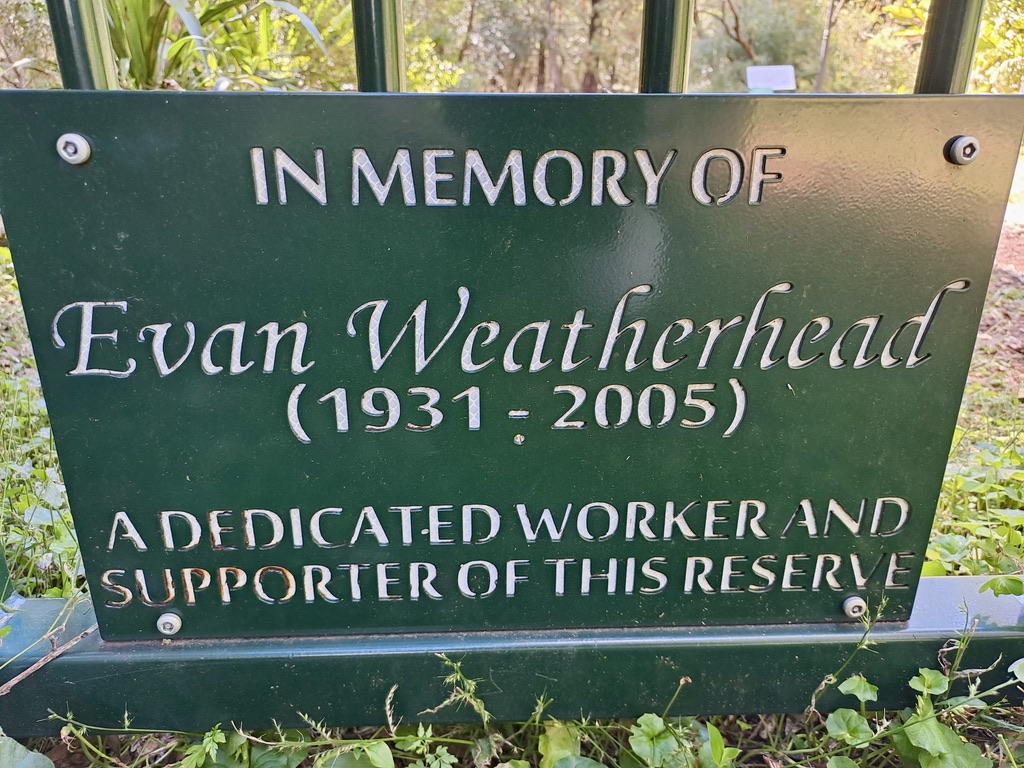 The plaque recognises Evan's hard work and dedication. (Julie Nance)
An item in a Plants Society newsletter celebrated the event: "We all recalled Evan's pleasure in bringing items from his garden to show us at meetings, his generosity with providing cutting material or plants and in opening his garden for others to enjoy."
Kim and Martin had no idea how special the garden they inherited actually was.
During 10 years of family busyness Martin maintained the lawn and garden but there wasn't sufficient time for all the weeding and tender loving care required. Kim wasn't interested in gardening at all.
That all changed when COVID hit.
Lockdown meant Kim had plenty of time to explore outside. Her earlier fruit find had captured her imagination and she began attacking the weeds. She unearthed a couple of old plant name plaques buried in the soil.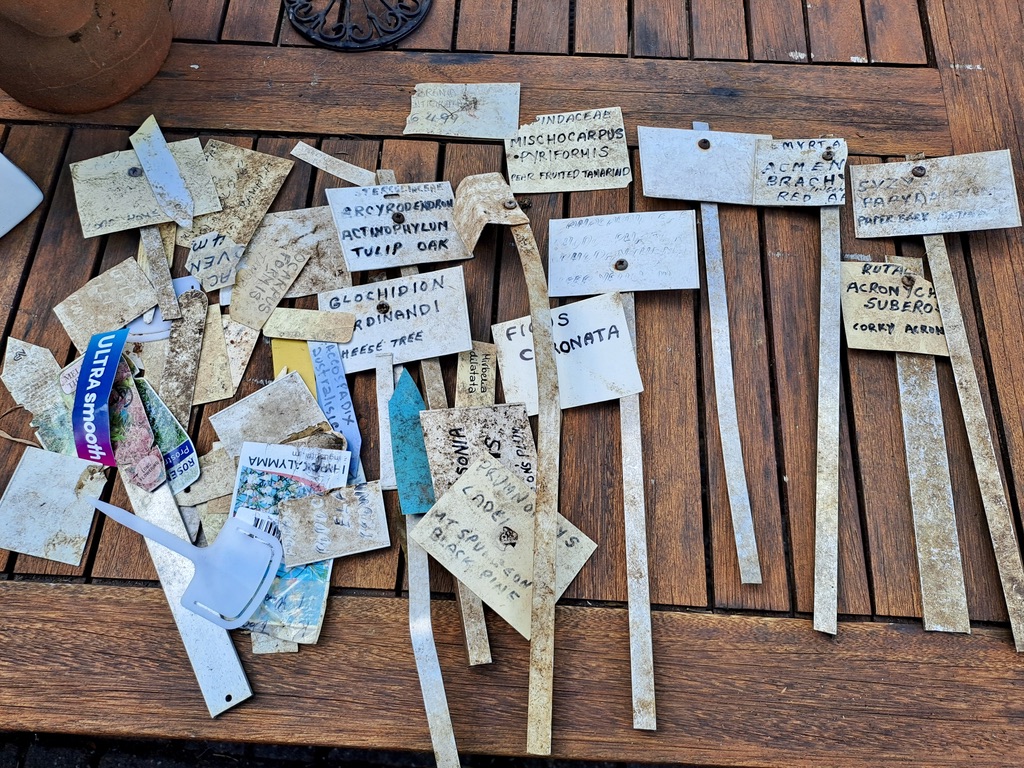 Two plant plaques grew over time to a large, intriguing collection. (Julie Nance)
"It became a mystery," Kim says. "I started thinking if the Small-leaved tamarind was a special tree, maybe some of these other plants are special too.
"The more I investigated, the more I found out that a lot of the species were not native to the Blue Mountains but were mostly far north Queensland rainforest trees. I looked online at one of Evan's articles he wrote and he mentioned he'd planted a mini rainforest in his backyard."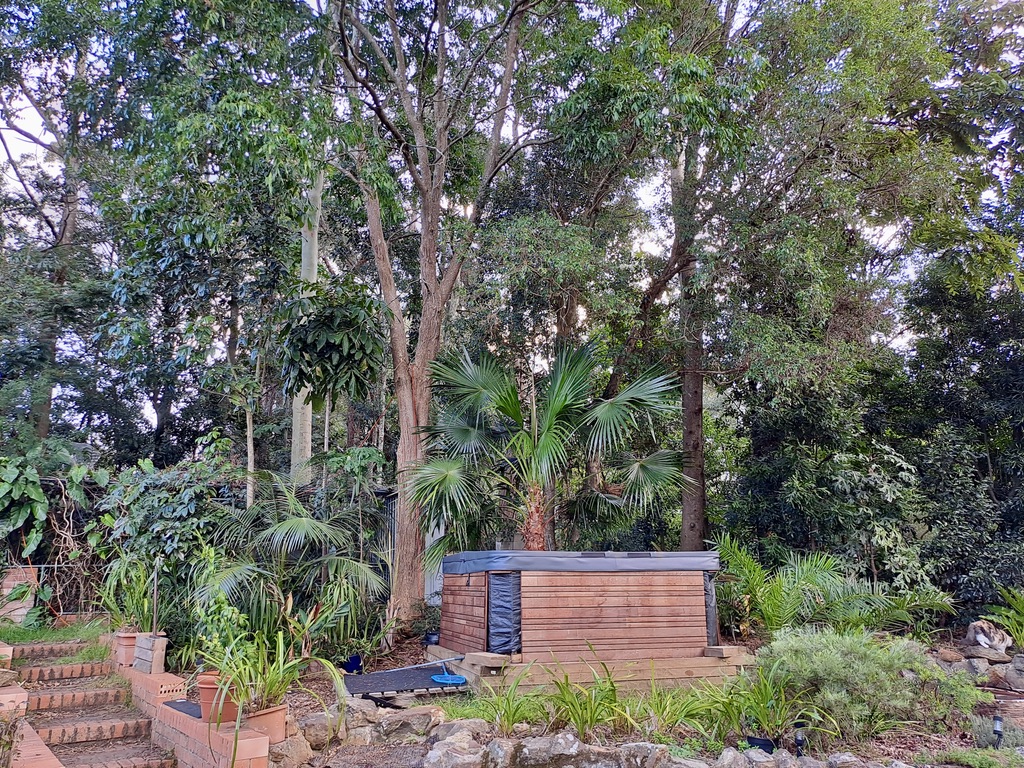 Rainforest haven. (Julie Nance)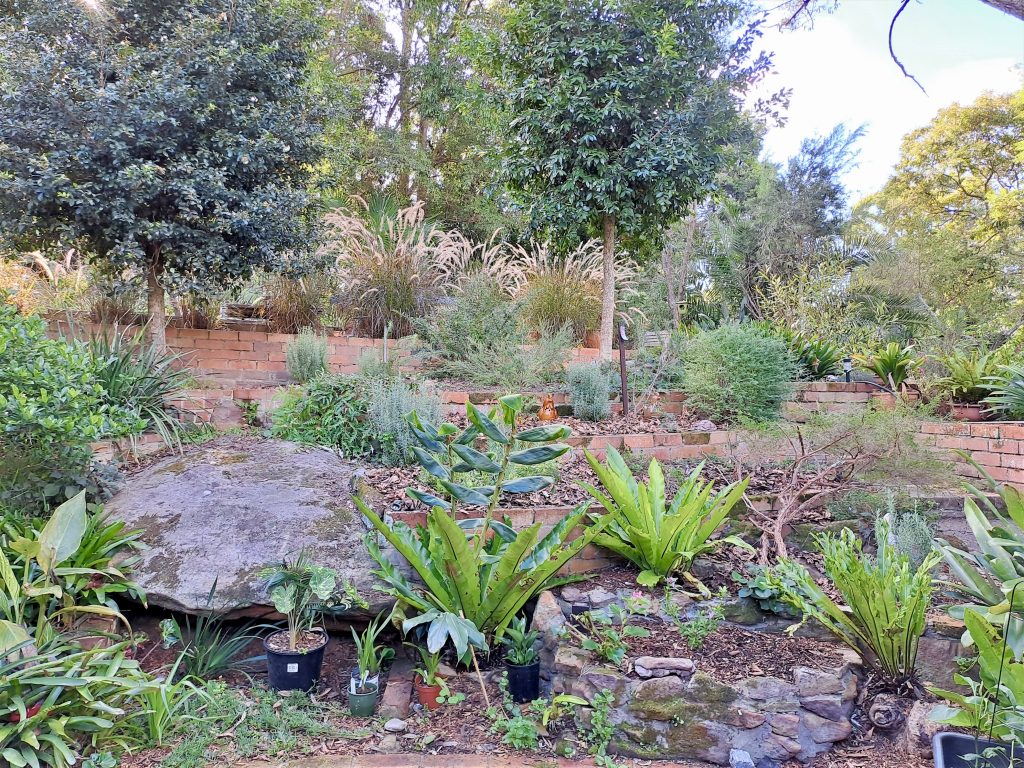 Birds nest ferns and other natives. (Julie Nance)
In addition to the Small-leaved tamarind (Diploglottis campbellii) on her doorstep, Kim discovered there were other types of tamarind as well. This included the Native tamarind (Diploglottis australis), Brown tamarind (Castanospora alphandii) and Pear-fruited tamarind (Mischocarpus pyriformis).
When you wander around Kim and Martin's beautiful backyard, there's a childlike excitement from Kim as she points out different trees and offers leaves and flowers to smell or taste.
There's the macadamia tree up the back, the Pink Lacebark (Brachychiton discolor) and the White beech (Gmelina leichhardtii).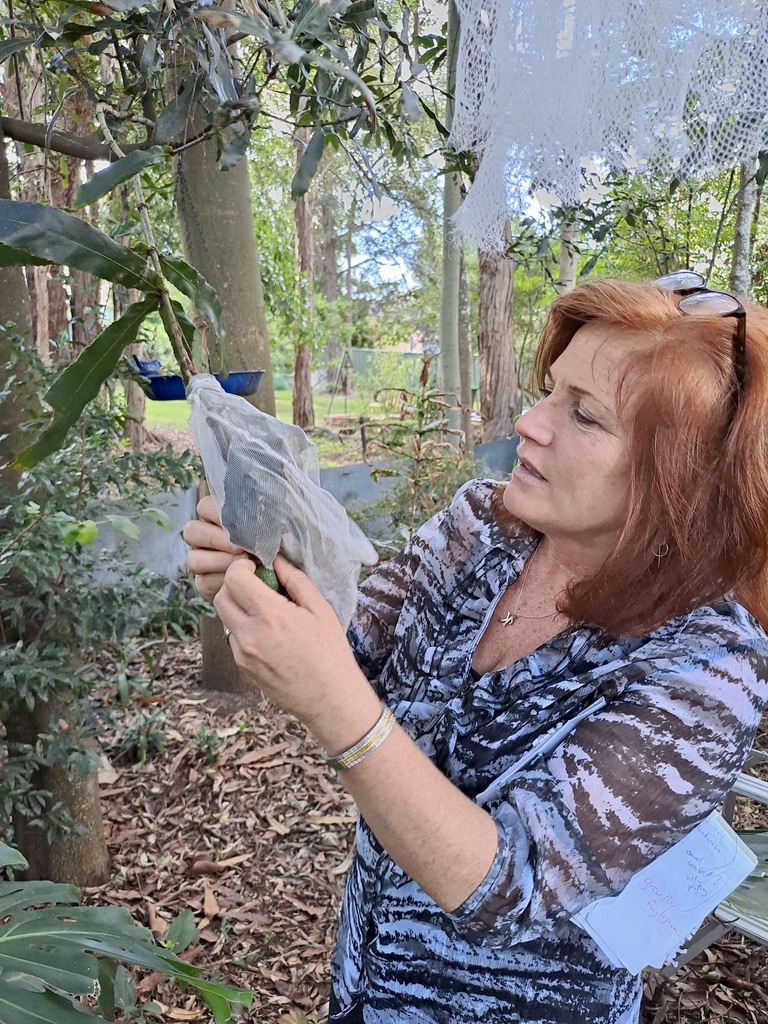 Kim shows off the netted macadamia nuts (Julie Nance)
There was a real bite to the leaf offered from the Pepperberry shrub (Tasmannia lanceolata), often used as a culinary spice. I enjoyed a Native violet (Viola hederacea) flower – often used as a finishing touch on cakes or in salads. I also sampled a leaf off the Strawberry Gum (Eucalyptus olida) – a rare and fast-growing type of eucalyptus.
Inside the house Kim shared a teaspoon of tasty preserve made from the fruit of the Small-leaved tamarind.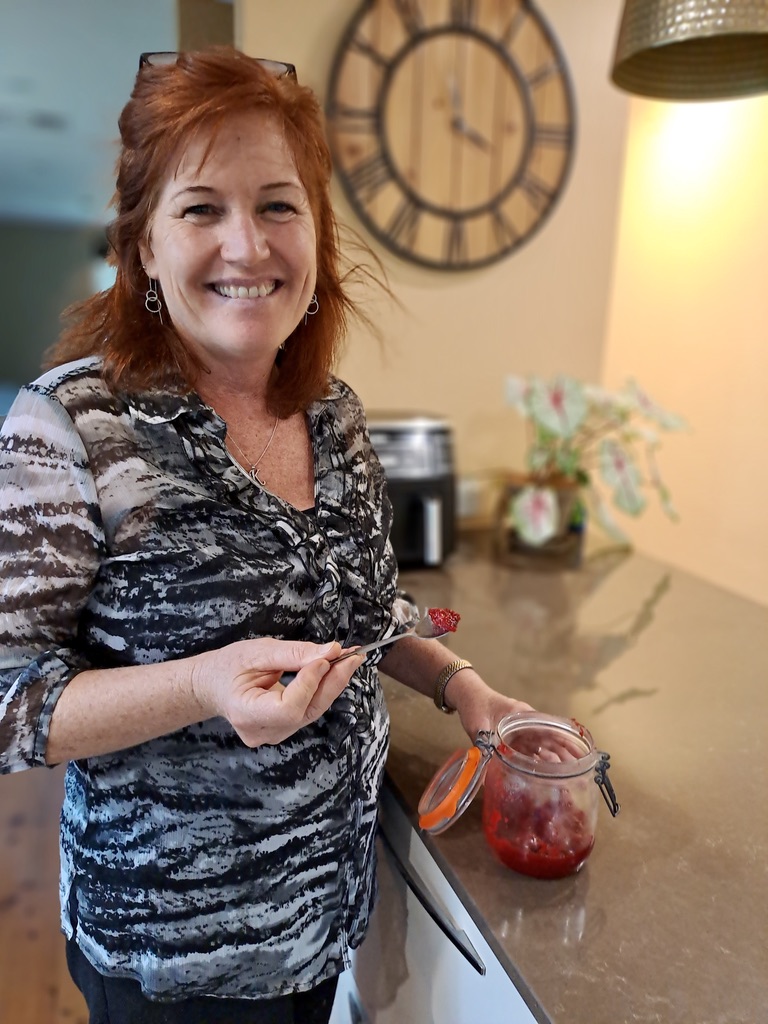 Kim offers a teaspoon of tamarind preserve. (Julie Nance)
Kim says: "I feel blessed by this garden and I keep thanking Evan for everything he has planted.
"I feel like I should look after the garden for him because he started it and I want to appreciate all the hard work he has put in."
She says she spent a year "digging and discovering". Each time she found a new plaque she'd run inside, wash it and start her research.
"The plaque would often only have a little part of the word and then I would try to match it up," she says.
"I often had to be patient because you didn't really know what it was until the flowers came. It felt like a puzzle. It was a massive learning curve for me finding all these apps and websites about native plants."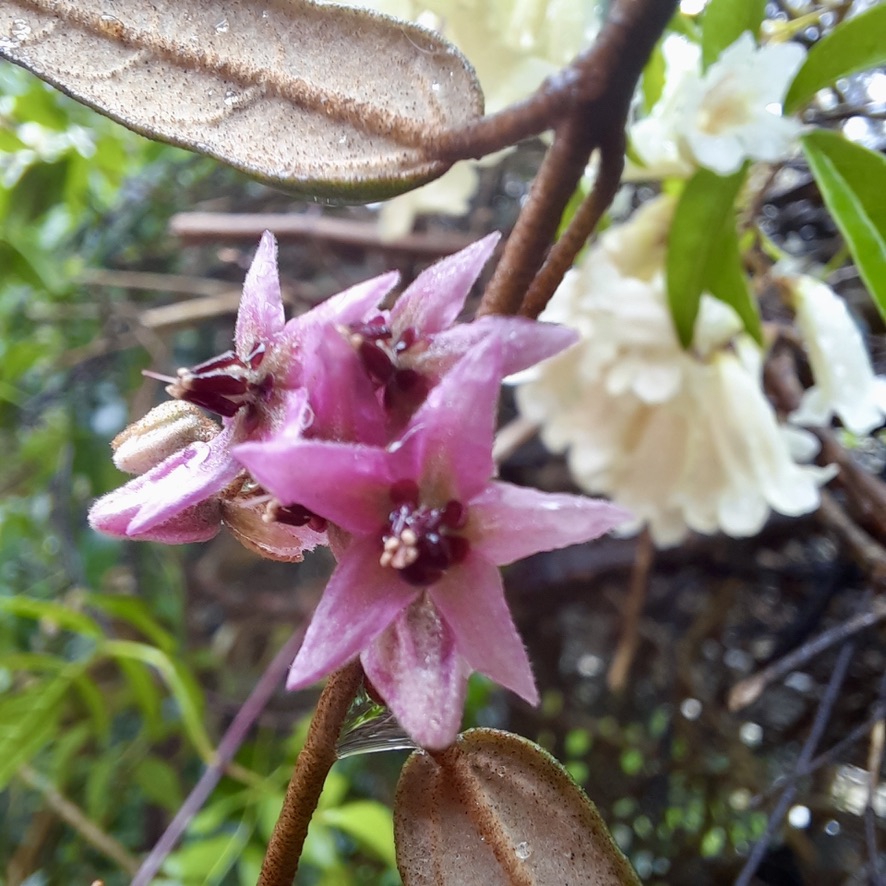 Pink Velvet Bush (Lasiopetalum behrii) – critically endangered in NSW. (Kim Wood)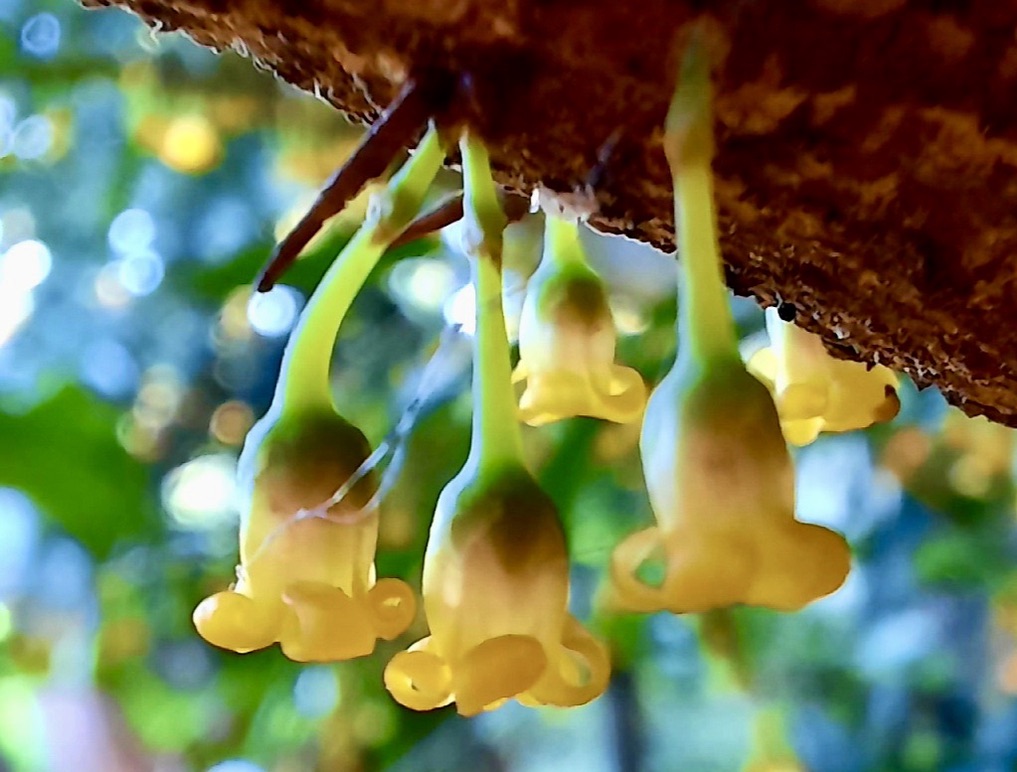 Tree Violet (Melicytus dentatus). (Kim Wood)
If the plant or tree didn't already exist in the garden, Kim would buy it and plant it to match the plaque.
It has taken quite some time for Kim to draw up her treasure map. It's a work in progress, with changes made along the way.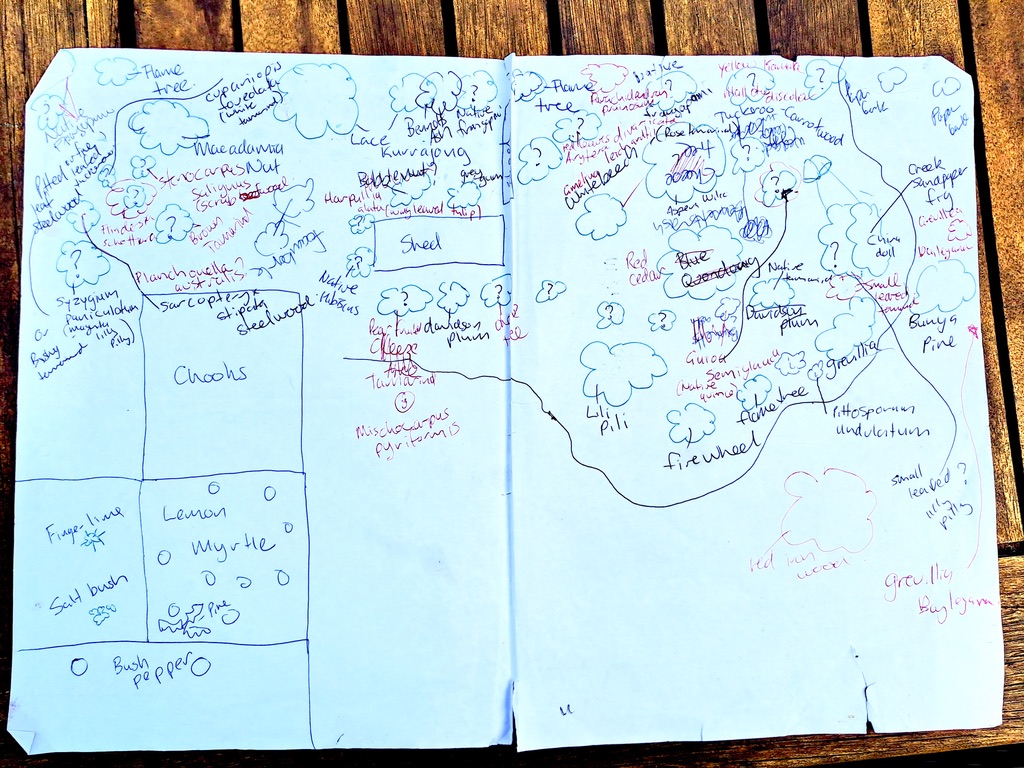 A treasure map charts Kim's journey of discovery (Julie Nance)
You can see on the map that the Blue Quandong tree wording has been crossed out after Kim discovered it was in fact a Red cedar (Toona ciliata). This rainforest tree grows to a height of 40 to 60 metres and was almost logged to extinction during Australia's early years of colonial settlement.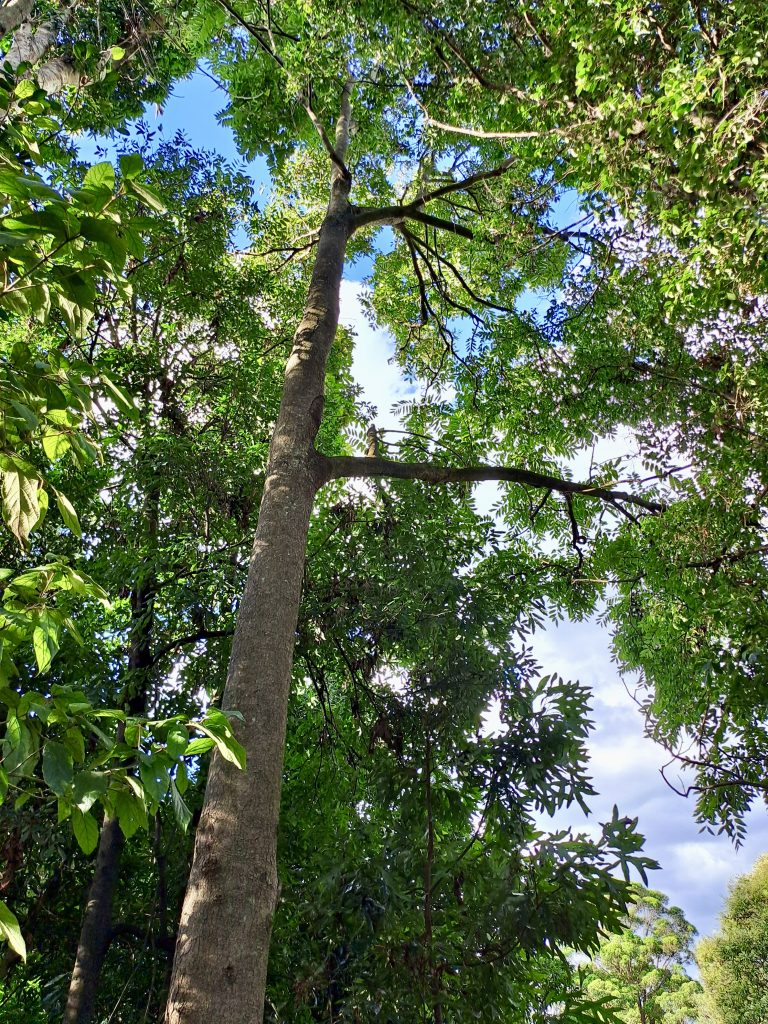 The majestic Red cedar is protected. (Julie Nance)
Martin, a draughtsman, plans to take Kim's work and create a digitised garden map. They want it to become an interactive, educative resource to be enjoyed by children and adults.
"I must admit it was quite a shock – a pleasant surprise really – that Kim became so interested in the garden after 10 years of being here," Martin says.
"Now that Kim has spent so much time investigating and learning the garden's backstory, it is a lot more meaningful for us both."
Kim is planning to take some cuttings and create a bush garden at Mt Riverview Public School where she teaches.
Gardening has brought her great joy and given her a "real purpose".
"A friend recently said 'how on earth did you not realise you had all those plants in your backyard?'," Kim says. "I think I was just always so busy and inside a lot with little kids. When we'd go out, we wouldn't really play in that back section of the yard."
Kim says it is a real privilege to inherit a garden that someone else has worked so hard on:
"I think about that for my kids too. I want to look after it for them."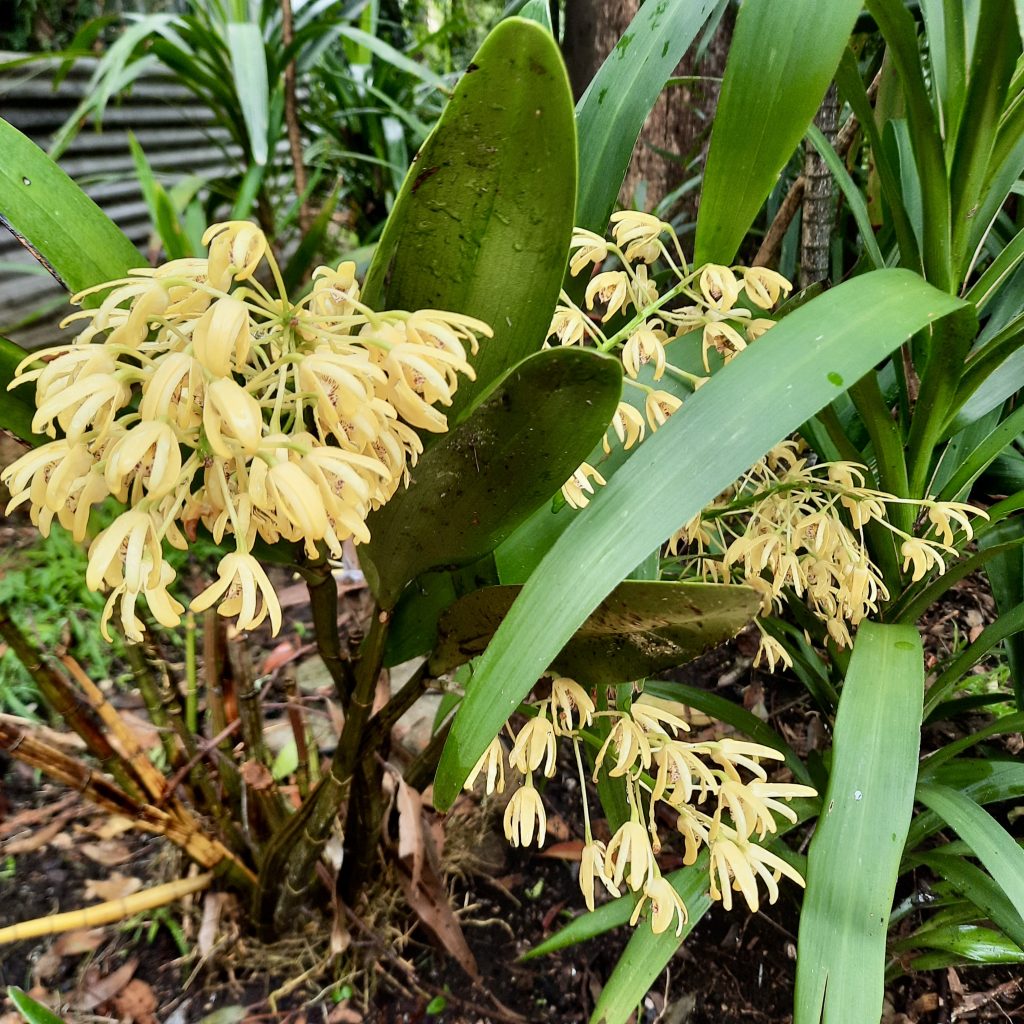 Rock orchid (Dendrobium speciosum)
This story has been produced as part of a Bioregional Collaboration for Planetary Health and is supported by the Disaster Risk Reduction Fund (DRRF). The DRRF is jointly funded by the Australian and New South Wales governments.