Dharug and Gundungurra Elder Aunty Carol Cooper greeting visitors at Echo Point (Thomas Bisshop)
For over 60,000 years the First Nations of the world's driest inhabited continent practiced aquaculture, agriculture, medicine, astronomy, ecology, and a rich culture which has sustained them for millenia. As they walked their songlines, the tracks which linked the special places they knew so intimately, they used ceremonial song, art, dance and story to keep life-sustaining knowledge alive in their memory: hundreds of thousands of interrelated facts.
One of the stories painted in Lawson
When the British colonisation of Australia's east coast wiped out so much of this ancestral lore, just over 250 years ago, some took it to the Central Desert where it is has been kept alive through generations.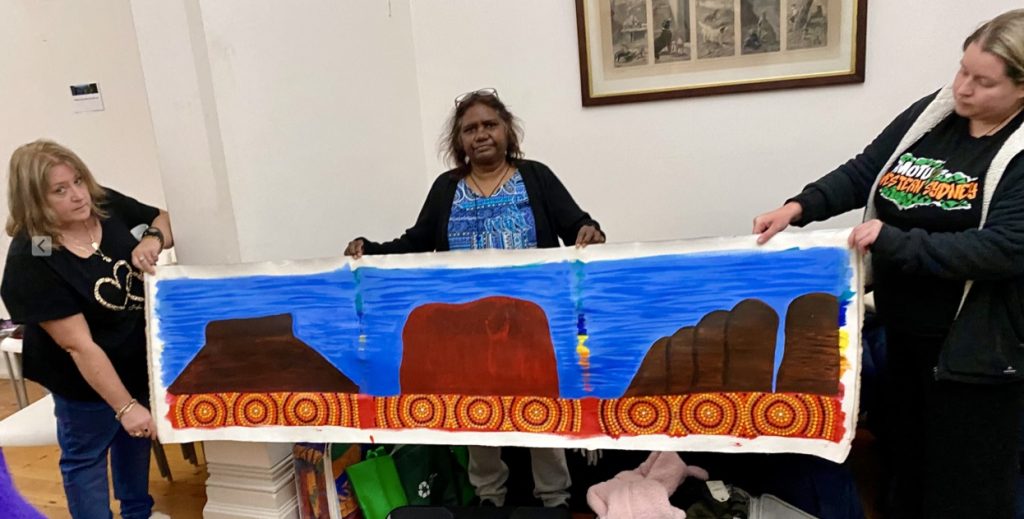 This story, in the early stage of being painted by Peggy Naylon, refers to the three prominent land formations of the central desert region – Uluru (Ayers Rock), Kata Tjuta (The Olgas) and Atila (Mt Connor). They are Puli Mankurpa (Three Rocks).
In a historic event this week, seven song women from Uluru visited the Blue Mountains to return this knowledge to over 40 women and children who came from east coast mobs living in an area ranging from Queensland to the South Coast. For five days at Kihilla in Lawson, they've been connecting, creating community and sharing their ancestral lore as they've painted, sung, talked, danced, eaten and visited the Three Sisters in Katoomba together. Thanks to the 'Koori grapevine', they came with only a few days' notice to take part in this inaugural series of events to restore the songlines of the Seven Sisters across Australia. Encoded in these are the survival skills aboriginal people have shared for living in this country.
Within just a couple of weeks, after a call-out to the wider community, local Dharug singer/songwriter Jacinta Tobin raised almost $40,000, including over $23,000 on MyCause for airfares to bring these song women from Uluru and for food, accommodation, clothes, art materials and a bus.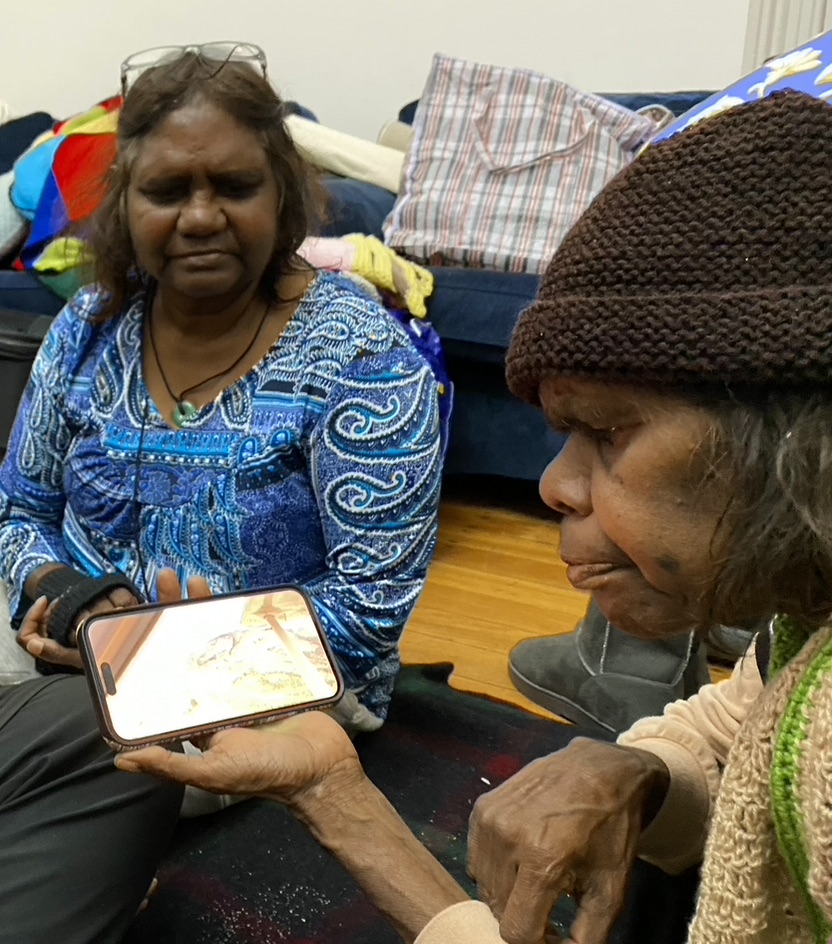 Penny Naylon and Rene Kulitja, sharing a photo of Mutitjulu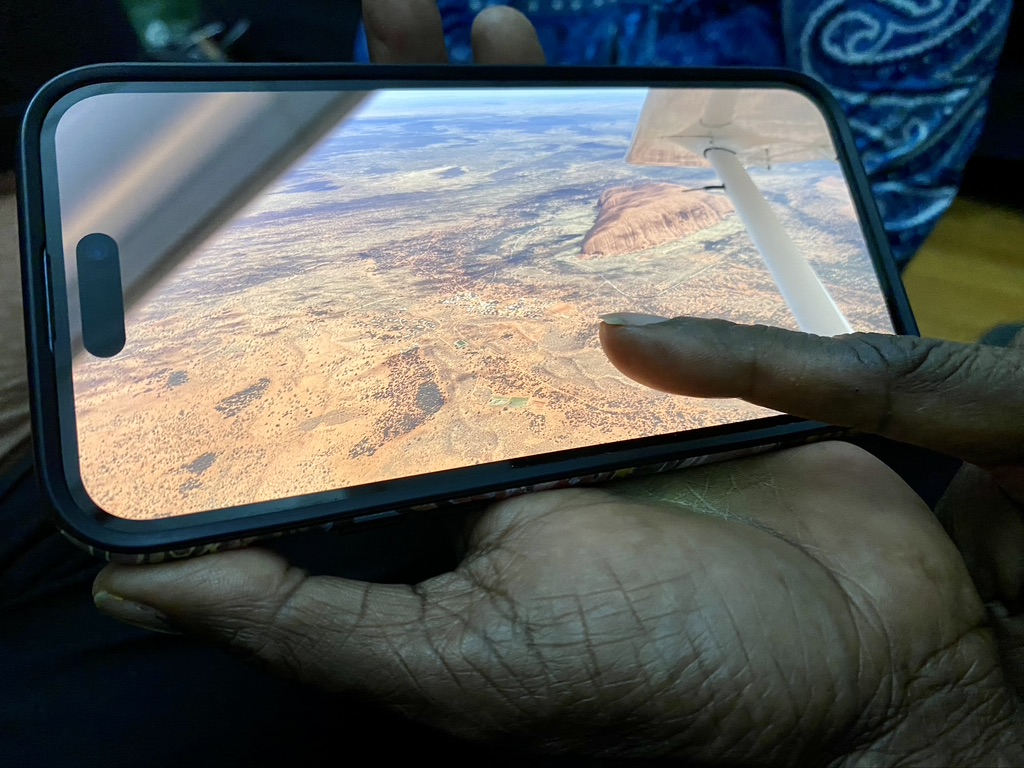 A photo of flying over Mutitjulu
Senior custodian Rene Kulitja, one of the seven from the Mutitjulu Community, which sits lightly in the shadow of Uluru, said they wanted to come to this World Heritage Area because "We are one people working together." She spoke of Tjukurpa, the ancestral knowledge of the Anangu people of Uluru, which is the basis of their spirituality, law and moral systems; and of their duty to pass this knowledge from generation to generation, "to teach the young for the future". She explained how they are bringing this Tjukurpa from Uluru "to the rest of the country, and to other countries too", so that they can help heal people everywhere. Rene spoke of being especially keen to restore the songlines before the Voice Referendum.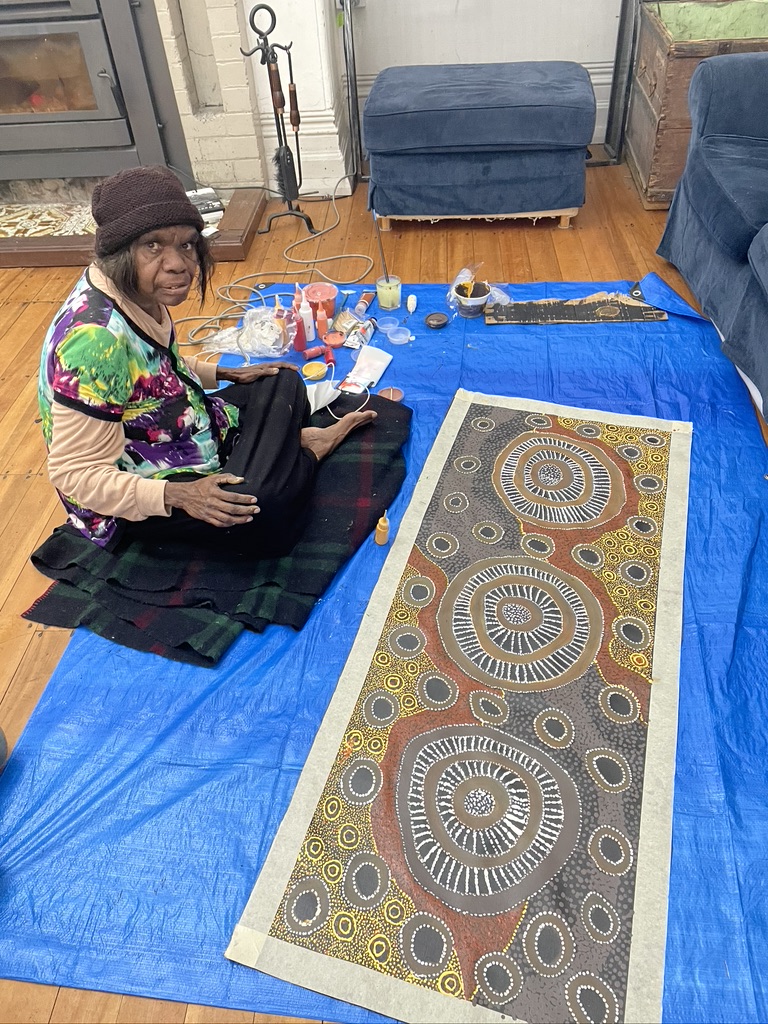 Rene Kulitja, painting at Lawson (supplied)
As her friend Thomas Bisshop said, "You can't heal the planet without healing the people and this is a great way to do this."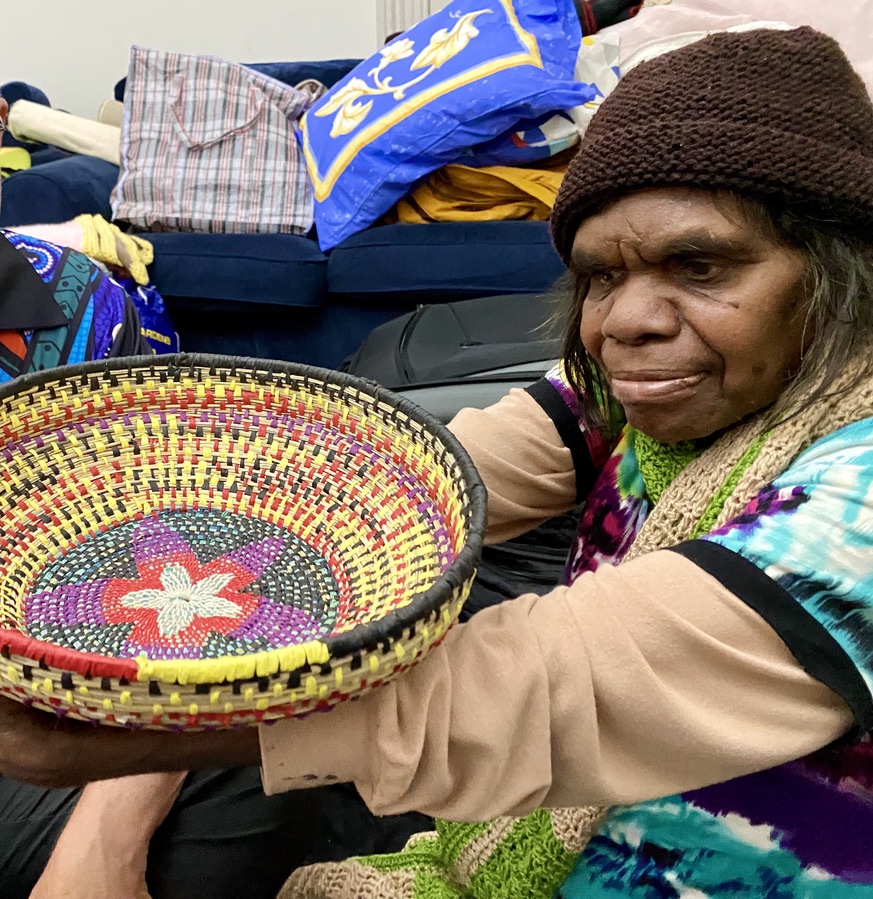 Rene is also a weaver and she was presented with a basket made by a student
Rene's art has featured in the National Museum of Australia's Songlines: Tracking the Seven Sisters exhibition which is currently in Paris. It narrates the story of the Seven Sisters and their creation of the continent as they travelled from west to east. Her art has also been used on a Qantas plane:
Rene Kulitja's artwork on a Qantas plane
Rene has travelled internationally with the Central Australian Aboriginal Women's Choir. She first met Jacinta Tobin at the Woodford Dreaming Festival in 2008, and later at Big Sing in Central Australia in 2018.
Run by former Blue Mountains resident Rachel Hore OAM, Big Sing connects First Nations people and non-Indigenous Australians through the common language of music and the power of singing together in a choir.
The gathering of over 40 First Nations participants in Lawson this week is one of many connections inspired by Big Sing.
At the event in Lawson, through the sharing of Tjukurpa, more culture is being shared and more connections are being made.
Stories are also being shared via art
For Jacinta Tobin, this is something she's been working towards for over 20 years. She originally connected with Central Australian Elders at the World Heritage Indigenous Network in 2002. This was followed by The Dreaming Festival in Woodford in 2008 and then Big Sing in the Desert. She was part of a conference call for the Tracking the Seven Sisters Exhibition.
Another of the paintings produced this week
"A couple of weeks ago," said Jacinta, "Rene rang and said 'We're coming!'".
"The Aboriginal women's songlines are bringing us together," said Jacinta. "It's been very organic. Cultural people talking to cultural people and making it happen. The community has put up and raised the money."
Another of the paintings produced to share Tjukurpa
"My dream is to open up our songlines across Australia. To go and walk on a songline and visit places to see ceremony across Australia.
"They are teaching us ceremony so we know what to do."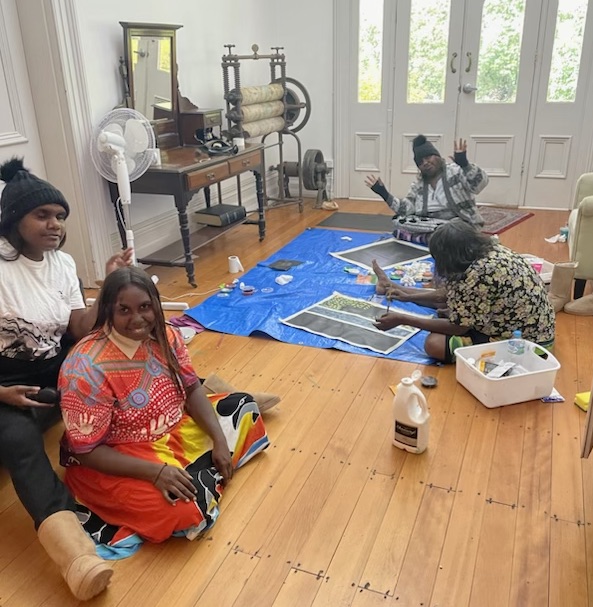 Sharing Tjukurpa in Lawson (supplied)
Jacinta is keen to continue raising funds to take women to Uluru to learn the lore.
"And we've got to stop destroying sites so we can discover the science that aboriginals had which is huge."
Together the women have been painting, singing and dancing to share the Seven Sisters stories.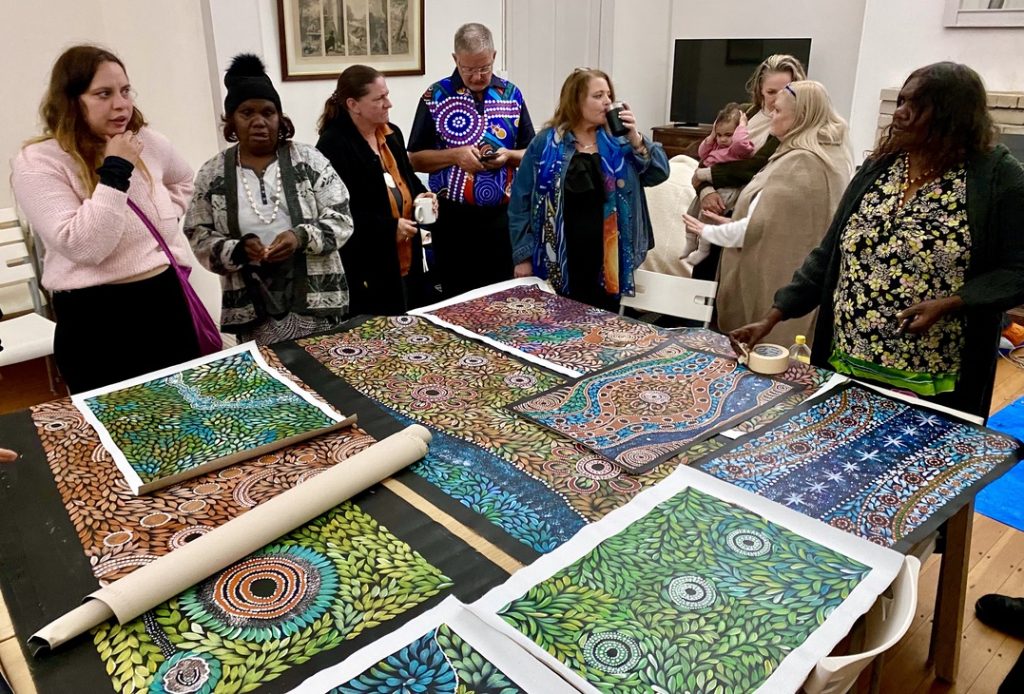 Sharing some of the paintings that have been produced together at Lawson
Shaalee Stubbs and her 14 year old daughter Belle came from Yellow Rock. Shaalee is the Aboriginal Education Officer at Springwood High and she was thrilled that her school supported her to attend and that her daughter could be part of this historic occasion. She saw this event as connecting Uluru and Katoomba and forming a connection so that women could travel back and forth to share culture. "It's a connection outcome. Our lives are so busy, busy, but here we've been sitting down, stopping and thinking about what we're doing and what's our next step."
Belle and Shaalee Stubbs from Yellow Rock
"The Country talks to us. We hold the truth with our hearts" said Gumbaingeer woman Mae Feirer. "A lot of people have been holding the sadness in their hearts for a long time".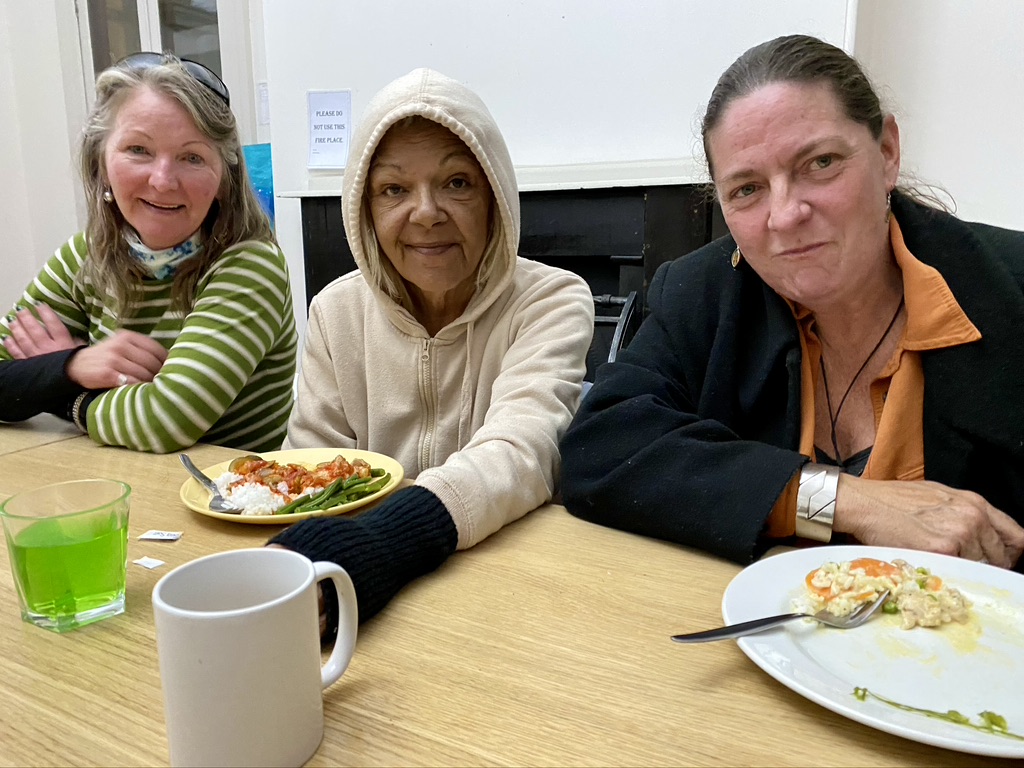 L-R: Kath Tucker, Rhonda Ryan and Jacinta Tobin
Over dinner Wiradyuri woman Kath Tucker said she felt they were building up to something special. "Until now all of us haven't had a chance to get together and sit and talk and have meaningful conversations. This has been an environment of truth telling among the women since Saturday."
Rhonda Ryan, another Wiradyuri woman, said they were all keen to learn from their sisters up north [Northern Territory].
"It's been peaceful. It's bigger than us. We're finally having the chance to connect with each other and share how we connect to Country. We're all on the same mission to right the wrongs and get it right for the people after us.
"The ones before have done their work. We're the middle people for the ones after us.
It's taken flying our desert sisters here to restore the songlines."
This story has been produced as part of a Bioregional Collaboration for Planetary Health and is supported by the Disaster Risk Reduction Fund (DRRF). The DRRF is jointly funded by the Australian and New South Wales governments.